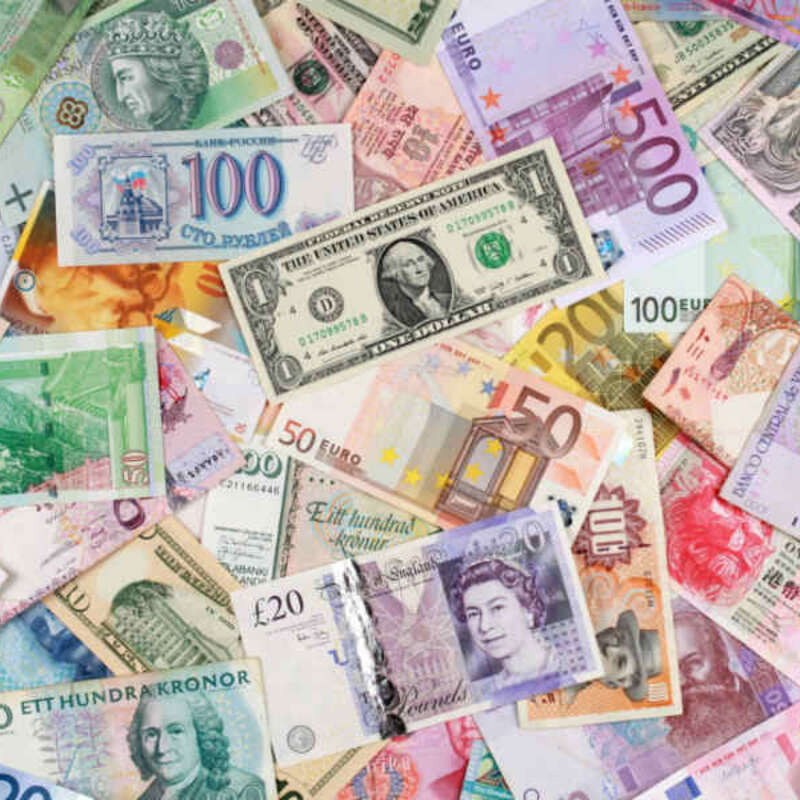 Ant Group's Digital Treasure
Ant Group, the 33% owned Alibaba subsidiary, is China's technological wizard which expanded third-party digital processing - the original function of Alipay on Alibaba's platform - into digital integration of every aspect of China's finance - money markets, credit, insurance and wealth management
To imply that hopes at the announcement of the IPO for early November '20 were running high would be an understatement....
Ant Group's early November '20 IPO announcement had gained massive following with prospective shares subscribed 870 times over, in a frenzied rush of Mainland retail investors (although splitting the IPO between the exchanges of Shenzhen and Hong Kong and reservation of 80% of the shares - 69.57% including the 'green shoe' - to strategic investors did contribute to extreme and perhaps intentional scarcity....)
Expected to become the largest IPO ever, the listing was called off by the Chinese regulator just days before launch
Ferreting out the underlying motives in the debacle may be an impossibility because of so many overlapping factors – some of which fairly subjective, related to the personality of Alibaba's founder, Mr Ma himself, some reflecting China's authoritarian government and some – probably more fundamental – credit risks of Ant's business model
As this note will show, data collected by Ant from its immense following - 1 billion Alipay consumers, 500 million clients and 20 million businesses relying on credit serviced by the company - are a digital treasure and the foundation of its extraordinary valuation
For now, regulations seems to be the 'straw' breaking Ant's back
However, China's ambitions in the digital realm are still burning bright and seemingly contradictory options will need to be resolved
China's global ambitions - of which the outsized success of Ant is a standard-bearer - must be advanced
but the exposure of unbridled digital growth - of which Ant's willy expansion is the symbol - must be controlled
...pointing the way to a 'New Ant' ?
Instead of making history with a stock market debut raising an expected $35 billion, valuing the company at more than $313 billion and topping the world's largest IPO to date, Aramco' $29.4 billion float in Dec. '19, the firm got…nothing
As discussed in 'Ant Group, is a non-bank a bank?'
Undoubtedly, by intervening at the very last minute, the heavy-handed approach of the regulators has put a dent in China's effort to gain recognition as a world-class financial center
If China's authorities were willing to bear the reputational costs to a financial and monetary strategy which has been years in the making, and which remains of paramount importance, the planned IPO must have been recognized as a landslide sweeping all before it
Ferreting out the underlying motives in the debacle may be an impossibility because of so many overlapping factors – some of which fairly subjective, related to the personality of Mr Ma himself, some reflecting China's authoritarian government and some – probably more fundamental – credit risks of Ant's business model
One might argue that the motives fed upon one another, building up pressure until the dam burst at the eleventh hour…and there should be a grain of truth to this 'dynamic' explanation
Morals and politics
It has been argued in a documented Wall Street Journal article, Feb.16, 2021, quoting unnamed Chinese officials, that probes into Ant's complex ownership structure uncovered some key reasons behind the decision to halt the IPO
While subjective factors, such as extraordinary enrichment of some individuals, may have contributed in bringing out-of-favor political challengers to reckoning, it remains improbable that decisions regarding as influential a firm as Ant Group are about anything but control
Ant's ownership is unquestionably complex and deliberately obscure, linking successive layers of investment vehicles with ultimate ownership devolved to well-connected individuals in the Chinese power structures, but whether such frameworks are unique to Ant appears unlikely
Ant's growing dominance in China's financial landscape may be best understood as 'transactional'
Mr. Ma, Alibaba founder and guiding spirit, has been careful in seeking official acceptance of his fast growing financial subsidiary - Ant Group, after all, is a private enterprise in a Chinese financial world which is anything but...
By sharing partial ownership of Ant between influential business leaders and with public enterprises such as China Life Insurance or National Council for Social Security Fund, China's sovereign wealth fund, China Investment or State-owned China Construction Bank, Mr. Ma was committing the financial establishment to his success
In seeking partial ownership by well-regarded foreign private equity funds as well, Mr. Ma was no less transactional to gain international credibility...
On the whole, it appears probable that conceptual choices regarding China's domestic financial system, and regional ambitions sustained by a network of Chinese third-party digital processors in South-East Asia, will weigh on Ant Group's future, while tactical 'point-scoring' against individual interest does not
The two faces of lending
The biface is a prehistoric stone implement flaked on both faces, the longest-used tool in human history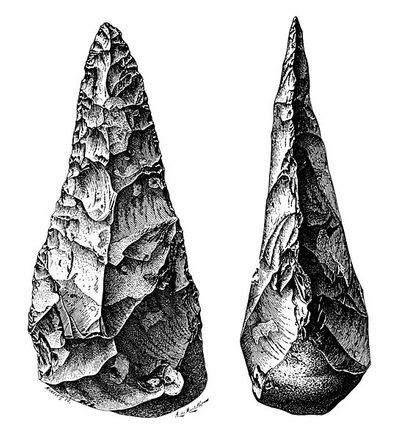 Without being quite as ancient, the lending practice has duality in common with the biface, requiring knowledge about the borrower and willingness to take on the risk
In focusing on the Group's lending activities, the disconnect between Ant's credit rating system and the Chinese banking system's risk exposure to actual loans is the central issue
What must have raised official concern, and what made Ant's credit rating unique, has been
the size of its data collection and the power of its analytics,
its exclusive knowledge of an ever-growing mass of digital transactions
and its ability to control - potentially - most of the loans underwritten by the Chinese banking system (without sharing the risk)
If this interpretation is accurate, one can only wonder how foreign investors could ignore the implications of the potential financial blow-up, when monetary regulators in their home countries effectively rely on anti-trust rulings and controls honed over decades
Chinese and global investors committed $14 billion in June '18, valuing Ant at $150 billion, up from $60 billion two years earlier (April '16), at a time Ant's money market fund Yu'e' Bao was already under intense regulatory pressure
By '18 , within 4 years of its launch, the fund had come to dominate the money-market in China with almost 1/3 of net assets collected in China and 370 million subscribers, becoming the world's largest with $268 billion assets
As reviewed on the Indian site Your Story in August 2018, the writing was on the wall as early as 2015, when more than 70 percent of Yu'e' Bao's investments were locked in financial instruments of maturity higher than three months, whereas the Alipay facility backing the investment product offered same-day withdrawal facility to clients.
Not a healthy proposition when the clients are prone to promptly withdraw their funds following a dip in overnight returns on their investments
Regulations must have been unwelcome for Ant's managers but, by stemming the flow out of the banking system into Ant's fund and by encouraging competition (opening the Yu'e' Bao platform to third party funds), as discussed in 'Is Ant Group feeling antsy ?', they achieved their purpose
History may not repeat itself, but there cannot be any doubt that past regulatory experience will weigh in the pivot about to be foisted upon the Group
Data, a small matter of size
By way of digital payments handled by Alipay, the widely distributed third-party payment processor, Ant controls a data base with detailed information on the consumer profiles of 1 billion users of the app, and of 80 million businesses delivering the consumer purchases and buying merchandise themselves with the digital app
Providing insights in real time about credit worthiness of consumers and of small-to-medium businesses, the information collected from a still underbanked Chinese population, and the financial trail between merchants and their own providers, create a virtuous circle as more data becomes exclusive to the digital payment process, chipping away at the quality of banking credit evaluations over time
The business model, skewed in favor of Ant Group which collects a 'technology service fee', is
self-supporting as the data, essentially covering the entire Chinese population, accounts for ever more detailed spending profiles - from daily expenses to insurance and wealth management (also served by Ant)
untethered because Ant's loan 'advisory' does not expose the firm to any significant exposure to capital risk (or regulatory constraint)
And also very profitable...the service fee - a commission on loan origination by Ant Group - is a 2.08% charge on the value of the loan, according to Forbes, alternatively estimated at 30%-40% of the interest on the loans facilitated, according to Reuters
Revenue on lending, from about half the 'legacy' digital payment business generated by Alipay in 2018, rocketed ahead in 2019 (+87%) and surpassed Alipay by mid-2020
in ¥ (billion)
Lending
Digital payment
Total
2017
16,19
35,89
52,08
2018
22,42
44,36
66,78
2019
41,89
51,91
93,8
6m2020
28,59
26,01
54,6
(1) est.2020
57,18
52,02
109,2
source Ant Group
(1) based on 6m'20 * 2
in $ (million)
Lending
Digital payment
Total
2017
2 348
5 204
7 552
2018
3 251
6 432
9 683
2019
6 074
7 527
13 601
6m2020
4 146
3 771
7 917
(1) est.2020
8 291
7 543
15 834
source Ant Group
(1) based on 6m'20 * 2
RMB/USD - approx 1/0.145
With data at the heart of its oversized influence, Ant could still legitimately elude regulatory capital constraints but, without any 'skin in the game', the company was in fact pushing acceptance of FinTech innovation by the Chinese regulator to breaking point
Fintech lending...and more
Ant Group provides limited borrower information to about 100 banks
By relying on Ant's credit rating to underwrite loans, the banking system, especially the smaller banks, in fact lose direct access to the detailed credit information of their borrowers while they remain (almost) solely exposed to potential losses
On the other hand, by serving small-and-medium business which had been kept out of the loans underwritten by the major banks, Ant's processes have proven to be more inclusive and popular with the consumers
The firm's evaluation of creditworthiness has also been consistently very reliable: according to Group CEO Hu Xiaoming, the non-performing rate of small and micro-enterprise credit for Huabei and Internet Commercial Bank has risen from around 1.5% before the epidemic to around 2%.
As of June '20, Ant Group processed 1.7 trillion yuan ($263 billion) worth of consumer loans, of which 98% were underwritten by other financial institutions or securitized - Ant holding on to 2% of the loans, an exposure essentially covered by the 2.03% fee levied by the company
Ant's loan origination grew by 38% in 2018/2017 and by 86% in 2019/2018 - with 2020 looking even better at the mid-year, when the IPO prospectus was made public
According to Reuters, Ant accounted for 21% of all short-term consumer loans issued by Chinese deposit-taking financial institutions by June '20, according to its IPO prospectus and People's Bank of China (PBOC) data
In the space of 4 years (2017-2020), the company was on the way to quadruple its lending fees and the volume of loans originated...Arguably, Ant was riding a wave of credit-powered consumerism in China, the like the world had never seen before
However, victim of its own success, feeling presumably smug about the popular recognition of its model, Ant Group may have downplayed the inherent risk of a model allocating unsecured loans on the basis of fairly short term data history - not a prospect to be entertained
The flaw in the analytical foundation of origination is further exacerbated by the lure of fast growth engineered by flexing rule stringency, resulting in a decline of loan quality - an unpleasant reminder of the sub-prime financial crisis
To enhance the reliability of its prized data on every consumer and to profile the credit-worthiness of every business in a mirror image of retail turnover, Ant Group had many reasons to force the pace
Expansion at breakneck speed - from payments (in store and on platform) to financial services, money markets, insurance, loans and portfolio investment - kept testing the boundaries of regulatory tolerance
2019
in ¥ (billion)
in $ (million)
digital payments
43%
51,91
7 527
micro lending
34,70%
41,89
6 074
weathmanagement
14%
17,4
2 523
insurance
7,40%
9,4
1 363
Total
100%
120,6
17 487
source Ant Group
RMB/USD - approx 1/0.145
With everything at size,
the loans of RMB 1.7 trillion ($ 263 billion) benefitted 500 million users and 20 million businesses
digital payments managed by Ant amounted to RMB 118 trillion ($17.1 trillion), generating fees of RMB 51.9 billion ($7.5 billion)
commissions on wealth management of RMB 4.1 trillion ($0.6 trillion) amounted to RMB 17.4 billion ($2.5 billion)
commissions on insurance premiums of RMB 52 billion ($8 billion) reached RMB 9.4 billion ($ 1 billion) - with health insurance, launched in October '18 signing up 100 million customers within its first year alone....
Ant brought a digital transformation to every nook of the Chinese financial system, leaving the regulatory framework with an unenviable choice
ad hoc regulatory constraints with unpredictable consequences on a global success story
or flexible remodeling of the Chinese financial system
As will be discussed in 'Inventing New Ant', the - seemingly contradictory - options of the Chinese authorities are framed
by their global ambitions - of which the outsized success of Ant is a standard-bearer -
and by the exposure of unbridled digital growth - of which Ant's willy expansion is the symbol