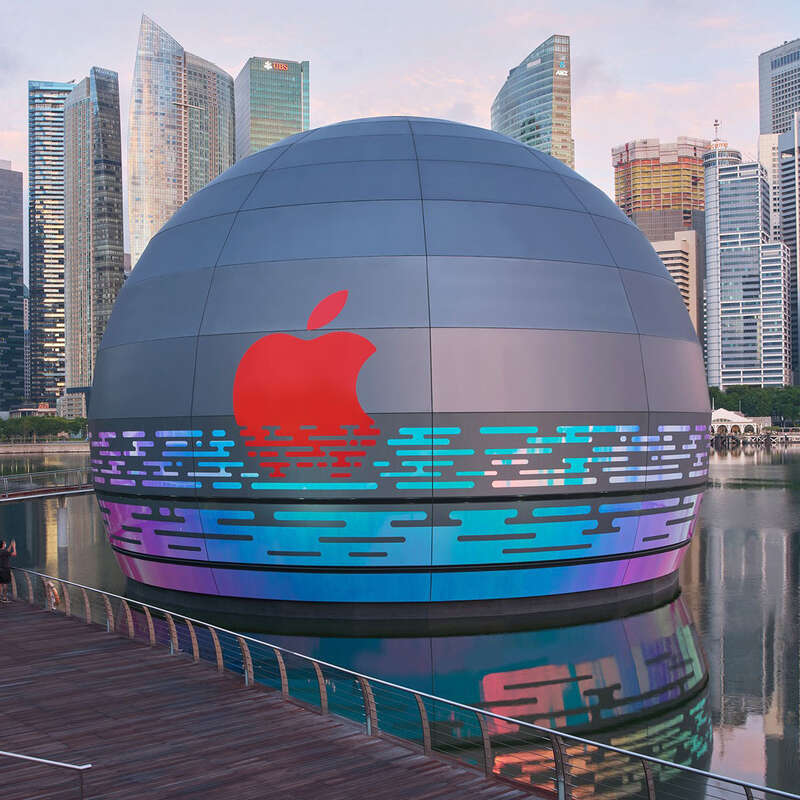 Apple suppliers, a fraught relationship
Spread widely across the world, the network of Apple suppliers does not lend itself to straightforward analysis and, as Apple has stated times and again, the complexity of its supply chain skews any extrapolation from suppliers' forecasts
In context, however, investors have been paying special attention following Apple's announcement by CFO Maestri at the conference call, November 1, 2018, that the company will stop reporting unit sales for iPhones, iPads or Macs from fiscal 2019 (starting Oct. 1, 2018)
Key suppliers in focus
As of early November, 2 key suppliers have been in the news for cutting their earnings projections of the coming months : Japan Display , which provides LCD screens (in iPhone XR, Apple's new lower priced model), and Lumentum , primary supplier of vertical-cavity surface-emitting laser (VCSEL) components of 3D sensing for augmented reality (in iPhone X) with about a 75% market share
The announcements have been followed by warnings of Austria-based AMS – supplier of facial recognition technology – and of Qorvo – supplier of RF advanced mobile solutions
Estimates of revenue share generated by Apple are
55% - Japan Display
36% - Qorvo
30% - Lumentum
20% - AMS
Apple's share price has been impacted by the rollback of these companies' projections
A critical segment for technology, 'optics and photonics', includes Apple 3-D sensing supplier Lumentum, OLED manufacturer - but not Apple supplier - Coherent and 2 companies listed in Shenzen – Han's Laser Technology (ticker 002008) – and in Hong Kong – FIT Hon Teng (ticker 6083)
Share prices actually highlight the impact on sales of the diversification effort of suppliers, here in the optical networking and commercial laser market (telecom, enterprise and data center networks), casting in doubt extrapolations strictly related to Apple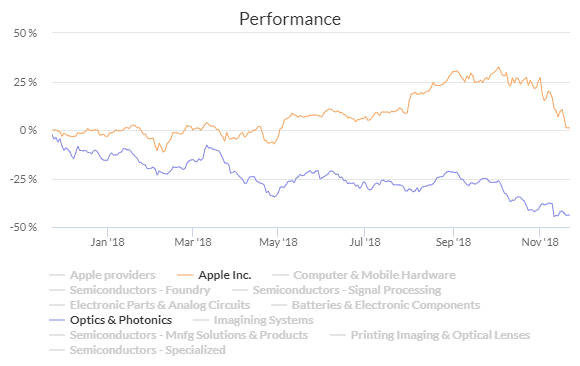 Differentiating suppliers - 3 categories
Component manufacturers, in semi-exclusive dependence on Apple sales trends, such as Japan Display
Component manufacturers with a wide product range, such as conglomerate Samsung Electronics (listed on South Korea Exchange - ticker 005930), Intel or giant foundary TSMC
Contract manufacturers, producing the hardware, such as – and mainly - giant Foxconn, also known as Hon Hai Precision Industry (Taiwan based and listed - ticker 2354) with a subsidiary Foxconn Industrial Internet listed on Shanghai Stock Exchange since June 2018 (ticker 601138)
Overlap between the categories, as is the case with FIT Hon Teng, another Foxconn subsidiary (listed in Hong Kong - ticker 6088), both contract manufacturer and manufacturer of connectors and camera modules, further complicates market anticipations
Considering the range of market factors in play, our theme does not lend itself to direct conclusions regarding Apple sales while some of the smaller individual constituents may be correlated with Apple sales, at least for a time…
Ultimately, and to constrain market assumptions, Apple suppliers count by the hundreds and only a small sample of these providers is listed on US exchanges
The following companies, believed to be significant suppliers, are not listed in the US


| Name | Ticker | Exchange | Industry |
| --- | --- | --- | --- |
| GoerTek Inc | 002241 | Shenzen | Electronic Parts & Analog Circuits |
| Han's Laser Technology | 002008 | Shenzen | Optics & Photonics |
| Shenzen O-Film Tech | 002456 | Shenzen | Imagining Systems |
| Shenzhen Desay Battery | 000049 | Shenzen | Batteries & Electronic Components |
| Tianma Microelectronics | 000050 | Shenzen | Electronic Parts & Analog Circuits |
| Zhejiang Crystal-OpTech | 002273 | Shenzen | Imagining Systems |
| Zhejiang Tony Electronic | 603595 | Shanghai | Electronic Parts & Analog Circuits |
| AAC Technologies | 2018 | Hong Kong | Electronic Parts & Analog Circuits |
| Cowell e Holdings | 1415 | Hong Kong | Printing Imaging & Optical Lenses |
| FIT Hon Teng | 6088 | Hong Kong | Optics & Photonics |
| LG Innotek | 011070 | South Korea | Electronic Parts & Analog Circuits |
| Catcher Technology | 2474 | Taiwan | Computer & Mobile Hardware |
| Inventec | 2356 | Taiwan | Computer & Mobile Hardware |
| Largan Precision | 3008 | Taiwan | Printing Imaging & Optical Lenses |
| Pegatron | 4938 | Taiwan | Computer & Mobile Hardware |
| Wistron | 3231 | Taiwan | Computer & Mobile Hardware |
(1) Han's Laser, Tianma Microelectronics, Zhejiang Crystal-OpTech and Zhejiang Tony Electronic do not appear to be listed as suppliers by Apple, as of Februari 2018
Innovative technology and Apple exclusivity
The only extrapolation with a semblance of reliability might focus on deep specialization, at companies largely dependent on Apple orders…and this category happens to be more exposed than any other to Apple's strategy of bringing cutting-edge technologies in-house, at the expense of their original provider
This is because, in a race to differentiate Apple products, the company is focused on exclusive access to innovative technology and the mandate of Mr Srouji, head of Hardware, summarizes the breadth of the company's ambitions
Johny Srouji serves as senior vice president of Hardware Technologies at Apple, reporting to CEO Tim Cook. Johny has built one of the world's strongest and most innovative teams of silicon and technology engineers, overseeing breakthrough custom silicon and hardware technologies including batteries, application processors, storage controllers, sensors silicon, display silicon and other chipsets across Apple's entire product line


Manufacturing mobile chips
Apple already relies on the in-house designed A-class systems-on-a-chip processors for iPhones and iPads, ARM-based SoCs, with two high-performance cores and four high-efficiency cores and dedicated neural network hardware, manufactured by TSMC
Distancing itself from Intel components, Apple is expanding its mobile chips with a Bluetooth-enabling wireless W2 chip for its headphones, a S-series for Apple Watch, an AI chip called the Neural Engine and custom GPUs for the iPhone 8 and iPhone X lines
Replacing Intel's CPU (exclusive for Mac since 2006)
Announced in April '18, Apple's own development of a low-power ARM based laptop CPU, code-named "Kalamata", is planned as a part of the company's strategy to realize seamless operation between hardware and software, from 2020.
Still in the early developmental stages, the strategy to make all of Apple's devices — including Macs, iPhones, and iPads — work together. And a new software platform, dubbed Marzipan, for release as early as this year (2018) would allow users to run iPhone and iPad apps on Macs
Designing graphics processors
With development of in-house graphics processors designs, the contract with Imagination Technologies is to be terminated by 2019. The graphics processors are built in the main core processors Apple already produces
The integration is expected to be beneficial to achieve very low power consumption by targeting specific features in the hardware (smartphones and tablets)
But in-house chips might not necessarily make a difference with Intel processors for high performance (and high power) models (MacBooks Pro, iMac,...) : an open question as it is repeatedly reported that the company is in fact developing its own chips for Mac devices...
Display screens
An unconfirmed March 2018 Bloomberg report suggests that Apple is investing in the development of next-generation Micro-LED screens, with self-emitting diodes that don't require back lighting, with high contrast ratios, and low power consumption
Apparently still in the research stage, possibly some years down the road because of the difficulty in scaling production, a breakthrough will free the company from over-reliance on Samsung , currently the key supplier of OLED and curved AMOLED displays, in addition to chips, batteries and capacitators
Possibly as a 'stop gap' measure to diversify its supply chain, Apple has announced in September 2018 that LG Display will be its alternative supplier for flexible OLED displays. LG Display is a subsidiary of LG Chem, listed in South Korea (ticker - 003550)
The sizable order book of Apple sales for Samsung has been estimated at $202 per iPhone X, including the display priced at $110 and chips, summing for a total of approx. $14 billion on sales estimates of 130 million units in the first 20 months (through Summer 2019)
With semiconductor and display businesses commanding approx. a third of turnover and half the profits, Samsung will not stand still in this race, both as the world's largest volume producer commanding the most attractive, potentially the lowest price, and as innovator in micro-LED screens with the launch of a 146-inch micro LED TV, from 2019
Display drivers
Moving display drivers in-house is expected to optimize power and performance with the internal graphics engine : it appears that Synaptics is not included in the most Feb. '2018 list of Apple suppliers and Touch ID features have been dropped from the iPhone X
Cellular modems
Planning to create its own modems, Apple has been hiring engineers from Qualcomm
Engaged in a patent infringement dispute with Qualcomm, the modems of 2018 iPhones lines will be provided by Intel with MediaTek (listed on Taiwan stock exchange - ticker 2454) remaining a possible alternative provider
With the launch of the XR, XS, and XS Max smartphones, Intel has become sole supplier of cellular modem chips, as the company's next generation XMM 7560 modem added support for key CDMA cellular standards
3D-sensing components
Austria's AMS makes 3D-sensing components for "Face ID Security" which replaces fingerprint-based security on the iPhone X
Power consumption management in chips
London-listed Dialog Semiconductor , whose chips control power use, were impacted in late 2017 as a key client "had the resources and capability" to make its own power-management chips - and the company does not figure on the Februari 2018 supplier list
To compound the issues confronting Apple suppliers, features popularized by Apple can also devalue very quickly as was the case for motion sensors (showing portrait or landscape format on iPhones), supplied by STMicroelectronics among others : price fell quickly from close to $2 a unit to roughly 20 cents
To recap, in our view, trends amongst suppliers should be part of a wider consideration, one of many data points an investor needs to weigh
Given the clearly stated intent of Apple to bring critical technologies in-house, focus might need to reverse to those suppliers whose excessive dependance on Apple orders flash red...
Imagination Technologies, the British tech designer of mobile graphics processors, which had relied on Apple for half its revenues, ended up selling itself in September '17 to Canyon Bridge, which backed by state-owned Chinese fund Yitai Capital, valuing the company at a quarter of its 2012 peak...