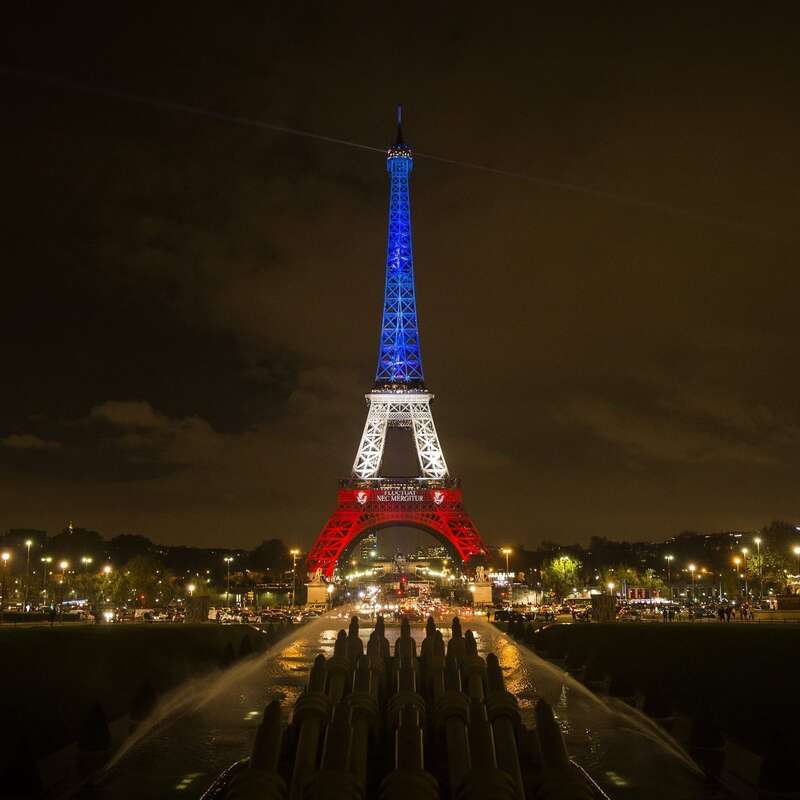 Pin-insights
Bangui is the capital of Central African Republic (CAR), a former French colony facing a dire future
Overrun by competing militias, religious mayhem overlaying civil war, banditry and crimes trivialized, the civilian population remains the forever suffering victim
A valiant attempt to restore a degree of stability in the country with French troops between Dec. 2013 and Oct. 2016 floundered, a stark reminder of the constrained means of a medium-sized power such as France
Relations between the communities are as fraught as ever and the thin veneer of UN peace forces (no less than 10 000 men) and an EU- supported assignment to train the CAR armed forces (300 men) deceives no one
Elbowing their way onto the scene, resurgent Russia and newcomer China are setting out their stakes...
***
"We penetrated deeper and deeper into the heart of darkness" ― Joseph Conrad, Heart of Darkness
"If you believe in an ideal, you have to give yourself the means to reach that ideal" ― Toussaint Muntazini Mukimapa, Chief Prosecutor of the Special Criminal Court in Bangui
Our series 'the Remains of the Day' discusses the complex arbitrage medium-sized ex-colonial powers – such as France or the United Kingdom – have to resolve to confront larger resurgent world powers
Limited human resources (either military or civilian), poor national support for involvement easily branded as wayward 'post-colonialism' at home and a lack of hard financial commitments make it difficult to hold an unwavering political line
Further complicated by vastly differing settings, across the small holdings and newly independent countries, the standing of the medium-sized states is unenviable, as our discussions of French influence around the world hopes to show
Kicking off with Djibouti, independent since 1972 and in recent years heavily indebted to China (which opened a military base in the small country), we next considered a very different situation in 'Mountain of gold', French Guiana
The territory is a French 'Département' with all the rights and obligations of any patch of land in the home country, but the lack of flexibility of national regulations applied in an area which is mostly (98%) Amazonian rain forest should be a red flag
In a "Bang for Bangui", we profile Central African Republic (CAR), a 4.5 million population and a long history with colonial France, independent since 1960, coup prompt and torn by civil war
Whatever one's opinion about France's role in the African country's internal affairs, governmental policies decried by many could be seen today as strained efforts to stabilize Bangui while preserving local French business interests
In a very different setting from our previous notes, the issue raised by Central African Republic is much the same – how to nurture a measure of shared interests and support by former colonial powers in the face of encroachments by overbearing new comers
Torn to pieces
The last decades of the Central African Republic have not been happy and, caught in a mess they to a degree contributed to make, the French seem to have no grip on developing events
Still, because of its location at the cross-roads of central Africa, Chad to the North, Soudan and South-Soudan to the East, Congo and RDC to the South, the country is a springboard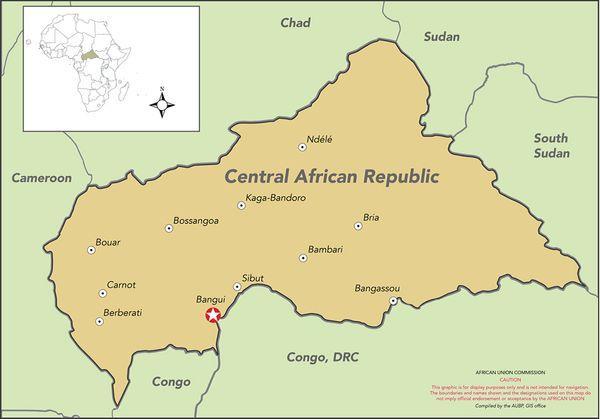 The opportunity has not gone unnoticed
France has interfered in the workings of the country's presidency for decades, engineering coups against Presidents getting wildly out of hand; Mr. Bokassa, who crowned himself emperor in ceremonies inspired by Napoleon, being the most extreme, was overthrown in 1979, as were most of his successors at the presidency
The religious make-up of the country – 85% Christian and 15% Muslim – the real (or supposed) mineral resources in the North (uranium, gold, diamants, manganese, coltan and oil) and pushy neighbors eyeing these riches from across the border were more than enough to keep internal strife on the boil
Chad's military support to the stabilizing efforts led by France against AQMI (a Al-Qaeda inspired terror group) much further to the West, in Mali, a commitment made in Dec. 2012, is said to have given that country's strong man, Idriss Deby, the opening to interfere in the CAR
We would not know of course, but the fact is the flimsy CAR army was no match for solid Northern Muslim 'Seleka' troops which occupied the capital within months (by March '13)
Following the flight of the country's president, 'Seleka' strengthened its hand with excesses and crimes targeting the dominant Christian population – leading, inevitably, to reprisals by Christian 'anti-balaka' militias, both parties targeting as a matter of course perfectly innocent and peaceful people of either religious creed
The tragic mess led France to launch a full-fledged 2 500-men military operation in Dec. 2013 which pushed back the 'Seleka' militias up North but resolved little; with religious factions at each other's throat, the duty entrusted to the military could hardly do better than contain the atrocities
Criticized (unsurprisingly) on all sides, further tainted by scandals (sexual abuse on children by French military, a corrupt French ambassador) which, true or not, left its reputation considerably weakened, France pulled back its troops by Oct. 2016, leaving the field to
a UN peace keeping mission (MINUSCA) of more than 10 000 men from 10 countries, engaged since Apr. 2014 and reconfirmed in Dec. 2018
a EU-led group, specifically dedicated to training of the CAR armed forces (EUTM RCA) of 300 men, recently returned to French command
A de facto partition, with 'anti-balaka' in the southwest, around the capital Bangui, secured by MINUSCA, and 'ex-Seleka' in the northeast, leaves some 14 different armed militias roaming the country, living of extortions, road blocks and theft of minerals
According to the UN, human suffering is immense - violence since 2012 led to thousands of deaths, nearly 700,000 people are displaced, 570,000 have fled the country and 2.9 million – 63 per cent of the population – are in need of humanitarian aid


The Russians are coming…
Little more needs to be said
In late 2017, under a tacit acceptance procedure by UN Security Council, supported by France, Russia could provide weapons to the CAR army, contravening a 2013 embargo on weapons delivery to the Republic. Cost factors as well as intricate Council negotiations will have determined the issue
The agreement covered delivery of light arms and ammunitions to the CAR military forces

Arming two battalions of 1 300 men, whose training involved the above mentioned European EUTM RCA, the weaponry – if a MEMRI report of Jan. 2018 is to be believed – includes rocket-propelled grenades (270) and 20 anti-aircraft weapons
Not precisely light arms, the delivery of anti-aircraft weapons (if it actually occurred, which we would not know) may threaten French helicopters in the future, an issue highlighted on pro-Kremlin website Geopolitica.ru

It appears Russia took the opportunity at heart
signature of a defense pact by the CAR president Touadera in Moscow (Aug. '18)
500 Russian 'advisors' to the regular CAR army
personal protection of the president under Russian advisor for national security, V. Zakharov,
a forceful and experimented ambassador, V. Titorenko
operations of private security firm Wagner, involved in training of the regular army with 300 to 400 men (and potentially more)
Russian firms engaged in forestry as well as mining (licenses for gold, uranium and diamonds); the Wagner group is said to be involved as well
launch of a private TV network (a first in Bangui), Vision 4 TV, by a Cameroon media concern, said to be supported by Russian capital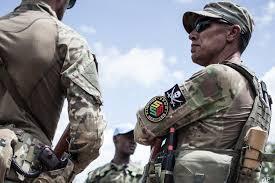 Not to make too fine a point, the Russians take advantage of the opportunity; unencumbered by human rights, leaving country-building to international mandates, Russia's goals appear to be consistent with their capabilities
balance China's influence with a significant presence in Africa
secure a fall-back position as Russia's power base in Africa, Sudan, looks increasingly shaky after the failure of the country's strong man, Omar al-Bashir, to hold on (whatever the Moscow Times dated April 17, 2019 may argue)
gain privileged access to natural resources for Russian companies (presumably before competing players come around looting...)
control CAR's security apparatus
influence public opinion, to further undermine French credibilty
Properly calibrated, Russia's goals are well on their way of being fullfilled, ruthlessly implemented and brokering no interference
The never resolved deaths in July 2018 of Russian independent journalists Kirill Radtchenko, Alexandre Rastorgouïev and Orkhan Djemal, who came to inquire about the doings of Wagner, stand out as a marker and a stern reminder of the level of violence on all sides
If, after reversing its tactical retreat from the country, France will manage to resuffle the cards with the July 2019 nomination of a French commander from the military intelligence at the EU mission, following the arrival of a new ambassador and a French general as chief of staff of UN-MINUSCA, remains to be seen....

The Chinese too
A mark of interest, the $17bn debt cancelation (late '17- early '18), training of Central African cadres in China and gifts of military equipment have not led to political involvement or interference in local security – as far as is known and up to now …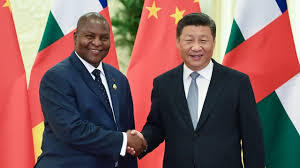 Carefully monitoring of votes at the United Nations General Assembly and related organizations (such as the FAO where France just lost massively and unexpectedly its bid for the presidency to the advantage of … China) might tell a different story
As for economic involvement by Chinese business, two State firms (SOEs) have been drilling for oil up North since 2007 and seem to have left, following threats by the local muslim FPRC militia
Playing the longest game of all, China's ambition to revive a French late 19th century project of a trans-saharan route from Dakar (West, on the Atlantic) - Djibouti (East, on the Red Sea), of some 8 700 kilometers (5 500 miles) and crossing 10 states, has been discussed off and on in international UN and African Union summits
Cutting out the Suez canal and long circumnavigation, breaking open the natural wealth of the heart of Africa, the grand plan will happen
In the slow dance between the legacy powers (France and the UK) and the upstarts, every player signals his intent well ahead
Every move will be credible if backed by the means to honor commitments in the long haul...
And China is biding time...