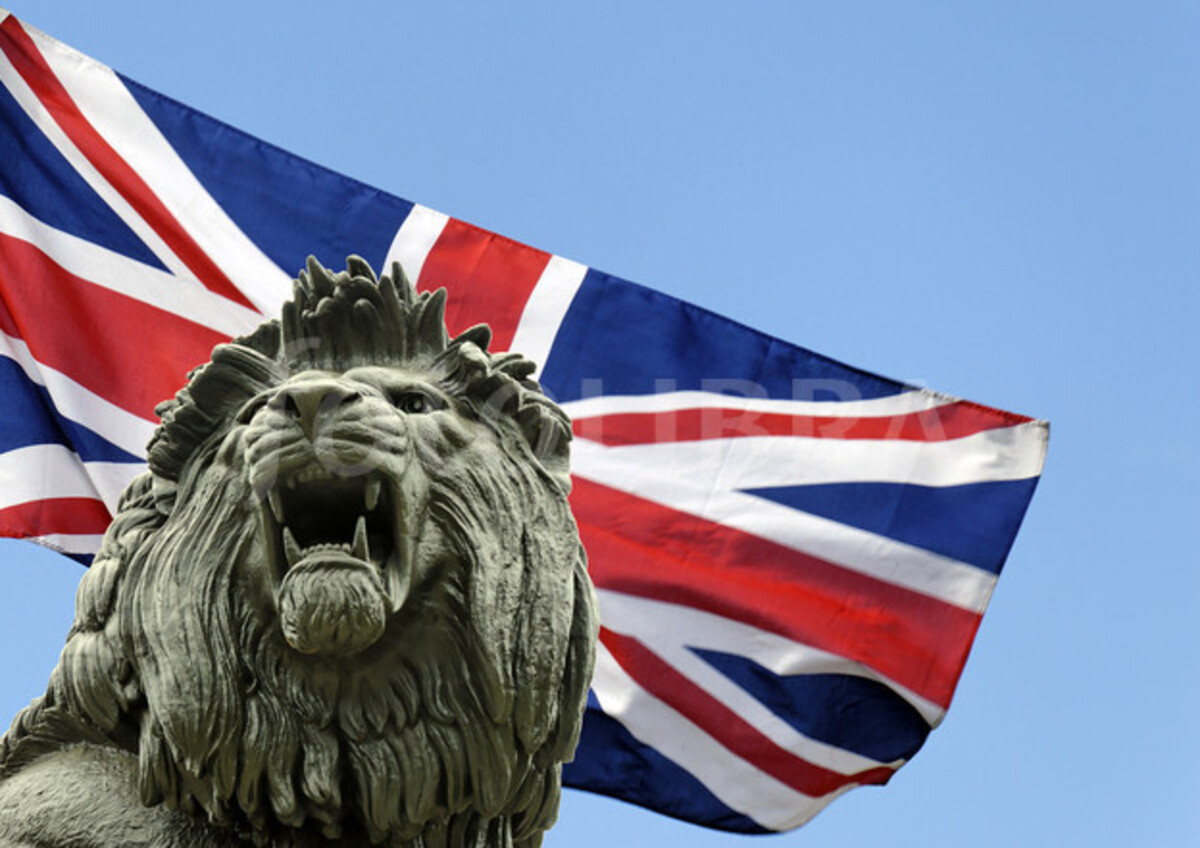 Between a rock and a hard place
Ripping the fig leaves from make-believe politicians, the British Office for Budget Responsability (OBR) confronts the reader (and said politicians) with reality head on
The King(dom) is naked indeed
Excerpts
With or without … policy changes, our projections suggest that the public finances are likely to come under significant pressure over the longer term, due to an ageing population and further upward pressure on health spending from factors such as technological advances and the rising prevalence of chronic health conditions
Our projections include the impact of the Government's as-yet unfunded June 2018 announcement of increased health spending over the medium term [regarding a £20.5 billion annual real-terms rise in health spending by 2023/24]. The Government has indicated that measures to finance at least part of the additional spending will be announced at some point, but has given no firm details of their size or composition
The Government has indicated that it will fund at least some of the health package by increasing taxes and/or reducing other spending, but in the absence of firm detail we cannot include this in our projections. It has also said that the announcement will be funded in part by a 'Brexit dividend', although our provisional analysis suggests Brexit is more likely to weaken than strengthen the public finances overall
Pending a detailed withdrawal agreement and associated spending decisions, we assume in this report that the extra health spending adds to total spending and borrowing rather than being absorbed in whole or part elsewhere [such as by a 'Brexit dividend']
OBR Brexit analysis

In its March 2018 economic and fiscal outlook, the OBR confirms its previous projections in broad terms
Net inward migration was expected to drop. In effect, net migration slowed from 336,000 in the year to June 2016 to 244,000 in the year to September 2017. This was more than accounted for by net migration from the EU dropping from 189,000 to 90,000
With a weakening pound, inflationary pressures were assumed to increase since the referendum and although,, according to the latest July '18 data from the Office of National Statistics, the trend line for CPI has – as expected – slowed from a September '17 high point of 3% to 2.4% in June '18, the run-up of the annual rate since May '16 (0.3%) is significant
Charting the 12-month inflation rates for Consumer Prices Index (CPI) and CPIH (including owner occupiers' housing costs) and the rate for the owner occupiers' housing costs (OOH) component of CPIH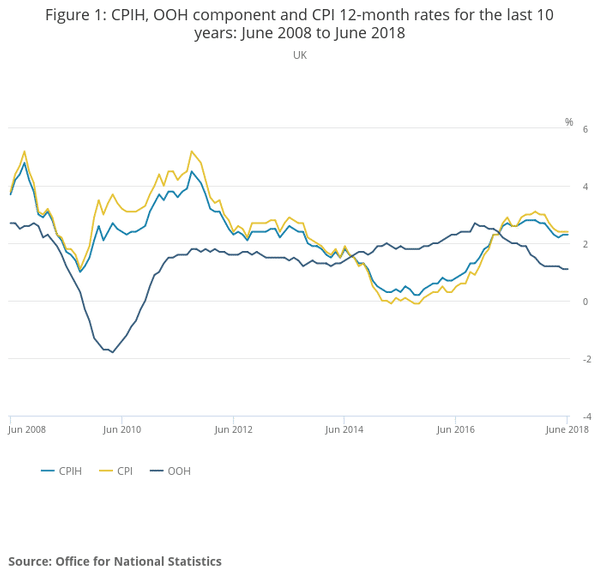 The expected squeeze on real income and consumer spending is broadly verified but household consumption has kept up better than expected by tapping personal savings – undoubtedly a temporary fix
Because of uncertainty surrounding the terms of departure from the Union, and the long lags in business investment, no definite conclusion is drawn regarding the medium term investment trend. The Bank of England however has estimated that Brexit uncertainty has directly lowered business investment by 3 to 4 %
Regarding net trade, export and import growth have both been higher than expected, but import growth by a much greater margin – confirming the stickiness of trade patterns
In summary
Overall, the small positive contribution from net trade since the referendum has been insufficient to offset the slowdown in domestic demand, so real GDP growth from second quarter of 2016 to the final quarter of 2017 has been 0.6 percentage points weaker than our final pre-referendum forecast in March 2016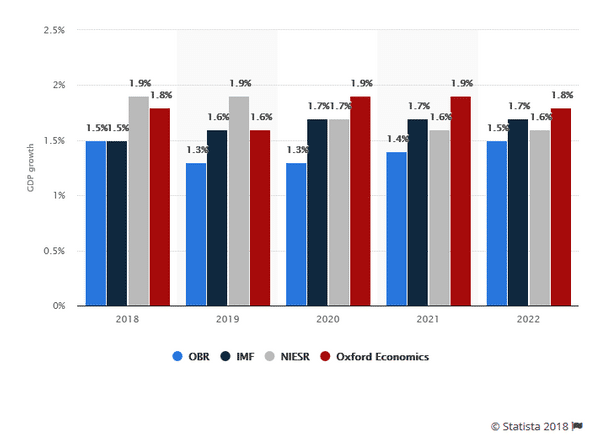 UK productivity, a conundrum
The OBR finally abandoned a view it had held consistently, that productivity growth would return to its pre-crisis 2007 trend of about 2% a year.
Extending labor productivity observed for January - March 2018 (ONS) for the full year, the estimated growth trend is cautious, if not anemic, with a projection of 1.2% reached by 2022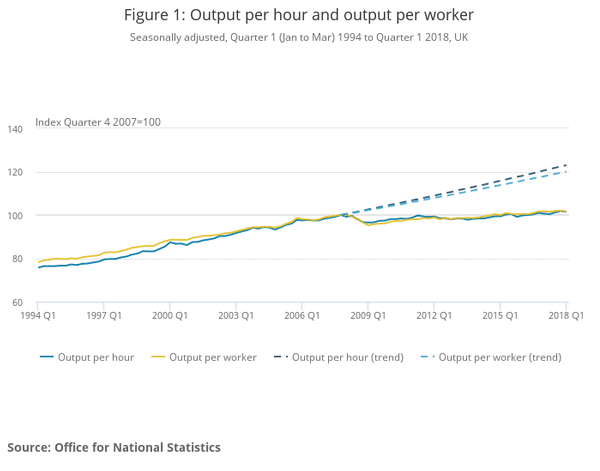 The knock-on effect on overall economic growth is dismal because productivity will make or break the economy and investments determining the future of the country (infrastructure, education and health)
It has been estimated that, if the pre-2007 trend had continued, productivity would now be 16% higher than it actually is. Wages and living standards would also be higher
But any projection of productivity growth should still be viewed for what it is - a shot in the dark and the great unknown of the British economy - still not fully understood after 10 years although many factors appear to be at work
Quoting a 2015 ONS article, among the many reasons suggested are low levels of investment, the impact of the financial crisis on bank's willingness to lend to new businesses, higher numbers of people working beyond normal retirement age as a result of population and pensions changes, and firms' ability to retain staff because of low pay growth
According to the ONS, output of goods and services across the whole economy has resumed an upward trend after falling steeply during the economic downturn of 2008-2009 but it has shown up in more hours worked, which have been rising strongly rather than in higher productivity per worker. Good for the number of jobs, this recovery has not contributed to living standards (source ONS 2015)
Disparity between different regions of the UK - stark in terms of living standards and educational attainment – results in an intractable productivity gap between the economic leaders (London, South East) and all the other regions, draging productivity down for the whole economy (University of Cambridge research)
Looking ahead, and among the many uncertainties related to the probable Brexit, University of Cambridge researchers emphasize the exposure of the agriculture and healthcare sectors, relying on significant numbers of foreign workers, with immediate effect of the 50% pull-back of EU net immigration in the year to September 2017
Our June 8, 2018 publication - Some straight talking by the Bank of England - provides some additional insights from David Marsden, Deputy Governor of the Bank of England
Promises, promises
With respect to funding of increased health spending, Mrs. May's official spokesman said: "Yes, there are substantial sums of money which we are currently sending to Brussels. Once we have left the EU, we will no longer have to do so."
But the OBR reminds forgetful politicians dourly
"Of that potential saving, £7.5 billion will be absorbed by the withdrawal settlement payment expected for that year, leaving £5.8 billion to be spent on other things. In principle this could cover slightly less than 30 per cent of the cost of health package …, but this does not take into account other calls on these potential savings, including commitments the Government has already made on farm support, structural funds, science and access to regulatory bodies"
Indeed, money 'send to Brussels' tends to be come back home in farm support, structural funds, science (research) and access to regulatory bodies…After leaving the Union, these commitments will have to be budgeted somehow
And none of this will lessen the pressure from the main driver, health spending, on public finances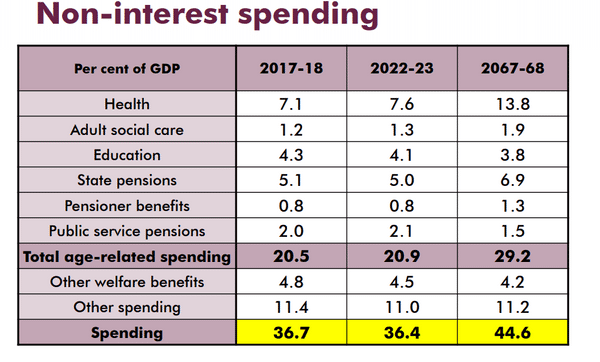 Health spending rises from 7.1 per cent of GDP in 2017-18 to 13.8 per cent over the next 50 years as the population ages and non-demographic cost pressures mount
State pension costs and adult social care costs add an incremental 1.9% and 0.6% of GDP by 2067-68

Putting quack doctors on notice
Excerpts
In our baseline projection and the many variants we consider…, we would eventually expect to see public sector net debt (PSND) on a continuously rising trajectory as a share of GDP. This would be unsustainable. But the fiscal challenges of an ageing population and non-demographic health spending pressures are common to many countries and our conclusions are similar to those of a variety of international institutions and other bodies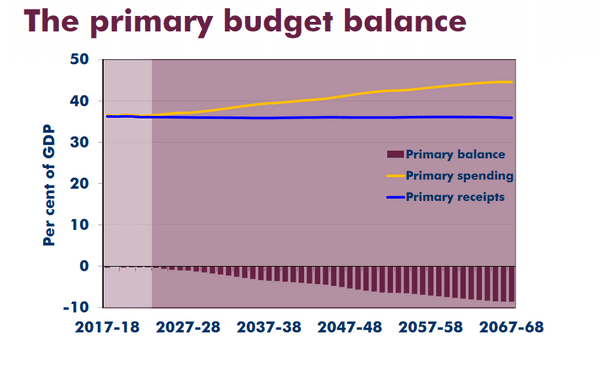 Articles on British Companies all US listings
What Britons get wrong about immigration – and why politicians need to tell them the truth by Professor B. Duffy, King's College London
Pulling no punches, the July 2018 'fiscal sustainability report' – recently published by the British Office for Budget Responsibility (OBR) – does not leave much room for complacency
The Anglo-Saxon political culture experiences freedom as the absence of restraint. Confident in its cohesiveness, society itself is the very essence of parliamentarian democracy – of how political structures fit in a free society
3 more articles ...