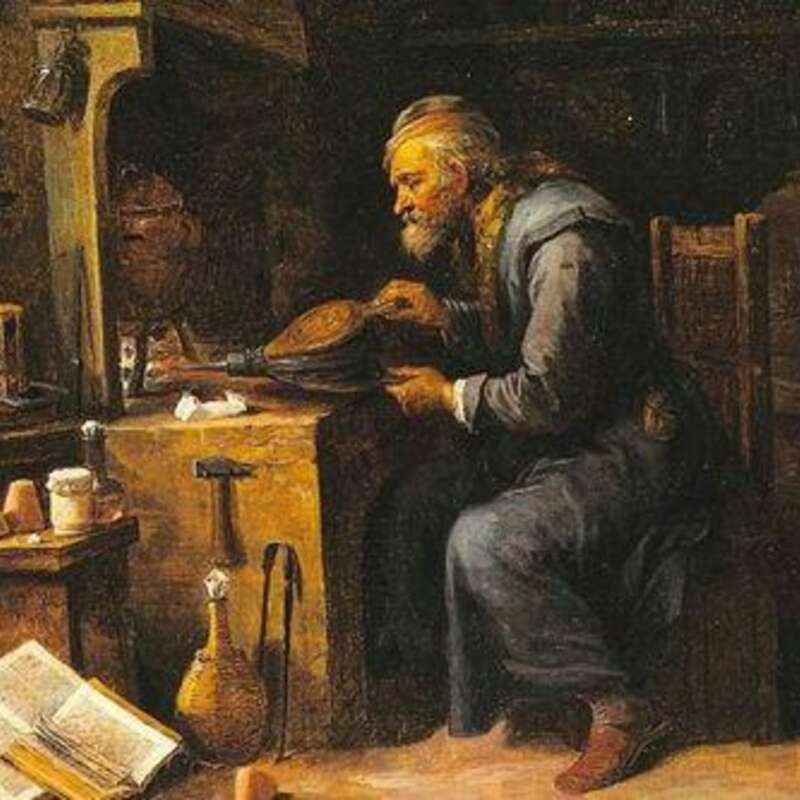 Pin-insights
Car makers and the suppliers of car parts are challenged by the most radical technological shift - requiring new motoring solutions while feeding into deeply transformative consumer expectations
The launch of the smartphone, taking the world by storm, might offer a relevant comparison of the stakes but transportation reaches further and deeper in the human psyche... Perhaps the printed word, launched with Gutenberg's Bible in the 1450 's, might carry appropriate implications for the revolution still in forbearance
Bringing the world's largest companies in uneasy partnerships, and most probably in direct confrontation, the car, as 'ultimate communication platform' will force the legacy industry in heart-rending choices to reinvent what it stands for, under pressure of eager software giants
The coming decade will be decisive : considering the long lead-times in the industry, the stage - and the strategic options - have to set today... Profitability will suffer and the most head-strong visionaries will lead the way
***
In our recent note 'Cars – an industry at bay', we highlighted the dilemma confronting the legacy manufacturers in structuring their response to technological challenges while being simultaneously pressed by adverse market trends and ever more constraining environmental regulations
Leading the innovation in Western markets, Tesla Motors is a major beneficiary of the disruption, both because the firm is not burdened by the legacy industrial investments and internal combustion know-how accumulated over decades, and because capital expenditures for Tesla cars are distributed along its supply chain, built from scratch
We argue that the significant valuation of Tesla could be the reflection of the difficulties weighing down the major car makers – giving Tesla a free hand to take on the market – rather than proof of unique technological advance alone
Added value up for grabs
Investor attention however remains focused on the prospects of a car revolution, prefigured by the launch of the first electrical vehicles (EVs) by Tesla or GM from the US, Nissan from Japan or BYD from China, with most other car makers following suit during the current year 2020 with full line-ups soon thereafter
With many EVs expected to be jostling for consumer attention, it is early days and difficult to identify the future winners who will prove able to surmount the new challenges in car manufacturing,
managing the impact of new – simplified – assembly lines on existing production modes
recasting their relations with car component makers who are forced to rethink their business models
coordonating unfamiliar technological partners in their supply chains
The shift of production lines away from existing processes is undoubtedly a costly industrial challenge but an engineering feat the car majors have the expertise to take on
However, the advent of EVs and autonomous-car driving features has also opened the supply chains to a host of new software and technology players who have every intention to capture the added value
In effect, both car manufacturers and car component makers have to confront strategic options to protect their brand reputation and the trust of the public
At the root of their future profitability, the strategic outcomes are bound to remain uncertain because of the sizable ambition of the powerful software industry – pushing the car makers ever closer to commoditized assembly-line functions ….
Nothing can be taken for granted but – given the long lead time required for car launches (until now…) – strategic mistakes would not be easily reversible…
Supply chain puzzles
The range and diversity of technologies involved is breathtaking
From the world's largest software firms dominating the cloud (such as Microsoft , Google , Apple or Amazon ) to specialized information and communication processors (such as Nvidia or NXP ) and key component experts (such as Velodyne for remote sensing lidars or Panasonic and China's Contemporary Amperex Technology (CATL) - listed in Shenzhen ticker 300750 - for batteries) or patent holders (such as Nokia, according to the analysis of Bonadio & McDonagh), one may wonder who is not involved
Neither car manufacturers, nor car part makers can ignore the wide array of fundamental expertise deployed by technology in making the 'car revolution' happen
Car part suppliers
Car component makers used to fall in broad categories of specialists (combustion engines, power trains, wiring harnesses, safety gear, interiors and tires) or generalists with the expertise to manufacture many components under one roof, such as – until quite recently - Continental, Denso, Autoliv or Delphi
Rather than develop in-house new expertise in automotive electronics, the generalists appear to opt for reorganization, setting apart technological ventures (such as radars and positioning systems) to respond to this momentous shift – facilitating partnerships and mergers with the new unit in a race for market share and to finance costly R&D
If current projections prove correct, 2018 may have marked a cyclical peak in sales of internal combustion (ICE) powered cars and the likely beginning of a decline in their share of the overall market
Estimates vary widely but the combined share of ICE motoring in new car sales could fall from 95% in 2018 to a range from 55%-60% by 2030, replaced by battery electric, hybrid and plug-in hybrid vehicles
As discussed in 'Cars - an industry at bay', tough limits on greenhouse-gas emissions in Europe will force car makers to accelerate the transition to EVs and hybrids, with ICE shares falling possibly to 40% by 2030, compared with 59% in the U.S. and 50% in China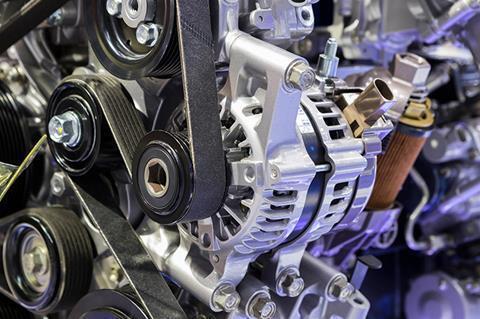 In a sense, the projections spell out the preferred strategic options of tier-one car part suppliers because their large portfolio of products and services provides a degree of flexibility in recasting their priorities and R&D efforts over the current decade
Bosch (private), Denso , Magna International , Continental and ZF Friedrichshafen (private), the largest suppliers worldwide, are effectively shifting their priorities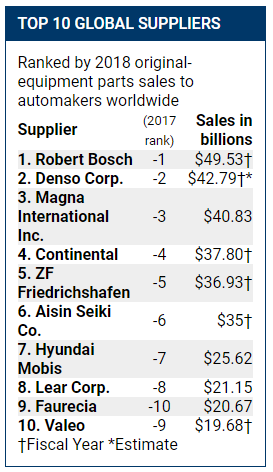 A snapshot of specialities at Bosch Rexroth, a Bosch Group unit, demonstrates the range and diversity of all tier-one suppliers : assembly technology, electric drives and controls, gear technology, industrial hydraulics, linear motion technology, mobile hydraulics, molding and casting technologies, tightening technology, and welding technology to multiple industries, including semiconductors and electronics
Rife with reorganization and mergers, the industy is placing its bets
To name a few...
According to an announcement in Aug' 19, Continental is cutting investment in conventional engine parts because of a faster-than-expected fall in demand, halting the expansion of its hydraulics components business, (essentially fuel injectors and pumps for gasoline and diesel engines) and shifting its focus and future investments to components for electric vehicles
Following its entry in the autonomous vehicle space in 2015 with a $12.4B acquisition of TRW, a Michigan-based automated systems supplier, ZF Friederichshafen began gradually acquiring and investing in its own portfolio of companies working on radar, camera, and LiDAR technology over the next years
The entire industry in fact is involved in electronics, and some are developing artificial intelligence technology for automated driving, along with vehicle sensors and other components
Which is not to suggest that increased spending for research and development in CASE (connected, autonomous, shared, electrified) technology, the large investment outlays to anticipate wider automotive industry shifts in technology (electrified powertrains and EVs) and the restructuring with inevitable job cuts will not weigh on profitability and possibly endanger the weaker firms - because taken together, these capital expenditures will....
And all the while, return on these investments remains uncertain as consumer response is largely unknown ...
Legacy car manufacturers
While the challenge to car part suppliers is rife with uncertainties, the car manufacturers are confronted with existential risks
In a rare convergence of hazards, car makers have to contend with more than industrial reorganization and overhaul of supply chains
consumer expectations for individual transportation modes are on the verge of radical evolution, if the success of car-on-demand formulas is anything to go by
a large part of full EV cost - 40% for the battery alone - will be sourced at one of only 3 global battery specialists (Japan's Panasonic , China's CATL and South Korea's LG Chem)
brand differentiation on basis of car performance is likely to small (if relevant at all) between battery powered EVs
value adding 'information & entertainment' applications installed by the car makers are in the crosshairs of the 'app ecosystems' dominated by the cloud-based software titans
These developments will play out over the decade, providing car makers with the leeway to adapt their value propositions
But, undeniably, the entire industry will be put through the wringer of software realities
By focusing on autonomous driving systems and deprioritizing the development of an electric vehicle, Apple shows the way, signaling the potential value of the inherent data collection
Similarly, Microsoft is focusing its efforts on "connected car platforms" — back-end networks tasked with crunching the data that cars produce (informing a wide range of autonomous vehicle functions, including braking, advanced cruise control, and lane assist)
Google (Waymo), Intel , Nvidia and Qualcomm aim at the entire semiconductor ecosystem by providing dashboard operating systems


What to do ?
Hard to pin down, the disruption is exposing the car industry in every way
Future consumer expectations are in doubt, leaving car makers to cast about with infinite variations on transportation modes, from ride sharing to co-ownership, from assisted driving to top range infotainment
Industrial partnerships with technological stars are all over the place, in an effort to find the right mix between in-house developments and outsourced dependencies
The dynamics of multifarious disruptions portend instability
Car makers can hardly be expected to shift away from their current line-up of ICE vehicles, still by far the largest share of the automotive market
But success seems more promising in alone-standing companies, Tesla, BYD in China and possibly Polestar (a Geely venture)
The dilemma will not be resolved any time soon but a keen observer will expect strategic choices which, given the long lead time in car manufacturing, will reflect on the respective positions of strength (and weakness)
It can be assumed that radars (lidar) are a core technology in future driving functions, providing precise data about the surrounding driving environment - in driver-assisted and self-driving applications
While Li-ion battery production is dominated by 3 Asian manufacturers, research can be expected to focus unrelentingly on fuel cell technologies - signaling the most committed firms (Toyota) and broad based governmental engagement
Some of the most innovative semiconductor research, led by mostly 'fabless' firms (leaving the actual manufacturing to 'foundries'), Nvidia, Qualcomm, MobilEye (Intel) or NXP, is not necessarily a one-way street and has been leading to strong partnerships with the car makers
This discussion may not seem conclusive
However, in a landscape of unusual partnerships (CATL building a battery factory with BMW and Daimler in Erfurt, Germany), of shot-gun mergers (between Fiat-Chrysler and Peugeot PSA of late) and of aggressive long-term governmental planning (in China for now), the short list of car manufacturers checking our three boxes (control over lidar technology, fuel cell R&D and close partnership with leading semi-conductor firms) is not hard to pinpoint...