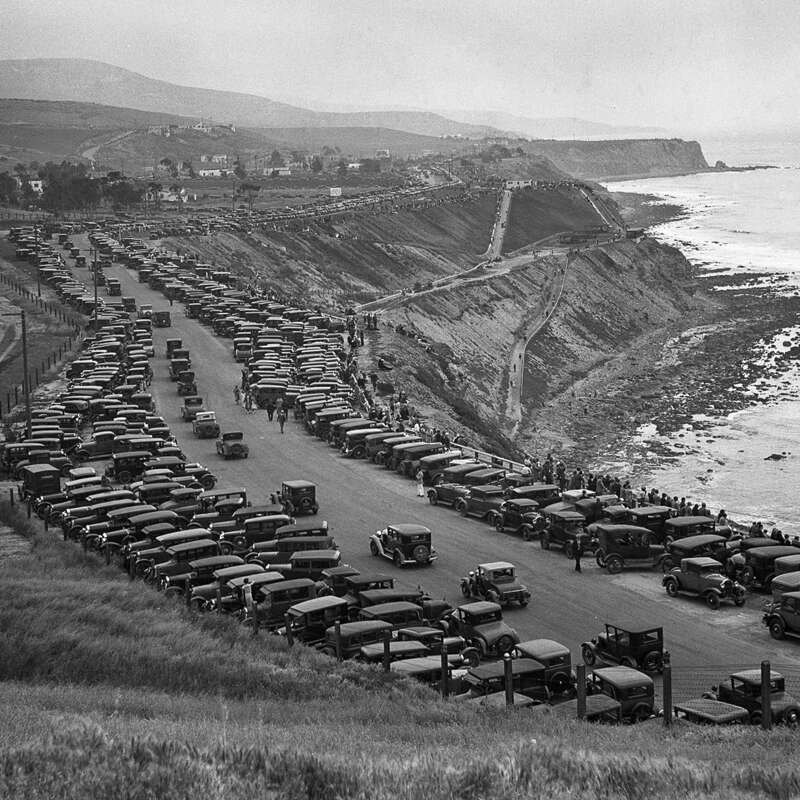 Cars - an industry at bay ?
Tesla Motors is many things - a mostly irrelevant fantasy luxury car or a visionary and revolutionary transportation mode...
But above all, it is the firm's (and its founder E. Musk's) technological feat shaking the columns of auto manufacturing complacency which is making its mark
Not even the most committed short sellers, determined to prove Tesla's vast overvaluation by any accounting measure and revenue projection, question that the firm has indeed become an established car manufacturer
In a sense, the spot light is moving away from Mr Musk's improbable achievements to focus on the global car industry's ability to meet the challenge of electrification and self-driving vehicles
Investors may understandably shy away from the magnitude of the industry's challenges : sales in crisis in their developed market strongholds, hopes dashed (for now) in emerging economies, hard environmental constraints and profound challenges of new motoring technologies ...
However, in the darkest hour, some car majors will regain their footing
Our note is an update, first published Feb. 14, 2020
The blow-out performance of Tesla , up 800 % over the past 12 months, with a share price shooting up from $350 to over $600 within the last three months (September through November '20), could be seen as an embarrassment for most analysts as confident 'true believers' take a victory lap
The history of red ink spilled by Tesla certainly makes for an unusual top US company, the 30th largest by market cap – paving the way for the stock's inclusion in the S&P 500 index (provided the company complies with the index's stringent profitability rules)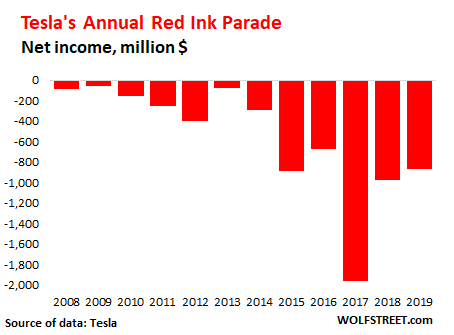 According to the S&P's guidelines, "the sum of the most recent four consecutive quarters earnings should be positive as should the most recent quarter"…
Rules which have put Tesla on the right track to enter the index, since the positive earnings of the third and fourth quarters of 2019 proved to be resilient in the next three quarters of 2020 (while the accounts are still questioned by some analysts, such as David Einhorn of Greenlight Capital)
If analytics of financial accounts obviously offer no guidance, a lesson short sellers will remember warily, car manufacturing volumes point to an even more distorted reality

According to focus2move, Volkswagen dropped to the position of second largest car producer by volume in the first half of 2020 (3.69 million vehicles compared with 10.44 million vehicles for the full year 2019 - a drop of 27%) passed by Toyota (4.02 million vehicles compared with 9.5 million vehicles for the full year 2019 - a drop of 23%) while Tesla reports sales of 179 050 cars in the first half of the year (and 367 500 cars for 2019)
By market cap however, Tesla ($558 billion as of early December) dwarfs all the manufacturers, well ahead of Toyota ($193.3 billion) and leaving Volkswagen far behind ($96.7 billion)
Through the Looking-Glass
Alice, pondering what the world would be like on the other side of a mirror's reflection, was able to step through in an alternative world
Today's investors have to come to terms with a similar challenge...
A few clear-eyed investors, possibly careful readers of Lewis Caroll, have been tipping the balance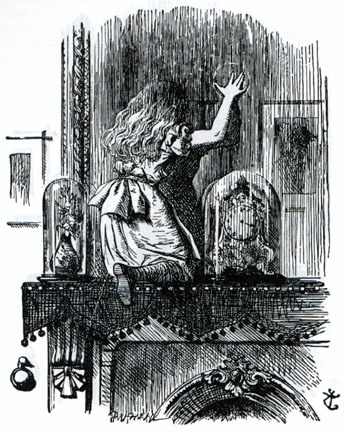 The approach of Baillie Gifford & Co., the Edinburgh-based investment house, which used to be Tesla's largest institutional shareholder (7.67% in early 2020 - 3.6% as of Sept. 30), stands out - ankering the audacity of its financial commitment on familiar logic
With the benefits from substantial competitive advantage of its first-mover status, the investment firm values its driving force in the global shift toward electric vehicles
Another strong proponent, ARK Invest CEO Catherine Wood, is arguing for tremendous growth potential, based on technological choices and leadership in autonomous driving
The fund's Jan.31, 2020 report update on Tesla makes clear that Tesla is positioned to 'sweep the board' and ARK Invest believes there is good reason to predict that the overhaul of the car industry is only in the first innings
Largest shareholders as of Sept. 30, 2020 were Capital World Investors (5.5%), Vanguard (4.6%) and Blackrock (4%)
While one may or may not be convinced by the confidence of such buy-and-hold investors in Tesla's ability to grow its leading position in the EV market, the implication – the lack of credibility of the established car manufacturers' effort to catch up – may turn out to be the key argument, which should be appraised as such
A long and winding road
The long and winding road
That leads to your door
Will never disappear
I've seen that road before ...
[Lyrics by Paul McCartney - the Beatles album 'Let it Be' 1970]
In the short term, the car industry appears to be deeply troubled, judged by its own standards alone
Sales by the global manufacturers have been dismal – as discussed in our notes 'Car Armageddon' last August and 'Global cars, a bleak outlook' in November '19
To make unforgiving markets worse, trust in the growth potential in emerging markets is flickering
Established manufacturers such as Ford, Peugeot or Renault are in the process of being wiped out of the world's most promising market, China, as the local industry consolidates around a few leading EV producers, domestic and dominant global manufacturers (GM, Volkswagen and the German luxury brands)
And the second largest growth market, India, seems to remain a long term bet …
Poor sales projections however might soon be the least of the industry's troubles
It cannot be suggested that the car makers, content to tread familiar grounds, have ignored the profound transformations in its industrial processes of new automotive power systems and self-driving features
Far from it
The industry has been awash with projections of EV and hybrid adoption rates, with studies about expectations for new transportation modes (making car sharing a reality) and with technological breakthroughs
Exploring these developments, seen as 'evolutionary', all the car majors have been engaged in major efforts
Renault - Nissan was one of the first to bring an electrical Leaf to market in 2010
Ford - one manufacturer among many making the extra effort - has touched about every concept since 2016, according to a WolfStreet blog
Qualifying Ford's select "Smart Mobility" initiatives as 'misadventures' during the period over which the firm's vehicle sales have plunged by 19%, the concern expressed by the blog's author, Wolf Richter, is of course spot on
However, bouncing from a van service to a car-subscription service (Canvas) to a virtual driving system (powered by artificial intelligence) to bicycle-sharing to self-driving (in partnership with Lyft) ... and the list of sad failures goes on, Ford is hardly alone and all car makers have dipped in one or the other of these efforts to stay ahead...
Disruption
What has been missing, and what might point to the radical analysis of ARK Invest, is not the fact alone that these exploratory strategies have come to naught
It is simply that the efforts seem to be half-hearted, 'strategies' in name only and 'exploratory' enough to preserve the firms' traditional expertise in internal combustion engine (ICE)
This is not to suggest that the strategies of all manufacturers should be dismissed out of hand, but only that some of the car makers have been slower to recognize a reality which is essentially political , fitting awkwardly with today's actual consumer preferences
Political, China's edict forcing car manufacturers to sell ever increasing numbers of EVs on the domestic market, as we discussed extensively almost two years ago. It is undoubtedly not a coincidence if Volkswagen, a dominant player on the Chinese car market, is a front-runner in EVs, committing $50 billion by 2023 to the effort
Political, the drive of the European Union Parliament to enforce ever tighter rules since the introduction of mandatory CO2 standards for passenger cars in 2009
Quoting an excerpt of the Pininvest 'Rolling Thunder' note (May 14, 2019) about the build-up of EU targets :
The initial set of regulations issued in 2009 - 130 gr/km for passenger cars by 2015 - was reached ahead of schedule by the car manufacturers
Probably with the smug feeling of having been right all along, the EU issued a second set of rules in 2014, tightening the target at 95gr/km by 2021 and the average CO2 emission value as of 2017 has already dropped to 119gr/km for new cars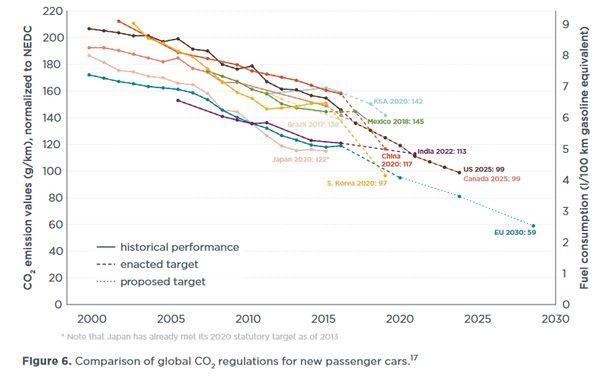 All the majors were on track, as of the latest figures of 2017, achieving their targets by improving their internal combustion technology while the share of hybrid plug-ins and electrical vehicles in each manufacturer group still remained quite small (European average 1.4%, with Renault topping the ranking at 2.5% of total registrations)
We suggest that, with significant line-ups of EVs prepared for launch in 20/21, the car makers were confident to reach their 2021 targets in a product mix of more efficient combustion engines - a key factor prioritized in the aftermath of the 'dieselgate' scandal - and of a moderately growing proportion of EVs, fine-tuned to comply with the regulation (and avoid paying excess emission premiums)
The calculation may have been upended by the latest set of regulations for 2021-2030, pushed through by the European Parlement against strong opposition of Germany and Eastern countries, where the high-end, heavier cars are produced. The new target of 59 gr/km lowers the 2021 emission target from 2015 by 37.5% (with an intermediate target of 81 gr/km by 2025)
Branded as unrealistic pandering to political supporters by the car manufacturers in the luxury (German) segment, the new targets are undisputably upturning the smooth gliding path envisioned by the industry and catching the manufacturers in a vise
Improvements in internal combustion engines are likely to be at best incremental, hardly contributing to the new target
The new regulation shares this assumption by setting sales targets of 15% for 2025 and 35% for 2030 for zero- and low-emission vehicles (ZLEVs - refering to EVs and hybrids) - in effect mandating an overhaul of the entire manufacturing supply chain
To borrow from the late Mr Christensen of "The Innovator's Dilemma"'s fame, it is not stupidity that prevents great firms - and the car manufacturing majors - from foreseeing disruption, but rather their supreme rationality
Complacency has long since been superseded by prudent exploration of new technologies and of new(ish) transportation modes
ICE emissions have been lowered in spectacular fashion
A mix of hybrid power, electrical vehicles and - in the not-so-distant future - hydrogen fuel cells are uniquely positioned for evolving consumer demand
The urgency to stay competitive on the Chinese market, with its high bar on electrification, is encouraging the car majors to diversify their EV and hybrid line-ups worldwide
Where the car industry parts ways with Mr. Christensen is in the dynamics of disruption, putting new powerful players front and center, the software industry with its ravenous thirst for data, a development we expect to discuss in our follow-up report 'Car chips are down'