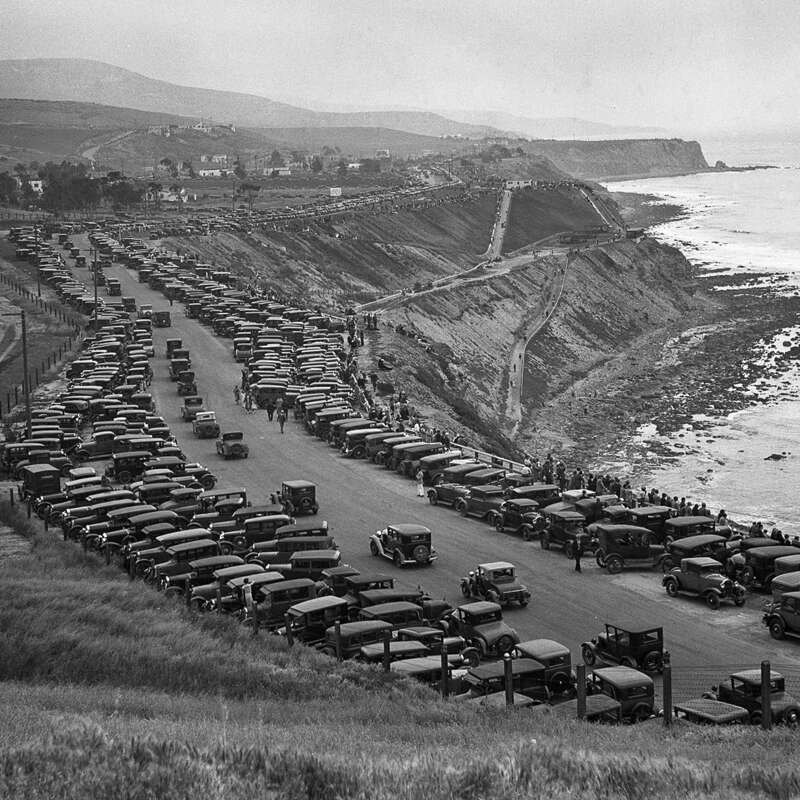 Cars in America - a love affair gone sour ?
Pin-insights
The US auto industry is as close as one can get to "Americana", a symbol, a way of life which, from drive-in cinemas to rockabillies, has been fading fast
But the fate of the car makers, losing ground in lock-step with the culture they contributed much to define, has not ceased to astound
From being an overwhelming force on their home market, the US manufacturers ended up ceding a majority stake to foreign brands, made in America
It is to the credit of the US Administration to protest the inevitability of foreign dominance, but a plan for America's re-industrialization calls for an unsparing evaluation of all that went wrong
This note, and our follow-up comment on GM , intend to do just that
***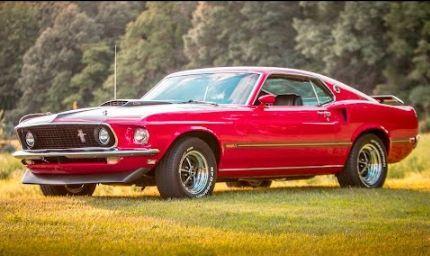 The US Administration puts cars front and center in America's industrial policy
The plan would have had a lot going for it 20 years ago
Over time, American automotive manufacturers have become a basket case of industry's inability to compete on global markets
But while a denial of the decade-old industrial decline of the global car manufacturers is an improbable tactic in trade negotiation, the core concern will not go away
How to protect the industrial base in developed countries, mature markets still providing many high-quality jobs in the car industry ?
Over-confidence, at the root of mishaps ?
There is little doubt that the history of spectacular failures of foreign manufacturers on the US market bred complacency and smugness
Poorly received and shown the door by the early '90s,
But forbearance of the German and Japanese manufacturers should have been a wake-up call
Apparently, it was not....
The foreign firms started production in America from the late 1980's, spurred by US trade restrictions and sensing market acceptance on the back of successful imports
From 1988, all four major Japanese car manufactures - Toyota, Nissan , Honda and Mazda - limited since 1981 by the restrictions on their imports, launched production facilities in the US,
Toyota from 1986, had produced Corollas in a JV with General Motors. In its expansion on US soil, Toyota established 14 vehicle and parts plants over time, with facilities in the states of California, Kentucky, Indiana, West Virginia, Alabama, Tennessee, Texas, Missouri and Mississippi
BMW operates since 1994 in Spartenburg, North Carolina, today the largest plant in the Group after successive expansions (3 million cars produced as of 2015)
Daimler-Benz opened a facility in 1997 in Vance, Alabama, expanding in stages and gearing up to a $1billlion expansion for the production of electrical vehicles (3 million cars produced as of 2018)
Volkswagen persisted through lean years in the 1990's and opened a new manufacturing facility in 2011 in Chattanooga, Tennessee, before falling faul of the infamous 'dieselgate'
and more....such as Geely-owned Volvo plant , opened in Charleston, South Carolina in 2018
The American response to the onslaught of the foreign automotive industry - or lack thereof - is perplexing
Stakes built by foreign firms on the US market take time to come to fruition - success is not a fly-by-night occurrence
Consumer acceptance of the foreign line-ups and marketing strategies have undoubtedly been analyzed to death
The legacy of generous pensions and high salary rates have undoubtedly weighed on the flexibility of US firms, but, on the face of it, none of these factors should, on their own, bring the dominant US manufacturers to adopt a defensive strategy
Which is where, essentially, they ended up when the 2008 financial crisis hit
Ten years later, in a watershed moment, foreign manufacturers were expected to produce 1.4 million vehicles in the U.S. (Q1-2018 alone), according to WardsAuto.com, a car industry analyst, equaling their American rivals for the first time (WSJ January '18 - paywall)
Meddling in the American car muddle
As the US administration asserts, America indeed has become the world's largest car importer
The visualization provided by the Observatory of Economic Complexity (OEC) - Alexander Simoes is a 2016 overview of world car imports, which remains broadly relevant
Select the 'Continent' view to highlight strong European inter-regional trade flows - with a 43% share in global imports
North America as a whole has a 30% share in world imports, reflecting the very strong integration of the car industry with Canada and Mexico
as of 2017, US imports from Mexico and Cananda - $91.7 billion - represented close to 50% of total US car and light trucks imports, reflecting a deeply collaborative supply chain between the 3 countries
A review of 2017 by country highlights the growing importance of Mexico, which increased its car imports by 50% since 2013 ($31.4 billion at the time) but also the persistent dependence of Japan's domestic manufacturing on the American market
| 2017 | $ billion | |
| --- | --- | --- |
| Mexico | 46,9 | 24,5% |
| Canada | 44,8 | 23,4% |
| Japan | 39,7 | 20,7% |
| Germany | 20,2 | 10,5% |
| South Korea | 15,7 | 8,2% |
| UK | 8,5 | 4,4% |
| Italy | 4,7 | 2,5% |
| Sweden | 2 | 1,0% |
| Slovakia | 1,99 | 1,0% |
| China | 1,5 | 0,8% |
| | 185,99 | 97,0% |
| Total US Imports | 191,73 | |
credit - World Atlas
Despite the strong presence of Japanese car manufacturing on US soil, Japan's share in American imports has remained quite large at 20.7%, warranting a BBC News investigation (Nov 2017)
according to the Japan Automobile Manufacturers Association (JAMA), 75% of Japanese brands are produced in North America, accounting for manufacturing facilities located in Canada and Mexico as well as the US
in an attempt to single out sales originating from production facilities in the US, the estimate provided by the study is of 53% of the cars sold in the US made in the country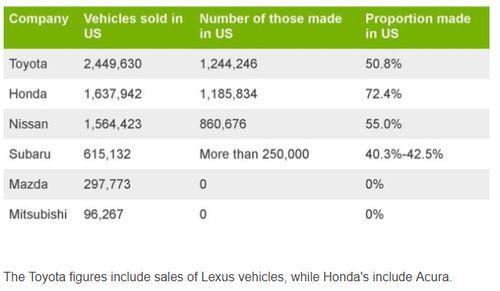 None too soon, Toyota has announced a JV with Mazda in a new US-based plant in Huntsville, Alabama, kicking off construction in Nov. '18, at a cost of $1.6 billion with a targeted production capacity of 300 000 cars from 2021 and expected to employ 4000 persons
Alive and well
It turns out that the US car industry is alive and well
Except for the fact that foreign brands dominate the domestic production today, with Toyota, Honda and Nissan, Volkswagen, BMW and Daimler, and Volvo … all US producers
All the while, the 'Big Three' of the US car industry, GM, Ford and Chrysler, have been downsizing and plan to keep doing so on the domestic markets they used to own entirely (with an 85% share in 1960 between the 3 companies)
A thicket of paradoxes trips up the policy asserted by the US Administration to bring the domestic car manufacturers back to the fore
Does one of the 'Big Three' US manufacturers engage in global ambitions, apart from GM's successful Chinese venture with its partner SAIC....
Did the high imports duties levied on 'trucks' and SUVs (25%) give the US firms too much room for comfort...
How did the strong showing of foreign car manufacturers in the US come about and can the trade unions be held solely responsible for the demise of Detroit...
To benefit from their presence in as large a market as the US, can foreign manufacturers be pressured to balance car parts manufacturing and assembly plants fairly...
Assuming China is taking the lead by innovating in environmental, mobility, how is the US car industry to respond...
The issues make for uncomfortable reading but the fact remains
foreign manufacturers were successful in establishing their business model in America and the reverse has not been true for US car makers on foreign markets
Back to our original question, we will consider the case of General Motors in a forthcoming note to pinpoint what did not work out and what policy guidelines may be drawn from the company's experience :
How to protect the industrial base in developed countries, and provide high-quality jobs in the domestic car industry ....