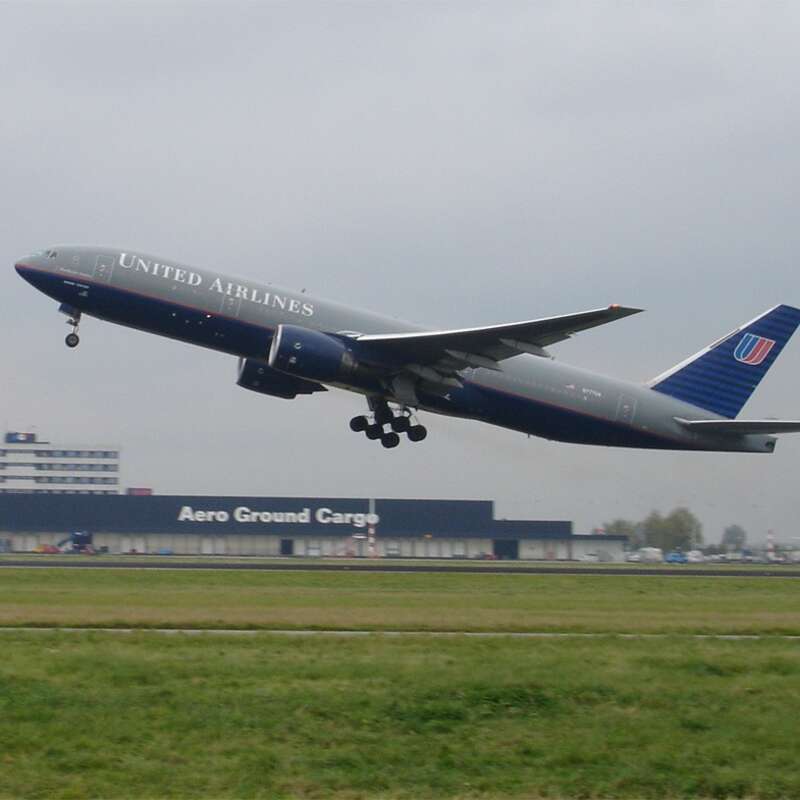 Catalysts for European Airlines
Pin-insights
Embattled European airlines may be marginalized in global air transportation as Asian markets and new world beating contenders (China but also Turkey) tussle on new routes for a fast growing client base
The fragmentation of the European airlines, operating in a maturing market, calls for further integration around a few leaders
Air France - KLM, coming third in market share behind Lufthansa and IAG, could be a primary mover in the M&A game to avoid being left behind by the industry leaders
Interests, merged in 2003, highlight the essential steps beckoning for the European industry to avoid a dismal also-ran status, but the split personality of the Group and competing strategies of the two companies form a case study of all that is hampering legacy airlines
The world moves on - new airlines take flight and airports, determined to protect or establish a 'hub' status, expand like there is no tomorrow - leaving no alternative to Air France and its competitors
The merging of shared interests might take many forms and we suggest a few alternatives by way of conclusion
****
Our review of the airline industry highlighted the fast growth of Asian airlines and their supporting airport infrastructures – both within the larger region and on international flights connecting with the US and with Europe
In Asia, demographics, a growing middle class powering a tourism boom, and natural preference for domestic air transport are familiar drivers but gowth potential is still astounding
China, the world's fastest growing market for long haul flights, will have 260 domestic airports by 2020 (adding 10 airports yearly since 2016) and Boeing estimates the country's needs of new airlines at 7 700 by 2037
The US domestic market, restructured around 3 national airlines relying on their hubs, with a few low-cost point-to-point airlines, is protected from foreign competition by regulatory barriers to route access and restrictions to foreign ownership levels (stringent at 25%)
By contrast, the European airline industry remains fragmented; the 7 top airlines service 55% of the market (compared to the US four largest companies with 76% of total seat capacity)
IATA growth projections through 2036 drive home the new reality, with estimated growth trends in Europe (and in the US) at 2.3%, half the 4.6% estimate for Asia-Pacific which translates in a 60% growth by the end of the period – and possibly earlier if the growth rates posted by China come true (over 10% yearly over 5 years)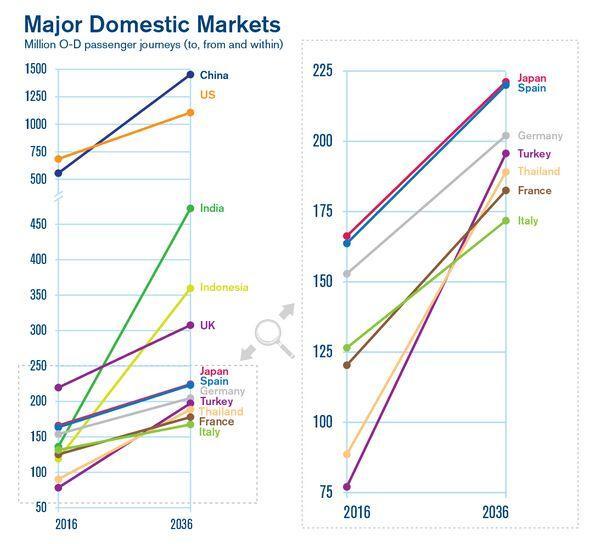 In sum, Asian contenders have to manage growth and the US airlines have emerged profitably from the post-2001 loss making years, running a tight ship
The European airlines operate in a maturing market calling for further integration around a few leaders
Lufthansa (12% seat share) with Swiss, Austrian Airlines, Air Berlin subsidiary LGW and Brussels Airlines
IAG (9%) – parent of British Airways – with Iberia, Vueling and Air Lingus
Air France – KLM (7%)
Turkish Airlines (6%)
Merger discussions would have to aim for a 15 to 20% seat share to achieve a significant market stake and Air France-KLM Group, combining the French and Dutch airlines, could be a primary mover to avoid being left behind by the industry leaders
Mr Smith goes to Amsterdam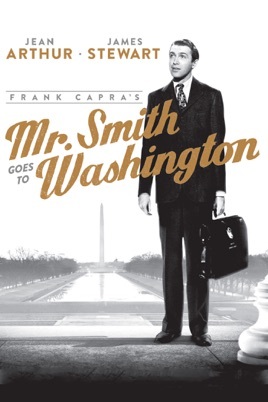 Benjamin Smith, the recently appointed CEO of Air France – KLM Group (August '18), took issue with the unusually loose arrangement between the two airlines, aiming at more consolidation to improve overall Group performance
Following the 2003 take-over by Air France as KLM was struggling, the two companies continued to operate independently with special arrangements guaranteeing the position of Dutch Schiphol airport as hub and a Board of Directors independent from the Group
Not unreasonably, it appears that Benjamin Smith's project would unify Air France and KLM more closely through common aircraft orders, alliances and flight programs
Orchestrated by its CEO Elbers, reining-in KLM's autonomy faced sharp criticism at the Dutch airline, reporting superior financial results although being twice smaller than Air France
Terms of cooperation seemed to have been found by February 19, 2019 with the nomination of Ben Smith at the KLM Board, which, unusually, had not been the case for his predecessors at the helm of the Group
The simultaneous announcement of a new, smaller "Group CEO Committee" with B. Smith and the CEOs of both companies and the Group CFO, all three reporting to Smith, may have been the arrangement which has led to the surprise move of the Dutch authorities
Within two weeks, by February 27, Dutch bank ABN-Amro, partially owned by the Dutch State, had built a stake of 14% in the Group, balancing the identical French shareholding
Obviously a political gambit, the minority shareholding has been justified in the Netherlands as a preemptive measure against further integration of Dutch KLM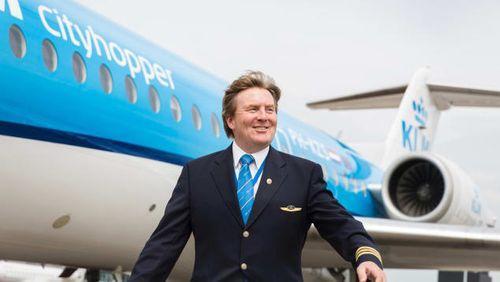 Meant to be protective of KLM's identity within the Group, ownership in a private company remains somewhat at odds with Dutch national character which does not necessarily view public ownership as a goal in its own right
While it may be early days for an exit strategy, nothing would probably fit the Dutch better than a 3-way alliance rebalancing French dominance, perceived as overweening, and securing a strong position for the Group in European transportation
Curing an Italian disease ?
Neither a French disease, as syphilis was coined by Hieronymus Fracastorius in 1530 because the first known outbreak of the disease in 1494/1495 in Naples coincided with the French invasion (Wars of 1494-1498)
Nor a Dutch disease, which, less ominously, refers to the negative impact of sharp inflows of foreign currency, following one-off events such as discovery of large natural resources (North Sea natural gas in the Dutch case)
Air France - KLM has been exposed to a distinct Italian disease, a disruption of which Alitalia is the poster child, that is to say...
a national flagship company disconnected from economic realities, bowed under unbending trade unions, running deficits forever and saved (presumably) by public subsidies at the 11th hour
As reported in the Air France June 30, 2018 interim report, the debt / equity ratio is 2.3 (where a D/E of 1.0, balancing long-term debt with equity appears to be an industry target, achieved by airlines such as Delta (1.05) or International Airlines Group (.99) under an important proviso
long-term debt is defined, somewhat self-servingly, as interest-bearing long-term borrowings, but do not include employee pension obligations, benefits to clients (frequent flyer programs) and other provisions
in the Air France calculation, debt is accounted for €5.9 billion (financial debt only) and shareholder equity for €2.6 billion
To be fully informative, Air France highlights reassuringly ratios of net debt/EBITDA (1.4) and EBITDA/net cost of debt (9.5), demonstrating its ability to honor the company's liabilities
But, related to shareholder equity of €2.6 billion, its total debt load remains awesome - as reported on June 30, 2018
total non-current liabilities - €15.6 billion (incl. pension obligations, lease debt and return obligations - due upon return of leased airliners)
total current liabilities - €12.7 billion
Simply stated in financial terms, financial debt has to be reduced by approx. €3 billion to give the company leeway for strategic growth
When Ben Smith commits to transparency at every level in the company, the trade unions will be confronted with the facts, if indeed salaries of pilots are 10 to 15% above competition, and if salaries of flight attendants exceed those of competition by 40%, as has been argued (paywall)... We would not know...
Given the benefit of the doubt, the new CEO may plan to lay all the options on the table to shake pervasive complacency at the company, and the reluctant Dutchmen may actually help...
Wat nu ? *
Certainly no expert in airline transportation, we cannot help but notice how geography dictates a concentration of airport infrastructures - London, Amsterdam, Paris and Frankfurt - constraining the benefits of hubs, a concept which all four airports pursue
For lack of room to expand, the European airlines compete on brand image aimed at their domestic client base and - potentially - at international travelllers
This has been so for Air France, focused on quality service with a 'french touch' nurtured over the years to gain recognition as a 'premium' company and Mr. Smith is supporting this strategic position
Conceptually relevant, the marketing strategy however may not be enough to put the Group on a stable footing
Also, by keeping the focus on the existing company perimeter, it does not necessarily make the most of the growth potential of Aeroports de Paris (ADP), on the strength of a central location in Western Europe
This is why ADP - currently n°10 (and Dutch Schiphol n°11) according to Airport Review - keeps up the pressure on plans for Terminal 4 at Charles-de-Gaulle Airport, expected to be operational in successive phases from 2028 through 2037, for up to 35/40 million additional passengers, in a competitive race with airport infrastructures in Europe and internationally
Rather than a showdown with Mr Smith, who expressed preference for an limited extension of existing Terminal 2E, growth targets of such a magnitude would put Air France Group at the heart of European airline restructuring, necessarily by way of holding companies
* What now ? in Dutch...
A devil's alternative
Though not deadly as the choices faced in Frederic Forsyth's novel of the same name, the options of Mr. Smith are pressing - and limited
a spin-off of KLM, to pay off the debt load and, in simultaneous announcements, a decision by the French State (and the Dutch) to sell stakes in the company, would give Air France the fire power to pursue to the full extent a high-end strategy. Well received on the stock market, the approached could be enhanced by share options for personnel at all levels
alternatively, and in response to pressing expectations of the Parisian Airports, and probably of the French authorities, to expand, Air France - KLM could recast their holding in a broader alliance by including one - or more - airlines, sharing a number of functions such as common aircraft orders, catering, ground staff and flight programs while keeping flagship brand names apart
Although remaining a purely hypothetical fruit of our imagination, a holding company could reflect the geographical realities of airport locations
IAG is looking westward, securing a strong presence on the transatlantic routes toward North- and South-America, the later traditionally serviced by Iberia
Lufthansa extends its reach from its large home market into Central Europe, as its stakes in smaller airlines suggest
Under this premise, Air France – KLM could have the opportunity to reinforce the Group's existing worldwide footprint with hubs privileging access to Asia or to Africa
Istanbul – with its new airport entering service in early April '19 – could offer the most attractive growth opportunities, considering the fairly balanced seat share of Turkish Airlines (6%) vs Air France - KLM (7%), and the 20-year passenger growth projected by IATA in and out of Turkey ( from 75 million to 190 million by 2037)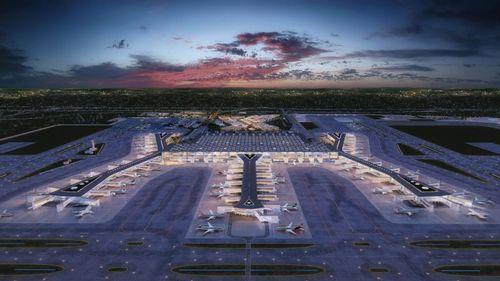 Casablanca (Morocco), with its recently inaugurated airport extension - positioned as gateway between Africa and Europe (where many African airlines do not possess landing rights) - is a familiar route for Air France and a deeper relationship with the national airline Royal Air Maroc could be facilitated by decade-old trust between the two companies. In line with the foreign policy of the Kingdom to extend its reach in Africa, a closer relation, potentially within a Group holding, could be actively supported
Investor take-away
Something has to give...
International Airlines, the Group's most direct competitor, has a market cap approx. double the €4.5 billion of Air France - KLM, a target in Mr. Smith's line of sight ?