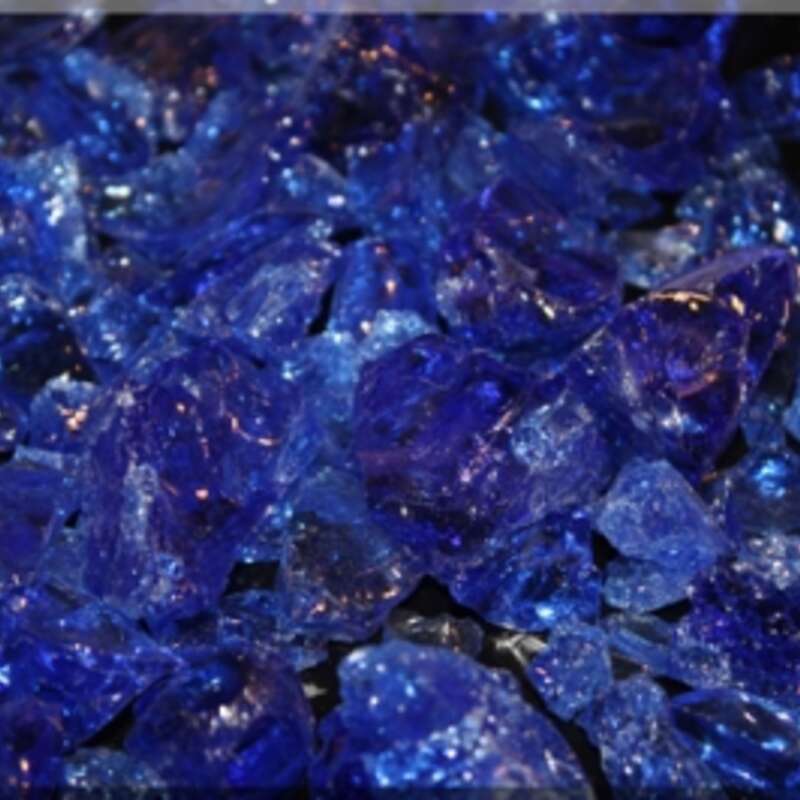 China - Betting on Batteries
Pin-insights
Fashion is everything, even in dour industries when the world's largest car market mandates a shift towards electrical vehicles (EVs), and when inspired marketers, coming out of nowhere, steal a march on legacy manufacturers with must-have automobiles
Chinese regulation - requiring pre-set sales percentages of EVs starting in 2019 - and the clear advantage of domestic Chinese car manufacturers flooding the market has made a virtue out of necessity for all their foreign competitors
But the doubters will fight another day - with soaring costs of EVs, charging stations coverage and the true ecological footprint topping the agenda
For now, the Chinese strategy is gaining traction, and its ambitions as a global player cannot be far behind, with EVs dispensing of the complexity of combustion engines and with secure control over the key components (batteries as well as their constituents, air bags, security systems...)
The legacy manufacturers know and prepare... but are politicians ready to confront public opinion with reality ?
****
The production of battery cells for electrical powered vehicles has gained considerable traction in public opinion and in governmental circles, especially in Europe
Presumably, the urge to make good on the stain left by weak-kneed regulators after the diesel-gate scandal is very strong indeed
The plunge – head first – in the electrical mobility with politicians and Volkswagen outrunning one another is somewhat of a redemption
A well-thought policy it is not
Electrical battery cells for car mobility continue to be questioned by the industry, as we will discuss
Assuming the batteries are the answer to critical environmental problems, supply security, control of production and free access to the raw materials (commodities such as cobalt and lithium) are, imprudently, left for a later day
Overriding the doubts and opting for electrical battery mobility, China is creating market demand by decree
Betting the farm on lithium-ion technology, on the strength of its huge market volume, China is dragging along, willingly or not, all the major OEMs
The German manufacturers are racing ahead with their car line-ups to secure their precious hold on the Chinese market, and are primed to advertise their 'made for China' mobility solutions in Europe and in America
Toyota, a long-term hold-out, has become a reluctant partner, because the loss of sales volume in China cannot be contemplated
And the list goes on – Ford, weakening in China, has entered an agreement with Zotye for EV production in November 2017 and Renault, presumably to fulfill its required quota of EVs in China has announced in December '18 a 'significant' stake in JMEV, the electrical car subsidiary of Jiangling Motors
But the concerns about the technology and independent supply will not fade and breakthrough solutions (solid state batteries, hydrogen fuel cells) setting us free are, to put it mildly,,… beacons of hope
To be or not to be...electric
The KPMG Global Automotive Executive Survey 2018 piles the challenges onto electric mobility (pages 19 – 21)
If not completely overlooked, the issues remain seldom mentioned and none of them make comfortable reading
Manufacturing costs of EVs, and soaring expense for the buyer, overshadow all else – strengthening the hand of the battery providers (approx. 50% of total cost) in future bidding processes
Charging stations coverage is being addressed in the high population density areas of China but the infrastructure remains sparsely distributed in all other target areas around the world. The KPMG report refers to Norway roll-back in September '17 due to a shortage of public charge points
The impact of charging station networks, and potential power grid overload, will soon enter public discussion
The ecological footprint of EVs will need to account for CO2 emissions related to the production of energy and of the battery themselves. The report suggests the EVs must run a few hundred thousand kilometers to prove environmentally positive…
The cautious – and controversial – evaluation of the industry translates in the projected market shares of various present – and future – technologies
By 2020, EVs are expected to represent 2% of global car production of 100 million units – presumably mainly in China – reaching 24% by 2030 and remaining stable thereafter
Hybrids have staying power, growing from 8% (2020) to 24 % by 2030
The conventional internal combustion engine continues to dominate (90%) in 2020 but drops to 30% of sales by 2030, still holding on with continuous improvement in the CO2 emission footprint
Fuel cell mobility is slated as a serious contender by 2030 (21%)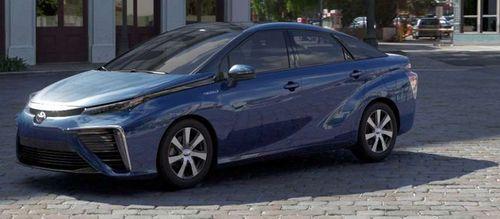 In summary, by 2030 - and even more definitely by 2040, the industry is planning for almost equally balanced shares between the 4 mobility solutions (combustion engines, hybrids, electric batteries and fuel cells)
Some painful reviews, reversing the tides of popular beliefs and naive political annoucements about the 'full electrical' future, maybe ?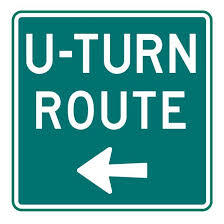 China is betting the farm...
Although the costs are ultimately born by the car manufacturers, both domestic and foreign, China has thrown down the gauntlet by opting for massive electrical mobility roll-out this year...
Until 2017, public subsidies and regulations (out-of-quota licenses, free-of-charge licenses, center city access,...) have driven market share growth of EVs and hybrids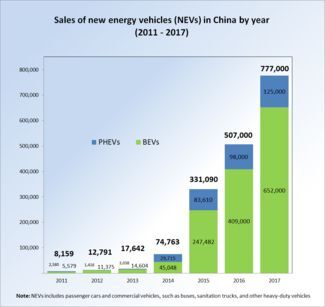 As discussed in 'China, master of the (car)universe',
new rules, announced in September '17, shift the burden of subsidizing the sale of NEVs (electrical vehicles and hybrids) from the government to the car companies
a modified version of California's Zero Emission Vehicle (ZEV) mandate, the new rules assign a specific number of credits to each NEV sold, depending on metrics including electric range, energy efficiency, and rated power of fuel cell systems – up to 6 credits for the most efficient vehicles
NEV credit targets are 10% of the conventional passenger vehicle market in 2019 and 12% in 2020 – meaning that with an average of 3 credits per car, the regulation requires EV cars to reach 4% of total sales in 2020 to hit the 12 % target
2018 sales in China are running well ahead of 2017 sales (777 000), with 600 000 EV and hybrids sold over the first 8 months – with projections for the full year estimated between 1 million and 1.2 million
While in previously years, incentives kicking in over the last quarter of 2016 and of 2017 weighed heavily on volume performance, it is not clear how the new rules – transferring the pricing to the car makers – will impact year-end sales
What remains noteworthy however is that all the sales originated from Chinese brands – not a single global brand is recorded as of late 2018, signaling the caution of the OEMs in aligning with the new regulatory regime
Market launches by foreign brands with full line-ups are effective in 2019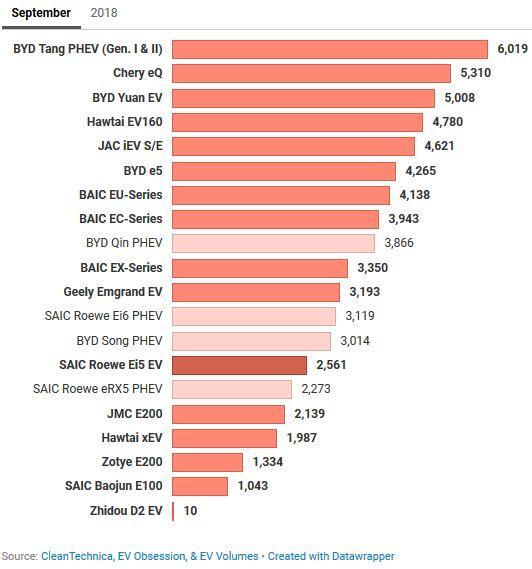 In China cars - Qian Long has spoken - we quoted the Emperor's plain statement, ringing across the centuries
"Our Celestial Empire possesses all things in prolific abundance and lacks no product within its own borders"
Domestic sales of electrical vehicles, manufactured locally, comply with this vision but the supply chain - from basic materials to automotive parts - reaches new heights in fulfilling the Emperor's ambition
With batteries representing on average 40 to 50% of a vehicle's production cost, State support has been lent unsparringly
for very large battery manufacturing facilities, putting CATL (Contemporary Amperex Technology), a firm with no significant expertise in 2011 at the top today
to take control of a large part of cobalt resources, mainly in Africa
And large contractual agreements have been signed in China by the car makers, both domestic and foreign, creating a virtuous loop, hedging the costs of battery manufacturers over their production cycle
Whether China's EV industrial policy is a 'winner-take-all' strategy or a reflection of the country's advance in new mobility, deepened by the overwhelming size ot its market, will be discussed in our forthcoming 'Shock and Awe' comment