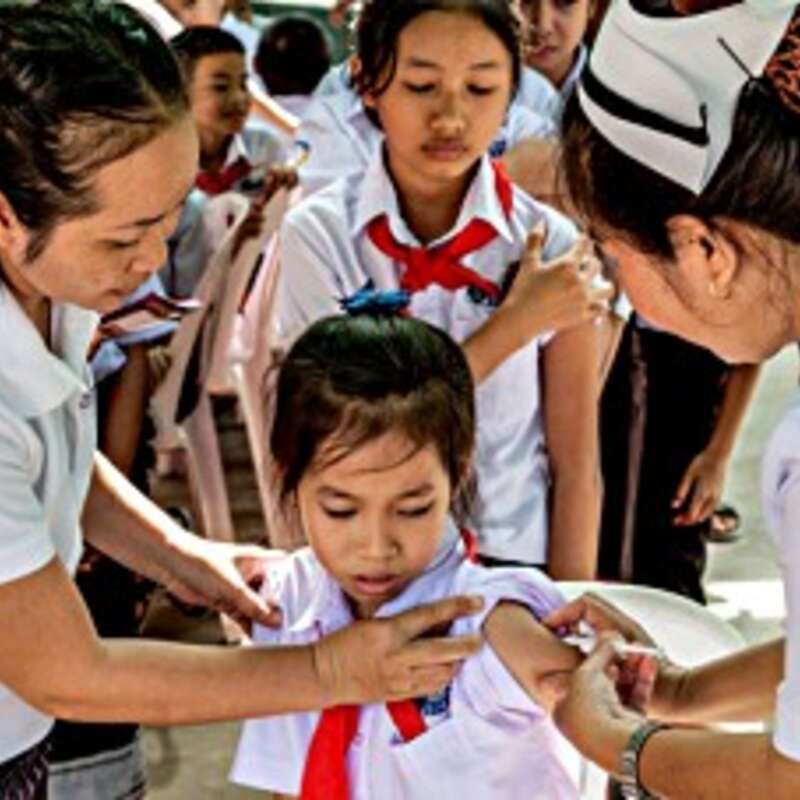 Caught between a rock and a hard place, the FDA stakes its reputation on a formal approval of COVID-19 vaccines
The standard sequence where research proceeds step by step, leaving time to evaluate a vaccine's potential and risk on human population, has been sped up and emergency use authorizations (EUA) for candidate vaccines reaching Phase 3 will further constrain the Administration's evaluation processes
With research efforts running into hundred's, with officials pressing ahead at different speeds from one country to another and with production lines set-up in anticipation across the world, chaos seems preordained
Fiercely debated within the FDA with repeated assurances there would be 'no compromise on the principles of safety and efficacy', the Administration targets efficacy at 50% on trial populations for Phase 3 testing
Efficacy however remains an elusive concept, resting on three distinct issues – safety, effectiveness and durability – which can hardly be evaluated over short timespans
…which is why emergency approval of a cocktail of vaccines is probable within months, targeting specific high-risk population segments under doctor supervision and individuals willing to sign waivers
…while efficacy studies will necessarily be pursued by health agencies worldwide well into 2021 and possibly for years
An awkward compromise, which calls for mask wearing and social distancing as the new normal which the population will have to accept – hardly the miracle entertained by most but a likely development at the current stage of the pandemic
Section 'a cocktail of vaccines' has been updated on Aug. 21 '20
The global landscape of COVID-19 candidate vaccines
Vaccine research compares uncomfortably to a gold rush feeding off public anxiety – and driving concern for personal safety to new heights
The draft landscape of COVID-19 candidate vaccines by the WHO, as of July 31, 2020, provides some clarity
Phase 3
6 companies have advanced research to Phase 3, 4 of which are Chinese, operating independently or in partnership with Western firms (Sinovac, Wuhan Insitute / Sinopharm , Beijing Institute / Sinopharm and Fosun Pharma )
CanSino Biologics - still in Phase 2 and preparing for Phase 3 in Russian, Saudi Arabia, Brazil and Chile - has been granted the first COVID-19 vaccine patent for a non-replicating viral vector (Aug. 17, 2020)
The 3 Western companies in Phase 3 are
AstraZeneca asset (UK – in association with the U. of Oxford),
Moderna (US – in association with the American NIAID (National Institute of Allergy and Infectious Diseases)
and Pfizer (US – in partnership with BioNTech of Germany and above mentioned Chinese Fosun )
Out of the firms reaching Phase 3 research, only Pfizer is an established top vaccine provider worldwide (21.7% market share in 2017 – source Statista)
Funding for Phase 3 research and for manufacturing commitments, as of July 31, 20
The U.S. allocated $955 million to Moderna, $ 2 billion to Pfizer, $2.1 billion to Sanofi/GSK, up to $1.2 billion to Astra Zeneca, $1.6 billion to Novavax and $ 456 million to Johnson & Johnson/Janssen
The UK assigned $85 million to Pfizer and $ 700 million (£500 million) to Sanofi/GSK subject to confirmation (with research still in pre-clinical trials)
The European Union supports Astra Zeneca, Sanofi/GSK and Johnson&Johnson - with unspecified subsidies
China has allocated $185 milllion (Yuan 1 trillion) to CanSino Biologics (in phase 2), Sinovac Biotech and Sinopharm (both in phase 3)
Governments have taken no chances on the outcome of the various R&D processes, hedging their bets across the board
In Reuters' description of the routes supported by public finance
Platform – RNA - Nucleic acid vaccines, like Moderna and Pfizer's candidates, trick recipients' cells into making proteins from the virus, prodding the immune system to attack it. Development is fast, taking just two months from identifying the virus's genetic code to human trials – but no approved vaccines have used this method before
Platform – Non replicating viral vector – operates by modifying other viruses to carry the Covid-19 genetic code. China's CanSino Biologics, Johnson & Johnson/Janssen and AstraZeneca are all developing variants of this method. It too is commercially untested. Moreover, there's a risk that people with previous exposure to the modified virus may not mount an immune response.
Platform – Protein sub-unit – GlaxoSmithKline / Sanofi works by injecting fragments of the actual virus into the body and Novavax with the full-length recombinant SARS-COVID-2 glyptoprotein nanoparticle vaccine. These techniques are slower but have been used successfully with other diseases, and may be easier to manufacture
Phase 2 and Phase 1
13 companies (4 of which are Chinese) have advanced research to Phase 2
9 companies are currently in Phase 1 (involving 1 Chinese firm and, among the top vaccine specialists, only GSK (24% market share in 2017) purports advanced research in partnership with Clover Biopharmaceuticals and Dynavax )
CureVac , a German clinical-stage biopharmaceutical company, supported by local government (€300 million, taking a 24% stake) and in Phase 1 for a RNA-platform vaccine, listed on NASDAQ on Aug. 14, '20 - IPO price increased by 250% that same day
Established vaccine specialists Merck and Sanofi, currently in pre-clinical research according to the WHO list, appear to proceed with caution
Overall, China's research effort appears notable (9 separate research centers out of 28 in Phase 1-3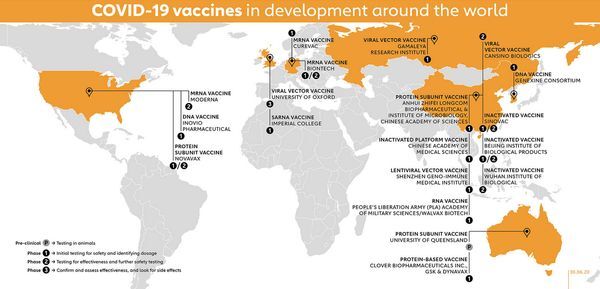 Although 6 weeks out-of-date, as of this writing (Aug. 6, 2020), the major effort led by China is striking
Top vaccine players and challengers
According to previous Pininvest reporting, just 4 companies - GSK, Merck , Pfizer and Sanofi asset – represented approximately 80% of world vaccine revenue (est. $ 30 billion) in 2016
A 2017-2019 update confirms a strong growth trend, even before the current COVID-19 alert, with an estimated market size of $46.88 billion (2019) and an approx. 90% market share between the 4 leaders (2017 est. according to Statista), GSK and Merck at the top with respectively 24% and 23.6% that year
Vaccine majors
Next to Pfizer (in Phase 3) and GSK (in Phase 1 with 2 research projects and in 2 pre-clinical studies), Merck and Sanofi have only declared pre-clinical research, respectively 2 studies on Replicating Viral Vector platforms for Merck (used for current vaccines) and 2 studies by Sanofi on separate platforms
Sanofi / GSK – platform Protein subunit / type of candidate vaccine: S protein (baculovirus production)
Sanofi / TranslateBio – platform RNA / type of candidate vaccine: LNP-mRNA
Merck / IAVI (non-profit research organization) – platform Replicating Viral Vector (similar to the platform used for Merck's Ebola vaccine) / type of candidate vaccine: Replicating competent VSV chimeric virus technology
Merck / Pasteur / Themis (a Merck subsidiary) / U. of Pittsburgh – platform Replicating Viral Vector / type of candidate vaccine: Measles vector
Pfizer has not reported further research besides the Phase 3 on the RNA platform (with BioNTech and Fosun),
GSK is not only engaged in two Phase 1 partnerships but also in two pre-clinical studies
in partnership with Clover Biopharmaceuticals and Dynavax – in Phase 1
in partnership with Mitsubishi/Medicago – also in Phase 1
in partnership with Innovax and Xiamen U. (platform – Protein sub-unit) - pre-clinical trial
in partnership with Sanofi Pasteur (platform – Protein subunit) - pre-clinical trial - standing out with very arge U.S. and EU financial support
Vaccine challengers
Two large healthcare conglomerates – AstraZeneca (at Phase 3) and Johnson & Johnson (by way of its Janssen Pharmaceutical subsidiary – at Phase 2) – have declared their involvement
AstraZeneca – in Phase 3 - platform Non-Replicating Viral Vector
Janssen – in Phase 2 – platform Non-Replicating Viral Vector
CSL of Australia (3% market share worldwide in 2017) and its spin-off Seqirus (integrating the influenza division of Novartis) have declared pre-clinical research interests in partnership with U. of Queensland (platform – Protein sub-unit)
Novavax – a stock market star – but with no market share as of 2017 and an impressive Statista projected 2024 share of 5.9% (made before the current outbreak) has achieved a Phase 2 advanced research – platform Protein sub-unit
Inovio Pharmaceuticals – a tarnished (?) stock market star – with no market share as of 2017 but a Statista projected 2024 share of 1.5% (made before the current outbreak) – has also achieved a Phase 2 advance – platform DNA
recent stock market performance of Inovio has been hectic and vaccine candidates relying on engineered virus DNA remain unproven
according to the New York Times, dated Aug. 9, 2020 :
Inovio's specialty is attempting to develop DNA-based vaccines, which use a virus's own genes to provoke an immune response. But the company's decade of attempts have not borne fruit.In fact, no DNA-based vaccine has ever made it to market. While some have produced encouraging results in small animals, they have not proven effective in humans — against the coronavirus or any other disease. Nonetheless, the scientific community continues to believe the technology is promising in part because such gene-based vaccines can be designed quickly. Companies in Korea, India and Japan are pursuing similar DNA-based coronavirus vaccines
Backpedaling previous statements on advanced research, Inovio said it had developed a 'vaccine construct'
Citron Capital, famed for seeking out corporate abuse, has released a report arguing for short positions on Inovio's stock
AdaptVac (JV of ExpreS2ion Biotechnologies and NextGen Vaccines spun out of the University of Copenhagen), supported by EU funding (PREVENT-nCoV consortium) – in partnership with Bavarian Nordic (for clinical support and distribution of the future vaccine) – platform Capsid-like Particle

Mitsubishi Tanabe Pharma (1.5% market share in 2017), by way of subsidiary Medicago (Canada) – in partnership with GSK (for provision of adjuvant technologies) – research in Phase 1 – platform Coronavirus Virus-Like Particles
Niche vaccine specialist Valneva of France , currently in pre-clinical study in partnership with Dynavax, on Inactivated platform (vaccine type - inactivated + CpG 1018) might be of interest, following UK investment commitment to boost production facilities of the firm in Scotand (up to 100 million vaccine doses targeted in second half 2021)
We have no special expertise in the field of vaccine research, but the prudent approach of some of the major players in the field is worth pondering


Pharmaceutical majors and COVID-19
Prudence, the mother of all virtues
Merck
Merck's CEO Kenneth Frazier stands out with his July 13, 2020 interview for Harvard Business School, republished by Fierce Pharma, a site dedicated to the pharmaceutical industry

Mr. Frazier observes dryly the massive scientific and logistical obstacles in delivering a vaccine later this year and criticizes roundly 'officials' who talk up the potential of such a feat
Public anxiety and natural human impulse to go back to normal as soon as possible throws a wrench in the scientifically tested research and development processes, which, according to Mr. Frazier, take several years, citing the company's mumps vaccine (4 years of research) and Ebola vaccine (5.5 years)
And Mr. Frazier stresses that the common sense measures of social distancing and mask wearing are likely to remain the new normal because reality is stubborn :
in the last 25 years, pharmaceutical firms worldwide have developed only 7 'truly' new vaccines, 4 of which by Merck
commenting on the current research programs (160 according to the interviewer Prof., T. Neeley) : 'What we're hoping to be able to do with these different approaches is to create a vaccine that we can study quickly that can be both safe and effective and can be durable. Those are three different issues. No one knows for sure whether or not any of these vaccine programs will produce a vaccine like that.'
uncertainty is real: 'There are a lot of examples of vaccines in the past that have stimulated the immune system, but ultimately didn't confer protection. And unfortunately, there are some cases where it stimulated the immune system and not only it didn't confer protection, but actually helped the virus invade the cell because it was incomplete in terms of its immunogenic properties. We have to be very careful.'
if and when a vaccine becomes available, the sharp edge of nationalism will feed into conflicted interests in securing supplies, to the possible detriment of those populations that need the vaccine most
CSL of Australia - exposure to antibody dependent enhancement (ADE)
Concerns are echoed by many professionals, such as the CEO of Australia-based CSL, P. Perreault, drawing attention to the issue of how some vaccines have caused antibody dependent enhancement (ADE). With ADE, a vaccinated person can experience a worse case of the illness instead of being immune from it – something that happened with a vaccine for dengue fever
This reality highlights the need for extensive review before distributing a vaccine to people around the world and the point is reinforced by an Opinion, published in the Scientific American (June 22, 2020) reminding that ADE has been observed in previous attempts to develop coronavirus vaccines
Worse, according to the author W. Haseltine, we know all the candidates tested to date in non-human primates failed to protect any of the monkeys from infection of the nasal passages, the primary route of human infection. Failure to protect entirely from infection fits with all we know about attempts to protect monkeys from two other deadly coronaviruses, those that cause SARS and MERS.
Furthermore, while some candidate vaccine raised significant immune responses in monkeys, protection of humans remains uncertain as monkeys do not become noticeably ill or exhibit many of the life-threatening consequences of COVID-19
To worsen the outlook a bit more, older people tend to respond more poorly to vaccines – precisely the population most exposed to the risk
In summary, Mr. Haseltine concludes that haste is not warranted in issuing a vaccine which could carry significant risk and may not provide adequate protection for the elder and most exposed population
On a YouTube video, Dr. Kate Sullivan, chief of allergy and immunology at the Children's Hospital of Philadelphia and advisor to the Immune Deficiency Foundation, expands on ADE – with dramatic consequences when the antibodies act as a sponge and pull more virus into the cells instead of blocking entry
A cocktail of vaccines
Dr. Francis Collins, director of the National Institutes of Health, acknowledged that the US government's program — dubbed "Operation Warp Speed" — may give some the impression that scientists may be cutting corners for safety. Going out of his way, Dr. Collins stated
"I want to assure everybody that there will be no compromising on the principles of safety and efficacy," he said. "Whatever we come up with in a few months is going to be just as rigorously tested as any vaccine ever has been."
However, doubts have hardly been alleviated because, instead validating the successive stages in turn, multiple steps are being funded simultaneously across the board, resulting inevitably in overlaps between advanced research, testing and production runs since multiple facilities – laboratories and production specialists – race to be first in line for vaccine delivery
According to Peter Marks, MD, director of the FDA Center for Biologics Evaluation and Research, emergency use authorization (EUA) for a COVID-19 vaccine could be issued within weeks after clinical trial data meet efficacy requirements

But walking back this statement, Dr. Marks cautioned on an FDA Insight podcast, that such an authorization was still months away because "enrolling people in a trial takes time and the vaccine's effectiveness would be visible only after months, suggesting that a vaccine would become available several months from now."
Hinging on 'efficacy' of a vaccine candidate, FDA has given itself some leeway in its own COVID-19 guidance by requiring vaccines to "prevent disease or decrease its severity" in at least half of people who are vaccinated for a full approval
To endorse a EUA, according to the guidance, the agency must decide the "known and potential benefits ... outweigh the known and potential risks of the product." The reviews would be conducted "on a case by case basis," weighing the target population, vaccine characteristics, and "totality of the available scientific evidence relevant to the product."


Dr. Marks suggested the possibility of multiple options becoming available to the people, with one working better in older adults and another causing fewer side effects among certain groups. In that case, Marks suggested that patients should speak with their doctors to choose the best vaccine option
In another sign of the political pressure on the FDA, Dr. Marks told Reuters on Aug. 21, '20 that the FDA would be guided by 'science alone', drawing a 'red line' : "I could not stand by and see something that was unsafe or ineffective that was being put through"
Hedging his bets, Dr. Marks also indicated that it was "possible" data could be available to interpret a vaccine efficiency as early as October, in time for meeting of FDA's advisory committee of outside experts on COVID-19, scheduled for Oct. 22...
Taking public statements and political interests into account, availability for "controlled use and designated for high-risk populations ... or people willing to sign waivers and accept risk" seems the most probable outcome, as observed by Jeffries analyst M. Yee
The politically-loaded goals of 'Operation Warp Speed' could be met under this scenario while large controlled efficacy studies would likely continue into next year for full review