Wreaking havoc on economies around the world, the pandemic lays bare the fundamental weaknesses and structural flaws of some of the most advanced countries
However, while the pandemic's headwinds are battering Europe and the U.S., their economic impact on employment in emerging markets does not make as many headlines
Indifference to failing livelihoods in far-away places is understandable; in developed countries, competing for attention, so many disadvantaged families have to come by with minimal resources, repelled by often glaring and provocative wealth to stir their anger
Still... even though the suffering of destitute households in Bangladesh or in Pakistan is impossible to picture, the lack of empathy, and poor media fact-seeking on the ground, remains hard to justify
Stepping into the fray, organizations such as the Penn State Center for Global Workers' Rights, under the impulse of Professor Anner, the Worker Rights Consortium, Clean Clothes Campaign, the International Union League for Brand Responsibility or the Borgen Project, undoubtedly among many others, such as Business & Human Rights Resource Centre in the U.K., have raised awareness with their reports
The greatest crisis
Compelling because of the human tragedies behind individual cases encountered in these inquiries, the research sounds like an ominous warning as the pandemic drives the worst tactics of globalization to tragic excess
Published since March '20, the analyses have laid out the facts about the suffering and the abuse at the bottom of the textile supply chain
Their titles are telling
With a virus prowling around on consumer markets, lockdowns and great uncertainty about store re-openings, let alone about recovery of lost sales, a deep freeze settled by March on the garment supply chain which hurtled from "just-in-time" to "no-time-at-all"...
...in the words of Prof. Anner, 'the greatest crisis in over a generation for the global apparel industry'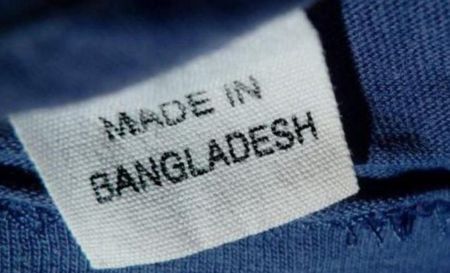 The March survey of 'Abandoned' paints the dire consequences on the garment industry in Bangladesh of canceled orders for in-process - and even completed garment production, of refusal to pay for raw materials and for production costs
In Prof. Anner's telling, as of late March, close to half the suppliers suffered partial or total order cancelations, compounded by their frequent refusal to pay for already ordered raw materials
With low-margin production in disarray, up to 1 million workers from Bangladesh had been either dismissed (without severance pay in 80% of the cases) or temporarily suspended (also in majority without pay)
Living from paycheck to paycheck, on lowly wages even by the country's standards, often providing for subsistance of the entire family, the garment workers (mostly women) have never been able to put any savings aside to deal with life's misfortunes....
....reaching a breaking point with the brutal economic consequences of the pandemic
Hunger vortex
The rough estimate of what the garment industry owes its workers, reported by Clean Clothes Campaign (CCC), highlights the shortfall for the main countries in the textile supply chain, measured in hundreds of millions of U.S. dollars
The losses in monthly wages even for workers which have remained employed - or were only in some cases partially compensated while out of work - are immense in the countries most dependent on the industry for exports
...not to mention those workers who lost their entire livelihood for months...
Vietnam, non included in the CCC survey, employs 1.6 million workers in the industry and exports represent 12 to 14% of total exports
In Indonesia, even though approx. 2.6 to 3 million workers are engaged in the industry, textile and garments only weigh approx. 7.5% of exports
Entirely - or mainly - dependent on the economic health of the garment sector as mainstay manufacturing activity and source of foreign currencies, two countries stand apart with March-to-May 'wage gaps' of $400 to 500 million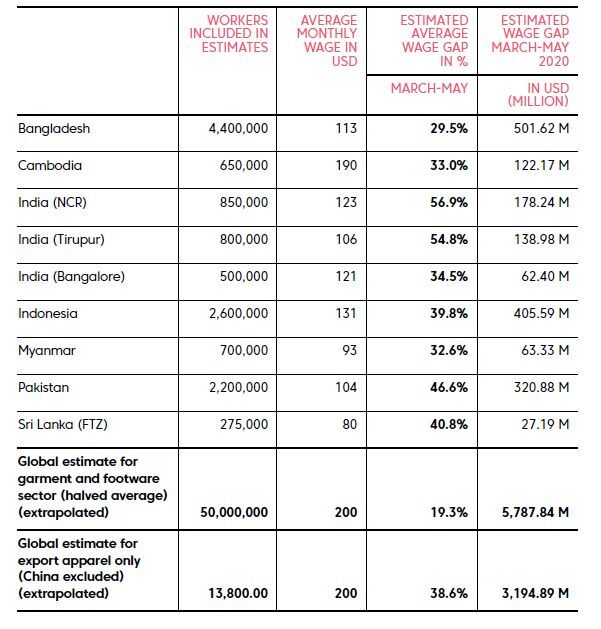 Although uniquely exposed, Bangladesh is hardly alone in experiencing crisis, as demonstrated in interviews led by Worker Rights Consortium (WRC) with garment workers in Myanmar, India, Indonesia, Lesotho, Haiti, Ethiopia, El Salvador and Cambodia, undertaken between August and September '20
Painting lives of despair, the survey in these 9 countries of Hunger in the Apparel Supply Chain estimates permanent job losses and 'suspensions' at a third of the workforce and drop in income of workers who remained employed at 20% of take-home-pay, falling from an average $187 per month to $147 - corroborating the earlier assessment of wage brackets by CCC
With the most basic human needs at stake, food security and providing for the children's well-being, the Worker Rights Consortium study reads like a sad and silent foreboding of inevitability
Suffering from hunger and deprivation, up to three-quarters of the workers questioned in the WRC survey have experienced marked decline in their already poor living conditions, skipping meals, reducing the quantity of food, foregoing meat and other staples, and accumuating debt in the hope this human crisis will come to pass
A disaster for the workers, a turmoil which part of the manufacturing units will not survive and a danger throwing already frail states out of kilter, the economics of the crisis in the garment industry can be expected to roll on and on
Breaking apart
Textile and garment supply is a sophisticated chain of interlocking specialised nodes - upstream capital intensive advanced production facilities of textiles (mainly in China), midstream technically complex apparel production requiring capital investments, trained workers and strong managerial qualifications, and downstream, mass production of low margin, labor-intensive garments
Due to its low fixed costs, the textile industry has been the typical starter industry for countries engaged in export oriented industrialization
The grim character of garment manufacturing used to be acknowledged as inescapable, even though increasing awareness of work conditions, highlighted by tragic fires and loss of life, has become a focus of attention by holding the brand-name clothing companies accountable...
The pitiful pay of the workers (most often women) involved, their often dismal work – and life – conditions and the calamities besetting the production facilities too frequently to be coincidental, are nevertheless tolerated
Arguably a stage of economic development, the cycle, for all its mishaps, was supposed to put the countries on a 'virtuous' track of industrialization, securing a growing stream of foreign currency
Scraping by...?
The pandemic has thrown the orderly task specialization in disarray
In the upward march of global trade, textile and garment industries, especially the production of garments, belong in a category apart – at least at the low end of high volume cutting and sewing of clothing
Combining fairly low investment requirements, low training of the workforce and large pools of job opportunities, the industry has been besieged by populous states, eager to out-compete the latest garment center with ever lower salaries, flexible work regulations and endless lines of job seekers
Actually, at the low end of the value chain, neither the garment manufacturers nor their workers have anywhere to go
the capacity to invest is insufficient on the production floor and the workers have no savings to tide them over
they are dependent on imports for raw materials, mainly produced in large volume in China
they remain exposed to competition from more advanced countries (with easier access to capital, better educated workforces and more qualified management)
If there was still any doubt, the crisis has shown how the upward march from a low entry point could effectively lock some countries in a dead end - with a 'disposable' workforce as adjustment variable...
Warping the value chain
Driven by their own competitive challenges, Western clothing chains have abetted the maelstrom in the ruthless search for the lowest price, the most tolerant work conditions and, of course, the lowest salaries
Impairing the clothing retail chains with store closures and massive sales losses, the pandemic has brought the axe down on the low end garment industry, with the shameless demand for further discounts by some of the mass-market retail chains, putting pressure on prices for 12% rebates on average (CGWR research at Penn State), with further payment delays (77 days instead of 45, before the pandemic)
By pressuring for better terms, brand-name clothing companies could only contribute to worsen the already dire situation of the manufacturers
The brands deny the most egregious demands (and may in fact have moderated their pressure over time), but the pandemic will compel the large American and European importers to come to terms with the structural consequences of this race-to-the-bottom
In the mid-range, and at the high end, textile and garment manufacturers may remain mostly insulated by the technical value-added of the materials and of the cutting processes, and by higher-margins benefiting distribution
At the low end, however, blackmail of buyers attempting to take advantage of order cancelations (making the most of contractual 'force majeure') has been rampant, certainly in the first months of the viral crisis
Overall, Western importers are at risk of losing the diversified - and competitive - sourcing of their product assortment, in addition to their reputational risk
Relying in large part on the mass-produced, low margin collections, the importers could end up with a choice between a gamut of weakened manufacturing facilities at the bottom and a smaller array of mid-range firms which managed to weather the crisis with more advanced equipment, better productivity and solid finances
Advanced manufacturers, able to stand their ground, will undoubtedly be present in all of the countries covered by the surveys, but the country with the most assertive industrial policy in textiles, as in many other segments, cannot be ignored
It is China
While reputational risk remains a concern for Western retail chains, keen to present their firms as model citizens, the effort to restore - even to improve the apparel production capacity and expertise in South-East Asia - after the pandemic may be driven by less altruistic purposes ... to avoid dependency on the single largest exporter
Perhaps a positive development for the upstarts in global garment exports, which we expect to discuss in 'Competing with China'