Digital keys to Indian e-commerce
In King's Indian Defense, we gave a brief summary of the wide-reaching digital initiatives of the Indian Government since 2016, with the clear intent to break down traditional barriers, to fast-track and to immerse the most forward-looking Indian entrepreneurs, retailers and suppliers of all sizes, in e-commerce modernity
As a result, person-to-person retail sales, business-to-business market places and a whole range of new services engaging millions of Indians over the mobile Internet are pulling entire population out of isolation with a wealth of opportunities
Supported by the technological wonders, the key driver of this profound societal transformation is to be found in digital payments
Digital finance is a battle in-the-making, still to be fought out, concentrating the minds of all the players, American and Chinese but also, and most importantly, Indian
By allowing foreign direct investment (FDI) in 2016 , the Indian regulators defined the legal entry point of India's vast consumer market for the foreign e-commerce giants by 'automatic route'
facilitating business-to-business relations
restricting business-to-consumer sales (market place model) to intermediation on behalf third-party sellers, by prohibiting the platforms from direct ownership of inventory
Educational, and possibly shocking, for the domestic suppliers, the deeply transformative role of Amazon must be commended, possibly cutting corners but offering Indian suppliers exposure well beyond their familiar markets, as discussed in 'an American high-roller'
Hype meeting reality
In a fast moving market,
analysts wil be excused for being at a loss to model how far, and how fast India might go
e-com
$bn
(est.)
(est.)
projected
Link
Issued
Analyst
'17
'18
'19
'20
'22
'26
'27
site
2015
Morgan Stanley
137
pdf
2016
Google / Kearny
100
site
2019
Statista
20
52,3
retail %
2.2%
pdf
2018
PwC
100
site
undated
IBEF
64
200
retail %
1,5%
5%
ref
undated
NASSCOM
33
38,7
site
2018
eMarketer
32,7
retail %
2,9%
site
2019
Morgan Stanley
72
200
The 2017-2019 trend puts the original hype in perspective
at approx. 3.5 to 4% of total retail sales by 2020, e-commerce is an significant development for India's economy
2018 / 2019 sales trends suggest a growth path of approx. 17 % per year, exceeding $50 billlion in 2020 - by itself very significant but nowhere near earlier projections
Statista estimates - published in March '19 - are more conservative still with growth projections around 10% through 2022, targeting sales of $52.3 billion at the later date
Factors abound to set India apart from China, mistakenly assumed to be the 'all-weather' growth model, and analysts have good reason to backtrack from their unfounded optimism
The foreign e-commerce specialists are also coming to more realistic assumptions
This may be true of Amazon India, as we discuss in 'Amazon goes local'
'China e-commerce in India' could be leading the way by diversifying the demand for new services (games, music, video, food delivery and transportation) side-stepping consumer retail
However, the explosive growth of digital payment in India is the societal transformation underlying every e-commerce initiative
Reminiscent of the Ali-pay / Tencent-pay duopoly in China, digital payments are the indispensable gateway to India's e-commerce future
Payment systems, running the gamut
While the endgame in India is still quite some time off, all contenders in the digital space are homing in on a measure of control over their clients payment habits, the critical link in the data information chain
The frameworld for digital payments in India is the Unified Payments Interface (UPI) introduced in 2016, a real-time interbank payment system that allows sending or requesting money, instantly transferring funds between two bank accounts on a mobile platform
Using the most simple identifiers, including the mobile phone number and the QR code of a merchant, UPI has fast become a central plank of the governmental push for digitalization, in combination with broad access to bank accounts, accelerated by bank transfer of subsidies (in lieu of cash payments to the poor), the spread of smartphones and cheap data connectivity with the advent of Reliance Jio
Although seeming to level off since March '19, the number of transactions over UPI has triple in a year, with more than 750 million transactions in one month (June '19) for a total amount of approx. USD 20.5 billlion, implying a yearly transaction volume exceeding USD 200 billion in 2019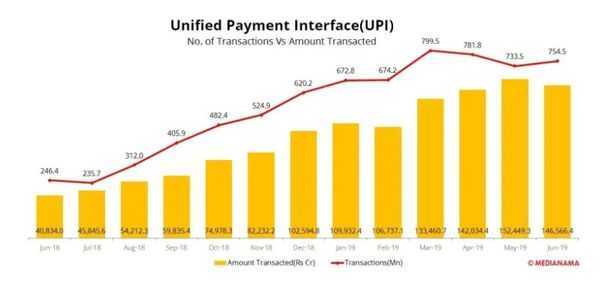 First adopter over UPI, facilitating payment of household and utility bills from major suppliers, Google Tez has encountered major success since launch in September '17, hitting 45 million users as of March '19 and USD 81 billion at an annualized run-rate level according to the company, with an estimated 240 million transactions per month (sce Economic Times)
Hoping to maintain its lead in person-to-person transactions by making banking services more accessible, Google Tez, rebranded as 'Google Pay' is partnering with four Indian banks to provide instant 'pre-approved' loans to the app's users, a clear challenge to Paytm, the Alibaba supported payment system
Payment User's Battlegrounds (PUBG)
Borrowing the Player's Unknown Battle Grounds (PUBG) moniker of China's Tencent uniquely popular game, digital payment players' in India are starting out with very different strategies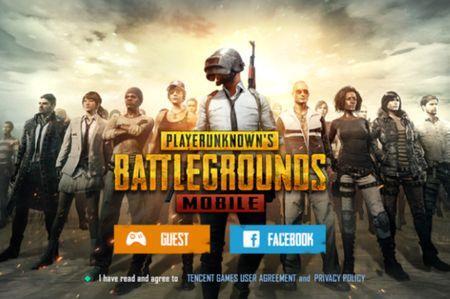 According to the latest sources, published by the Economic Times, monthly transactions are fairly balanced between Google Pay (240 million), business-to-business e-commerce leader Flipkart's PhonePe (220 million) and Alibaba's Paytm (200 million)
If the sources are reliable, the data signal a significant shift in digital payment market acceptance
According to 2017 data of Credit Suisse - Atlas, Google Pay (ex-Tez) (52%) benefitted from a 'first' mover advantage on an originally smaller, consumer-oriented, user market
Paytm - Alibaba (23% at the time) and PhonePe - FlipKart (15%) managed to grow on the back of strong business-to-business adoption rates (in favor of Flipkart) and new services (such as food delivery, bill payments and financial services for Paytm)
If late-comers to digital payments in India will manage to carve addtional niches remains to be seen ....
Amazon Pay - with person-to-person payment features - has been launched on the UPI system in April '19, some 5 years after the roll-out of Amazon in India, building on its strong presence in e-commerce (30% share)
WhatsApp Pay has been confirmed in July '19 and expects to leverage its largest market estimated at 350-400 million people using the messaging application, according to the Economic Times. The approach will shadow the WeChat Pay blueprint of Tencent, which relied on the popularity of its game platform, with 800 million monthly active users in China
Tencent's roll-out of digital payment, apparently much delayed, could hardly be discounted, on the strength of PUBG, by far the most popular game for 200 million Indian players, channelling in-play payments through Tencent-Pay and hoping to repeat its Chinese success
For all players in the digital payment ecosphere, projected growth trends seem to bear the promise of riches... and it is true that new services - games, food delivery, transportation and flexible banking transactions - hardly allow a definite stance on transaction volumes - and their profitability - in the coming years
Whether the latest Credit Suisse projection, setting a digital payments target of USD 1 trillion by 2023 (from USD 200 billion today) plays out remains a matter of conjecture
Some observations may be relevant
while projections of e-commerce has been scaled back repeatedly, the advent of multiple low-cost services may channel additional consumer expenditures into the digital ecosphere
free digital features (games, video, social media) and cheap data subscriptions have contributed to explosive growth of mobile Internet but the conversion rate to various forms of fee-based services remains uncertain
as early movers, Amazon India and Flipkart effectively dominate the e-commerce market place for physical goods and late comer Alibaba-driven on-line retailers Paytm Mall and Snapdeal are losing momentum
while e-commerce may - at 3% - just be the tip of the Indian retail market, the digital combination of Mukesh Ambani's Reliance Retail with Reliance Jio may be the true game changer for India