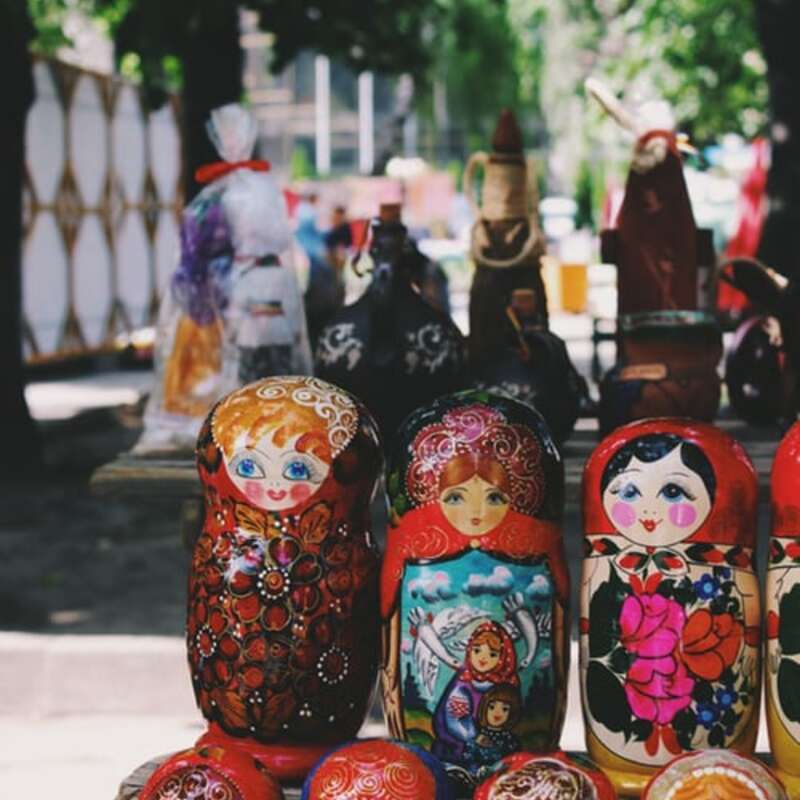 Gas pipelines - ties that bind...
The responsability to keep the Free World free, in the aftermath of World War II and during the Cold War confrontation with the USSR, has been a burden shouldered by America all over the world, East and West, with a special focus on the potential European battlefield
The U.S. engagement was sharpened by the keen perception that America's own security would be put at risk on the frontline of an overbearing Russian dominance across Western Europe
The relationship between America and the European countries, foremost Germany directly exposed to aggression across the wide East European plains, has been framed in security considerations for decades after the war
Risk has been dialed down after the fall of the Berlin wall and U.S. military presence has been reduced accordingly, but in protecting its perceived security interests, America has remained very much engaged
The trade-off between U.S. guarantees and security-based interference in European affairs has been - and essentially continues to be - the cornerstone of foreign policy of Europe's dominant power, Germany
Nonetheless, as U.S. guarantees are routinely questioned by NATO allies, American interference in the name of security becomes harder to justify
When the interference takes aim at a strategic policy - energy - of Europe's premier power - Germany, push-back has to be expected
This is why gas pipelines, a strategic element of the continent's energy policy, connecting Europe with its Russian supplier, matter...and points to an urgent, and much broader, reset of the U.S.- EU relationship
Nord Stream 2, as well as TurkStream - two pipelines delivering Russian gas into European markets, have turned into a seemingly endless saga between American Congress and the European Union, foremost with Germany
In a bipartisan effort, Congress has created a legal framework, broadened over time, for sanctions on entities involved in the Nord Stream 2 as well TurkStream gas pipelines - arguing that European security, and consequently America's own, were at risk
While Germany, ever cautious not to question the fundamentals of the U.S. security guarantee, has not countered American interference with Nord Stream explicitly, its actions speak volumes....
As for TurkStream, conflicted interests with Turkey are too numerous to count...and with U.S. supported diversification of gas supply in South-Eastern Europe, the planned gas pipeline from Russia on the Black Sea bottom has lost some of its edge
A legal bockade
Both Section 232 of the "Countering America's Adversaries Through Sanctions Act" (CAATSA) enacted on Aug. 2, 2017 and the "Protecting Europe's Energy Security Act" (PEESA), enacted on Dec. 20, 2019, take aim at those entities that invest in the projects or provide goods or services for the construction of the pipelines
On July 15, 2020, the US Department of State updated its guidance regarding the applicability of secondary sanctions under Section 232 – to cover projects initiated before 2017
On October 20, 2020, the US Department of State clarified and broadened the categories of entities exposed to sanctions under PEESA to the delivery of goods or services to the vessels involved in the construction of the pipelines
Unsurprisingly, with energy policy ranking high in their strategic options, European countries have attempted to draw a line between legitimate U.S. security concerns and cautious response to objectionable U.S. interference
In the end, this balancing act will only go so far because America cannot – and will not – take on its staunchest ally, Germany, backed up by France, the Netherlands and the UK….
Caught in a web of legal acts of their own rendition, the enthusiastic U.S. rule setters in Congress will probably be caught out
Still, a showdown between allies with sovereign interests to protect was definitely uncalled for
Nord Stream 2
Initiated in 2005 by Russia's Gazprom and European partners, Nord Stream 2 project is an $11 billion pipeline on the Baltic seabed, with approx. 75-mile unfinished track (120 kms) after the laying of 690 miles of pipe (1 100 kms)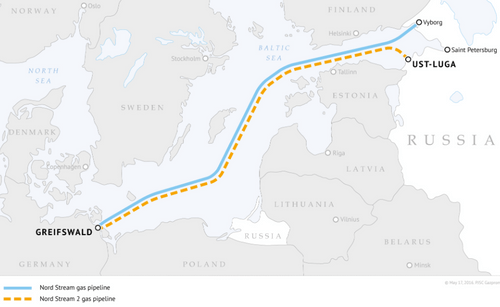 In "Nord Stream 2, the end game", American efforts, led from the Senate floor, were discussed and shown to be dissonant with facts on the ground
In defending the interest of Ukraine, which stands most to lose from the direct gas delivery, bypassing the country which used to rely on fees and low-priced gas deliveries from Russia, the gambit of Senator Cruz (Rep. Texas) appears to be out of step
Ukrainian gas transit rights have been protected by formal agreement with Russia (Dec. 2019), resolving pending differences on favorable terms, at the explicit request of President Putin
As for the supposedly weak bargaining position of European countries, the Third Internal Energy Market Package (2009), a key constituent of the European Single Market, has turned the tables on the Russian gas exporter Gazprom , forcing the energy concern to align with the commercial logic of a global gas market, essentially depriving the firm of the legal right and of the capability to use gas deliveries as a geopolitical weapon
TurkStream
The 910 kilometer-long (565 mile) TurkStream gas pipeline, with an aggregate throughput capacity of 31.5 billion cubic meters (BCM) per year for the two strings (15.75 BCM each) serving Turkey and Europe, runs under the Black Sea, linking Russia and Turkey
TurkStream gas deliveries essentially to Turkey - from January 2020 - transit through partially completed and existing infrastructure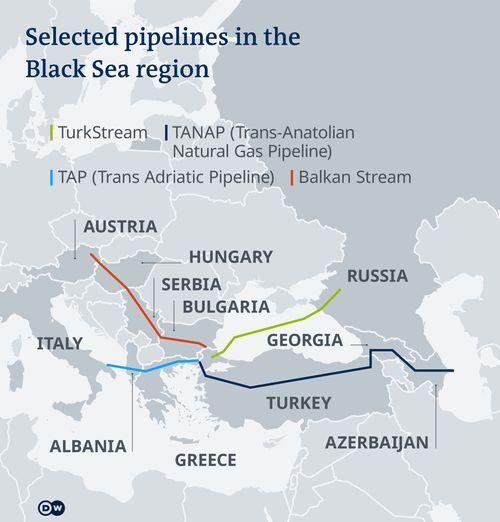 The second string of TurkStream will transport 15.75 BCM of Russian natural gas from the Turkish landing point, by way of the Balkan Stream extension, to South Eastern and Central European markets via Bulgaria and Serbia, with main destinations the Austrian and the Hungarian markets, expected to be reached with the new pipeline by 2022
With a Balkan gas hub, supported by the European Bank for Reconstruction and Development and complying with EU rules on third party access, Bulgaria is positioning itself as a broker in the region by becoming a trader, not a mere transit point to earn fees,
with deliveries from Russia (via TurkStream) but also from Azerbijan (via the 16 BCM Trans Antatolian TANAP)
for redistribution via Balkan Stream
and with access to Azeri gas via Trans Adriatic TAP and the projected 182 kilometer (115 mile) Interconnector Greece-Bulgaria (3 BCM per year, with the possibility to upgrade to 5 BCM)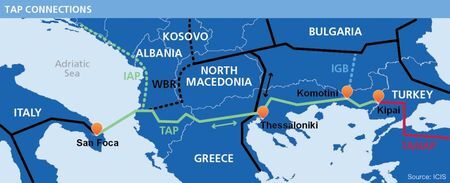 While some of the pipeline links are still under contruction, much of this intricate new network is being put in service today
With the recent Jan. 1, 2021 announcements, the entire scheme of the Southern Gas Corridor is falling into place
Bulgaria diversified its own gas supplies by receving Azeri gas via the TAP pipeline and the existing gas link between Bulgaria and Greece (pending construction of the Interconnector)
Serbia announced its supply of Russian gas via Bulgaria and the Balkan Stream pipeline
the inauguration of a new, floating liquefied gas (LNG) terminal near the Croatian island of Krk, which was supplied by a US LNG tanker, diversifying Croatia's gas supply from Gazprom with potential exports mainly to Hungary and marginally to Ukraine (pipelines not shown on the map). The capacity of the terminal, at 2.6 BCM, represents approx. 25% of Gazprom's total current deliveries to Croatia, Greece, Serbia and Bulgaria
While Gazprom will be redirecting gas flows by way of TurkStream and Balkan Stream, that used to transit through Ukraine, diversification is taking its toll on the gaz company's market power
Direct deliveries from the Azeri gas field and LNG terminals at Alexandroupoli (NW Greece) and Krk (Croatia) will have weighed on the latest Bulgarian price negotiations, with a 40% drop over the previous contract with Gazprom; instead of being priced on oil futures, regional gas market prices will be uses as reference
A multi-faceted and evolving array
The fallacy in the American attempts to impede the construction of Nord Stream 2 and TurkStream may have been the exclusive focus on two links of a complex network engaging powerful players all over the European continent
Because of the global importance of the European energy policy, long in the making and today a key constituent of the Single European Market, it was never likely that the U.S. could succeed in bringing to a halt some of its main constituents
The stakes are too high and the arguments invoked by America too dubious to invite more than a nod of courteous understanding
Geographical proximity and geological depletion of gas reserves in the North Sea (Norway and UK) do leave Europe dependent on Russian gas delivery...to a degree
However, diversification in gas deliveries ranks high not only with the construction of LNG terminals along the Southern corridor
On the Baltic shores, LNG capacity has been expanding in Poland (with a planned capacity increase at Świnoujście LNG import terminal by 50%), Baltic States (Lithania and Estonia ), numerous terminals located in Sweden and in Finland (Pori LNG Manga, LNG terminal in Tornio and LNG Port of Hamina)
Furthermore, the Baltic Pipe natural gas pipeline between the Norwegian sector of the North Sea and Poland, under construction , will be in operation in 2022
Resumption of construction of the final link of Nord Stream 2, a 115 km long section of pipe line in Danish waters has been announced from Jan. 15
The sanctions announced 13 months ago have compelled Gazprom to equip new pipelaying ships and to delay infrastructure works at an estimated cost of $1 billion
The German state of Mecklenburg-Vorpommern, where the pipeline makes landfall, has announced the launch of a public sector foundation to shield the companies involved in construction and operations of the pipeline from U.S. sanctions by acquiring, holding and releasing necessary hardware in its name...
A rather undignified end to a needless tussle between allies but an end nontheless...
To cap the 'end game', and alleviate further U.S. concerns about European energy, Russia's and Mr. Putin's primary concerns are, in all likelihood, focused on
diversification and market competition from Azeri gas fields, circumventing Gazprom's network, and from LNG delivered by Quatar or by the U.S.
dropping gas consumption in Europe, as renewables gain market share and geothermal energy loses attraction
climate change, opening the Northern route to Asia's potential markets for Russian energy exports
the questionable future of pipelines as a means of gas distribution, as compared to the flexibility of LNG transport
Hardly the ideal outlook to rely on gas deliveries in pressing for non-commercial benefits...