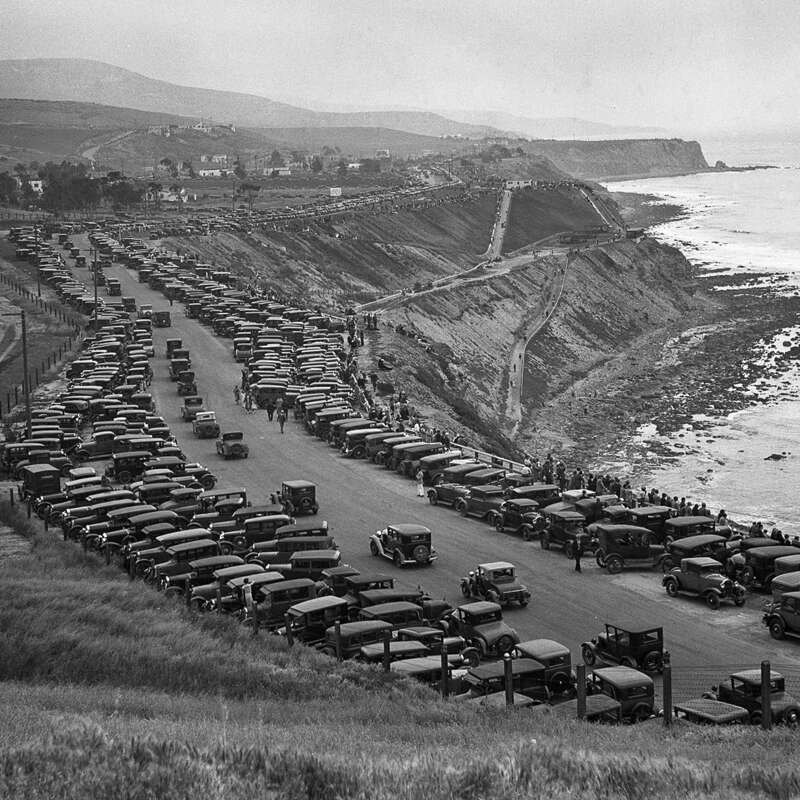 Global cars, a bleak outlook
Pin-insights
Uniformly negative (with exception of Brazil), car sales trends appear to be worsening in key markets, foremost in China and in Europe and dramatically in India
While economic trends will revert in time, structural factors may be deeply transformative of the industry, binding the car makers to ambitious (and costly) environmental targets and engineering a generational shift in transportation modes and consumer expectations
Pushing into the distant future any hope of repeating in emerging markets the Chinese growth story of the last 20 years, the industry at large might well have to rely on their maturing home markets and to confront heightened environmental expectations head on
A fragile make-up of weak (or non-existent) growth and high R&D costs which could leave the smaller European manufacturers scrambling
****
Buffeted by wintry gales, the car industry is steeling itself for existential challenges
Worldwide, car manufacturers are reporting negative sales trends, with China, the largest global car market down 14% at mid year, Europe flat and trending down since June and the US weak with a sharp contraction of traditional passenger car sales
Under a darkening sky
Uniformly negative (with exception of Brazil), sales trends appear to be worsening in key markets, foremost in China and in Europe and dramatically in India
Region
June 2019
% Change
01/06/2019
% Change
Europe (EU+EFTA)
1 491 300
-7.9
8 426 200
-3.1
Russia*
151 200
-3.3
828 800
-2.4
USA*
1 514 900
-1.9
8 412 900
-1.9
Japan
367 000
-2.2
2 285 700
-0.3
Brazil*
214 000
9.5
1 251 800
10.9
India
225 700
-17.5
1 556 800
-10.3
China
1 700 000
-7.1
9 932 900
-14.0
*Light vehicles
Source: VDA
Credit - best-selling-cars.com - in number of cars sold
The third quarter 2019 results reported by GM reflects further collective misery in China; the bottom may not be in sight
GM sales in China topped 4 million cars in 2017, China's record year (compared to 3 million cars in the US)
GM sales are down 18% in Q3-2019 against 2018 and 30% against Q3-2017
Passenger car brands all fell by close to 20% on average, except to top-line luxury brand Cadillac (+11%)
Only commercial vehicle brand Wuling (minority-owned by GM) held out with only a 5% drop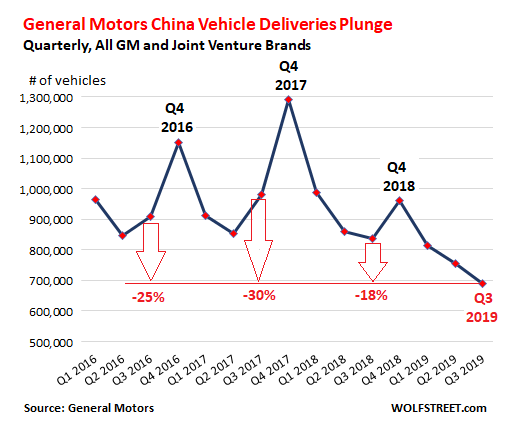 With recessionary fears firmly on the agenda, it stands to reason that the industry hopes to regain its footing as the economic cycle turns and this may bear out for some major markets as international trade uncertainties subside
However, structural factors may be deeply transformative of the industry, binding the car makers to ambitious (and costly) environmental targets and engineering a generational shift in transportation modes and consumer expectations
Europe in the eye of the cyclone ?
In the note entitled 'Car Armageddon ?', we painted the darkest picture of the automotive industry's short-term outlook
To recap, a few numbers stand out
With a global production capacity of 137 million vehicles, excess capacity is estimated at 45 million units (33%), not counting the 52 assembly plants coming on line and adding a projected 6.4 million units by 2020
| Leaders | Automotive employment |
| --- | --- |
| Europe | 2 068 000 |
| China | 1 605 000 |
| USA | 954 000 |
| Japan | 773000 |
| source | fircroft.com |
| Europe | 2 600 000 |
| source | acea.be |
Discrepancies in data collected may be due to different time frames or to qualification of manufacturing jobs by country but the trend seems unmistakable
Europe as a whole still stands out with the largest employment base
Europe's 23% of world vehicle production appears to require a significantly larger workforce than China (approx. 30% of global car production)
To produce approx. 17% more cars, China appears to need 20% less people - suggesting a substantial productivity lag, although employment statistics may not be exactly comparable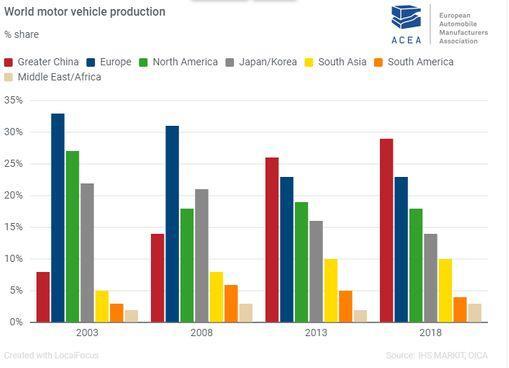 To compound the apparent lack of productivity across Europe (with undoubtedly very large country differences), the South Korea car industry, known to be the most robotized of all, produces 4 million cars per year with declared direct employment of 350 000 people (11.4 cars per person employed vs approx. 8 units in Europe)
While we believe China employment data to be underestimated to some extent, Europe with its large industrial base - which grew further with access of East European countries to the Union - still appears to be the most exposed to sales reversals, to technological shifts requiring large investments and - potentially - to foreign imports competition
None of which bodes well for the future of Europe's car makers, if the Chinese model of environmentally responsible car usage, recasting consumer demand in new ways, is any guide
Fickelness of the Chinese consumer
A late starter as car manufacturing hub and as a car consumer market, China could well be leading the way of a radical rethink of car usage and transportation modes
Structural factors are weighing on Chinese individual car ownership
infrastructure simply cannot stay abreast of the mind-boggling expansion from 4 to 24.7 million cars on Chinese roads (2005-2017)
with worsening air pollution, a regulatory push drives car usage down in the cities, both large and medium
We suggested that the breakneck growth of the car industry in China was over, that the American consumer model with one car in the driveway (and preferably two) turned out to be irrelevant and that China was in effect
skipping universal ownership for more advanced solutions of transportation
riding-share Didi Chuxing (the Chinese Uber) has become the default transportation option - with 30 million rides a day and more than 10 billion for 2018
car co-ownership, tested by Geely and others
While unmistakable, these trends further play out against a major technological shift away from internal combustion engines (ICE)
The costly transition to new power solutions are a challenge only the largest, well-capitalized (or government supported) firms can hope to take on
….all of which happens to be about the country dominating the industry today with 1/3 of the world car production, a market the CEO of Volkswagen, Herbert Dies, believes to be decisive for the future of his company


Grasping at straws ?
Major uncertainties and a potential shake-out leave the global car industry in a lurch, casting about for fresh growth potential
with leading manufacturers doubling down on their commitment to the Chinese market, as VW opened 3 additional plants in 2018 and is building a fourth 300,000 cars-capacity factory in Shanghai dedicated to electrical vehicles
with the entire Western (and Japanese) industry racing for a front row seat in emerging markets
If automotive trends in India – with its 'next billion' consumers to save the day – are any guide, a new growth miracle, taking up the baton from China, remains improbable, even in the medium term
For true believers, the world's fourth largest manufacturer (after China, the US and Japan) with 4 million passenger cars and commercial vehicles produced in 2018-2019, India might be in the cusp of 'blowout' growth
At 6 000 $, India's GDP per capita in 2016 lines up encouragingly with China's 2006 GDP, as shown… India might just possibly be on track, hopes eternal…
GDP per capita in India, purchasing power per person (constant 2005 international $) - credit trading economics

source: tradingeconomics.com
GDP per capita in China, purchasing power per person (constant 2005 international $) - credit trading economics

source: tradingeconomics.com
Crashing sales in India since late 2018 tell a different story
While a lackluster economy and a governmental crackdown on non-bank financial companies have weighed in, structural factors might gain traction and come to dominate
Borrowing a leaf from China's experience of unbridled car growth, running into unsurmontable constraints in their cities, India has engaged in regulations on emissions and car safety features, raising car prices by 10% over the last 12 months and weighing on sales
Caution - aiming at a slow build-up of the industry at best - should be warranted - and expected of India's regulators
monitoring the progressive modernization of notorioulsy creaky infrastructure
husbanding the national champions (Maruti, Mahindra, Tata), commanding access to Indian car distribution
Putting emerging market growth expectations on standby, the global car industry might have to rely on their maturing home markets and to confront their deeply transformative environmental expectations
A fragile make-up of weak (or non-existent) growth and high R&D costs which could leave the smaller European manufacturers scrambling
A potent industrial risk we hope to discuss in 'Overplaying their hand ?'