Healthcare meets the Internet age
Pin-insights
In providing healthcare to China's vast population, medical services and their supporting administrations are confronting several layers of complexity, folded in one
Demography heightens demand relentlessly with 10 million additional people entering the key population segment of age 40 and above, every year
Beter informed patients and development of higher quality medecine feeds higher expectations - and potential criticism for any failure
While economic growth has lifted millions out of poverty, inequality within the newly empowered middle class cuts deeply in living conditions and access to health services - stressing Chinese society in confrontations between urban life and rural life, between middle-class 'have's and those that 'have-not'
Witnessing the sharp increase in public health spending, the progress has been remarkable and bold experiments, integrating Internet applications and medical support, streamline the healthcare ecosystem in a more efficient and more responsible format
***
In China, an ageing population more prone to health conditions, steadily improving access to health service allowing for better diagnostics and lifestyle changes heightening expectations combine as a major public policy challenge to meet the demands of the growing – and wealthier – middle class and to provide impoverished families with the health services they need
No ifs or buts
Demography in China sets the scene decades in advance and the June 2019 study of Global Demographics, referred to in this note, provides an outline of the challenge
The age group of 40-to-64 is the pivot in coming to grips with health service demands
Mostly ignored by the generally healthy young people, medical conditions tend to build up after 40 and over the following 15 years, before exploding to very high levels
This is also why the 40 to 64 age group is viewed as critical by private insurers, called upon to play a crucial role in addressing China's healthcare needs
As of 2019, this age group count is approx. 165 million and will grow to 245 million by 2028, before plateauing and sloping downward to 220 million (2033)
The point is, however, that, during the same time span, the 65+ age group is on a relentless growth path, from 106 million (2019) to 167 million (2028) and 225 million by 2033
As understood by the Chinese health services, the population over 40 years of age, potentially exposed to critical disease, will increase by 10 million a year, year after year for the next decade
The greying of China's population may be a well-known fact of demography, an unbalance visualized in stark terms on the dynamic UN - DESA Population Division chart for the next decades
The numbers remain awesome and the projected statistics of grave diseases (oncology and chronic) no less dramatic
Quoting from the Global Demographics study,
Just focusing on the urban population and the 8 most common cancers the total number of such cases presenting for treatment each year would increase from 1.56 million to 2.6 million between 2018 and 2028. Assuming a survival rate of 5 years this means ongoing cancer treatments would increase from 4.6 million cases per annum to 7.56 million per annum by 2028.
For chronic conditions the number of reported cases for 5 common ones (diabetes, hypertension, asthma and chronic obstructive lung disease, stroke) are projected to increase from 209 million to 336 million. By 2028 there will be 989 million urban persons and assuming those that have at least one chronic condition have 2 (they tend to be less healthy) then 1 in 6 persons will be dealing with 2 or more conditions. That translates into 168 million patients
While the statistical projections might not be final, the trend and the timeline are beyond doubt and public policy has been set out accordingly in 'Major Tasks', updated year after year and most recently in June '19


Tackling the healthcare system
Under the title of 'Deepening the Medical and Healthcare System Reform', the Tasks focus on
eliminating the difficulty in getting medical treatment – by more effective allocation of medical resources, a goal which may ultimately assign a large responsibility to the private sector and to Internet-based coordination of services
lowering the cost of the medical treatments – combining standard policies of centralized procurement and priority given to generics with reform of the medical insurance payment method, which could be understood as encouragement for private insurance schemes as well as streamlining the public fund allocations
enhancing management of hospitals – the inclusion of performance appraisal signals support for the architecture of cloud-based applications streamlining the demand of the patients with the delivery of health services
At face value, implementation of the 'Tasks' is clearly understood to be a long slog involving structural reorganization at the governmental agencies in charge, cost control and alignment of the public service with medical demand
All of which sounds familiar in most developed countries struggling to provide effective – and affordable – coverage to aging population
In China, it can be argued that the challenge takes on a distinct qualitative dimension
Fine-tuning a healthcare system with marginal adjustments would be off-mark, considering the sizable challenge
China's middle class of well-educated city dwellers, likely to be the most vocal group and the most demanding in terms on health coverage, is growing much faster than the population is aging

According to World Bank statistics, quoted by China Power, China's urban population has skyrocketed from 19% in 1980 to 58% in 2017 and wages have average an 11% increase year-on-year since 2001
The trend has sharpened revenue inequalities between the great cities of the Eastern coast (with per capita income of $30 000 in Beijing, Tianjin or Shanghai) and landlocked rural provinces ($4 000) with wide disparity between these extremes
Still in the lower band of income on average, China's middle-class was estimated by the World Bank at 39% of total population (531 million people) in 2013 but, with living standards and incomes wide apart, health coverage by a mix of basic public health insurance and direct billing by private health services is hardly uniform
Paying a heavy toll
And getting heavier...
Well informed of healthcare options and protesting the limitations of public health services, the majority of middle-class families are neither in the top-earning bracket nor near the bottom: they are likely to be confronted with the high cost of treatment in urban setting when deadly sickness strikes
When private health services is the only remaining option, Reuters (2016) describes social tragedy, turning traditions of family savings for medical care and retirement upside down
According to a Boston Consulting Group estimate, personal healthcare expenditures will soar to $1.9 trillion (RMB 12.7 trillion) by 2025, a big factor in consumer indebtedness tripling between 2010 and 2016 to RMB 21 trillion
While much focus is on the urbanized Eastern seaboard and the tier-1 cities inland, costly – and unexpected – health provisions roil the hopes of a better life across the entire country, no less in poverty-stricken rural areas than in the cities
Statistical evidence supports real public commitment to engage
According to Global Demographics, total health expenditure (private and governmental) is 5.3% of total GDP ($683 billion) in 2018, representng $490 per person from $194 per person in 2008
Conservatively, and accounting for growing chronic conditions, the upward trend of expenditures is projected by Global Demographics at 4.8% per year, resulting in a marginal increase as a percentage of GDP (5.9% by 2028 for a total outlay of $1.67 trillion)
The qualification that the standard of care will stabilize over the decade through 2028 sets the projection as a lower boundary, putting a range of 7% GDP (in advanced developing countries) to 10% in the line of sight, as GDP growth may - or may not - stick to trend history
A World Bank - WHO - 2016 report 'Deepening Health Reform in China' hardly suggests anything but a race to address fast growing demand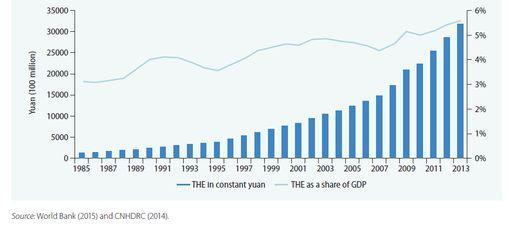 Charted in constant Yuan, expenditures are trending upwards and actual billings no less so for more recent years at RMB 4.982 trillion in 2016 Yuan (RMB 4.71 trillion in 2013)
A further highlight of the UN report can be placed in context of the great income inequality within the middle-class, discussed in our note
The report acknowledges the substantial effort to extend public insurance coverage, bringing out-of-pocket expense down from 60% in 2001 to 32% in 2014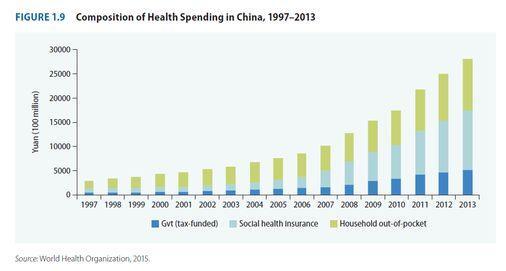 Over the reported period, social health insurance and tax-funded has replaced private expenditure as main source of healthcare spending
However, and at least as of 2016, date of publication of the UN report, the burden of health expense remains unevenly shared between urban and rural populations, with 50% of the per capita health spending billed privately to the (mostly poorer) rural residents
Also, household expense has in fact increased over time in volume, as the chart makes clear and beter diagnostics, wider access to treatment and beter informed patients make reversal of the trend improbable
Newly found prosperity in China makes healthcare a duly expected right but, in a race between an aging population, a maturing economy slowing GDP growth and fast increasing health costs, prospects are hardly reassuring
Confronted with so much desperation, the public health policies will be most likely to encourage private tentative solutions, mostly driven by insurance schemes
Ping-An Good Doctor
With 184 million retail customers and 538 million internet users, Ping An is one of the largest financial services companies in the world and China's biggest insurer by market value
Ranking 29th in Fortune magazine's Global 500, Ping An has annual revenues of $163.6 billion and profit of $16.2 billion (2018)
The firm's expansion is driven by two strategies, relying on big data expertise, "pan financial assets" and "pan healthcare", the later being of special relevance as innovative effort to bring together health services and artificial intelligence on an on-line medical platform
The online medical services is the core business on the 'Good Doctor' platform, received with considerable success (300 million registered users and 62.7 million monthly active users of which 2.2 million are paying users (as of June '19)
The firm's basic "Health 360" 199 yuan ($29) subscription offers online consultation, facilitation of offline medical treatments and express medicine deliveries
The recently introduced 'Private Doctor VIP Membership' upgrade vies for deeper integration across health services, entitling users to
unlimited online consultations, access to an expert group of medical professionals comprising renowned doctors in the respective fields from the top 100 hospitals across the country,
medical appointment services, certain health checks, discounts on medicines and accompanied hospital visit services for seniors
24/7 online consultation, secondary medical opinion, offline hospital outpatient treatment arrangement, health management, and chronic disease management
Equally ambitious is Ping-An Good Doctor's commitment to realign the architecture of health services on the cloud-based platform, by linking Internet hospitals, pharmacies, clinics and village doctors in a network actively supported by the central authorities
According to the company, "Ping An Good Doctor fully considers the different needs of governments and local medical institutions and uses expertise and capabilities to connect medical treatment, medication and Social Health Insurance coverage on the one Internet platform"
As of June '19, over 47,000 clinics and over 36 000 off-line retail pharmacies had been registered on the platform
Linking village doctors in poverty-stricken areas, the company has introduced specific application software, examination and test equipment, and multi-scenario remote training programs on the platform, upgrading 600 rural clinics and training 7 000 rural doctors
Fully supportive of "Internet + Healthcare", official Chinese policy is integrating regulatory features (such as approved medical charges and reimbursements) on the platform
Far from alone in the online health arena, competition is fierce : rated as 'first-choice' by 73% of the users, according to Chinese monitoring platform Trustdata, Ping An's leadership is secured by growing traffic (+30% year-on-year in Q3-2019)
In-house doctors and cooperation agreements with 29 global health industry leaders, announced in August '19, are driving momentum
Good Doctor's dominant position, with 70% of the total time spent on online healthcare applications, is the strong incentive health officials seek in their effort to overhaul medical practice across health institutions
In an effort to resolve the constraints weighing down Chinese health services, Ping An, as lead insurer drawing the financial industry in its wake, is doing the regulator's bidding
But the firm's economic interest marks Internet + Healthcare's limitations as well
The Chinese officials undoubtedly hope that the drive towards cloud-based health services will be deeply transformative of access to medical advice and spill over, benefiting all Chinese on the back of today's universal mobile smartphone access
Well, maybe ...
As for the 'Good Doctor', following a 2015 $400 million private placement from Softbank Vision Fund, the company, spun-off from Ping-An, was listed on the Hong Kong exchange (ticker 01833) as of May '18, valued at a market cap of approx. $6.5 billion today (Nov. '19)
JP Morgan has assigned an "Overweight" rating to Ping An Good Doctor and Bloomberg, expecting its online consultation numbers to triple by 2021, recognized the firm with its "Listed Enterprise of the Year 2019" award in November '19