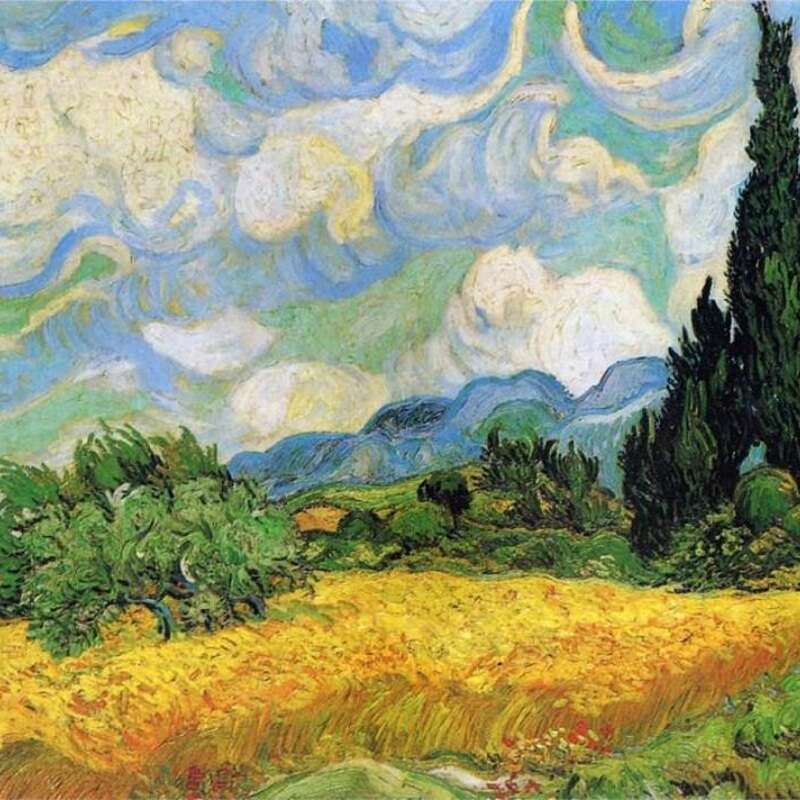 In the crucible of soybean trades
The Chinese soybean imports – at close to 60% of the world soy trade – originate essentially in two countries, with Brazil leading world exports (43% of total) over the US (33%)
As indispensable source of proteins for China's vast herd of – mostly – pork and increasing by a multiple of ten since 1999 , China soybean imports reflect a shift of Chinese consumption as a newly affluent population favors a diversified diet, centered on meat products
With 15-months trade conflict, China imported no more than 13,4 million tons of U.S. soy in the 2018/19 marketing year that ended Aug. 31 2019, according to government data, falling far short of the tonnage that China used to import annually from the United States before the trade war (26.7 million tons in 2017/2018) and 36.2 million tons in 2016/2017)
With its ability to pick up the slack in the 2018/2019 campaign and in the current 2019/2020 campaign, Brazil has confirmed its reliability as Chinese trading partner, demonstrating its intent to cement its standing as premier agricultural power
Intertwined with Brazil's trade interests, the country's policies cannot discount environmental costs of extensive land exploitation, under the watchful eye of governments and NGO's
Between ever-increasing soybean demand from China and constraints to agricultural land in Brazil, something has to give...
Uncertainty has shrouded the unwinding of the US-China trade saga and the knock-on effects have been spreading far and wide across the global markets
The partial trade deal concluded between the two countries may not necessarily secure the increased market shares on Chinese agricultural imports the American negotiators expect
Critical technological challenges, extensively discussed in 'Exposure to US-China trade' notes, have fallen by the wayside, but the Chinese trade negotiators have cast a glaring light on soybean trades and the key importance of the oilseed in the Chinese food chain
On track with rising soybean imports (close to 60% of total world imports for the 2019/2020 marketing year), China started diverting some of its shipments from the US since late 2017, putting unrelenting pressure through 2019 on America's agricultural heartland assumed to be a stronghold of presidential supporters and shipments from Brazil grew apace
While the strategy has been effective in the short term, as the newly found flexibility of the American trade negotiators has demonstrated, Chinese soybean imports may leverage the growth potential of Brazil's soybean exports long term, exposing US deliveries to faltering market terms
Soybeans, the most traded agricultural commodity
The numbers are striking
China soybean imports have come from almost nowhere since 1999/2000 (approx. 10 million tons), to reach 95 million tons in 2018, reflecting a shift of Chinese consumption as a newly affluent population favors a diversified diet, centered on meat products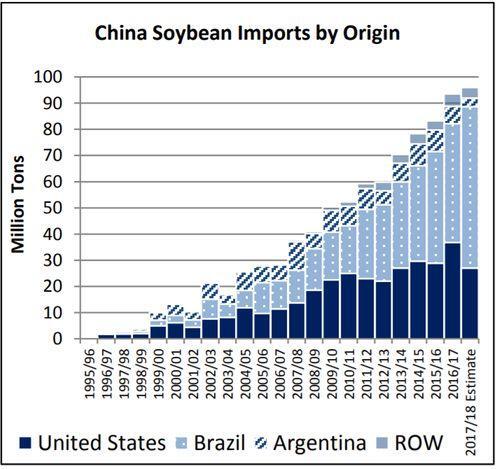 Quoting a US Department of Agriculture report (June '19), the volume of trade in soybeans and their products has surpassed that of wheat and coarse grains to become the most traded commodity, and soybeans account for over 10 percent of the value of agricultural trade
China has been the unique driver of soybean's market dominance, with a build-up of imports accounting for close to 90% of the growth in world soybean trade since early 2000
In the soybean exports to China, Brazil has taken the lead over the US since 2016/2017 and the gap has been widening with sharp tonnage increases from Brazil which could top 70 million tons in 2020/2021 (pprox. 70% of Chinese imports) and 28 million tons originating from the US, trade deals notwithstanding
If the Chinese agricultural purchases could scale up to $40 billion-$50 billion annually following official announcement, as part of a partial trade deal, doubling potentially the $24 billion in agricultural and related products China purchased from the United States in 2017, remains to be seen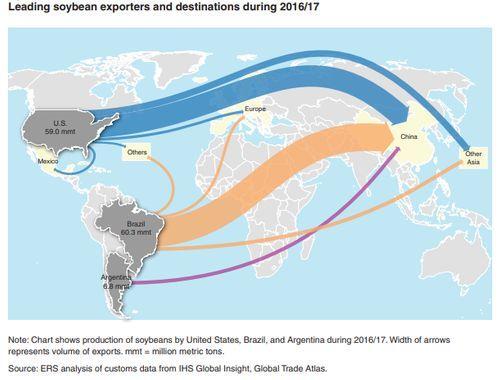 Discounting the disruption of the current tense trade negotiations, the growing importance of Brazilian soybean shipments reflects the country's ability to deliver increasing volumes to support China's rising imports
Brazilian swagger
Looking back on export history, Brazil did not simply elbow its soy into a US-dominated market - Brazil took the entire growth potential of soy worldwide off the table...
In 2009, America's standing seemed safe enough...
Except for the fact the last 3 soy campaings paint a very different picture with U.S. exports leveling off around 45 million tons and Brazil tripling soy deliveries in the 90 million ton range...
in million
2018/2019
2019/2020
20120/2021
metric tons
(est.)
(proj.)
World exports
148,42
164,58
167,88
Major exporters
Brazil
74,59
92,48
85
US
47,68
45,62
57,83
Argentina
9,1
10
7,5
source WASDE Oct.2020 page 28
With conflicted US-China trade relations, Brazil managed to increase its production by approx. half the forced cut in US deliveries as of March '19. Presumably reduced hog production caused by the massive cull of animals related to the spread of African swine fever made up most of the balance
Year-on-year 2019 increase of 11.5 million tons in Brazilian exports rebalanced Chinese imports with a decline of 21.7 million tons US produce
Global Brazilian export estimate for the 2019/2020 campaign with a huge 24% increase in soy deliveries should be further reason of concern for U.S. growers
Chinese demography - a relentless driver
USDA projections through 2028 anticipate further increases in Chinese domestic consumption, albeit at a slower growth rate, both for soybeans (protein enrichment for animal feed) and soybean oil (individual consumption and food processing)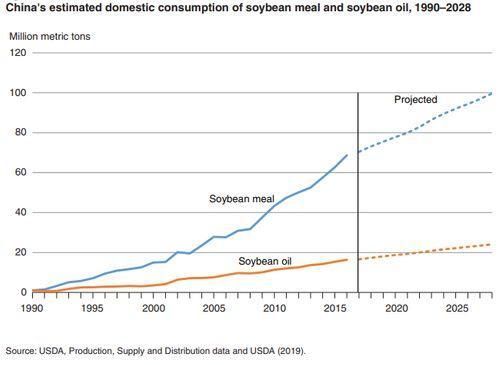 A testimony to the growing affluence of the Chinese population, the already high level of imports achieved by 2009 might appear almost quaint by today's standards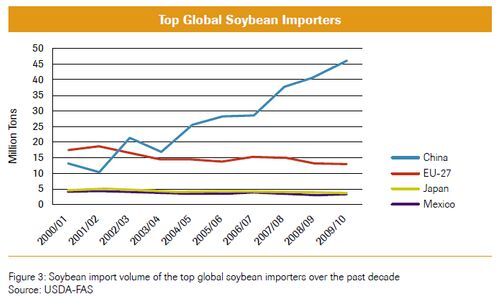 Based on Oct. '20 projections by the USDA World Agricultural Supply and Demand Estimates (WASDE), China had doubled its soy imports to close to 90 million tons in the last 10 years (2009-2019) and is projected to reach 100 million tons by 2020/2021
in million
2018/2019
2019/2020
20120/2021
metric tons
(est.)
(proj.)
World Imports
145,1
162,96
164,95
Major importers
China
82,54
97,4
100
European Union
14,98
15,6
14,9
source WASDE Oct.20 page 28
Simply stated, with China as only growth market for soybean exporters in the last decade, Brazil has been able to cover the entire 50 million ton increase with its deliveries to the world markets
The Brazilian powerhouse
Brazil's dominant market position has been decades in the making and the factors of its success should not be underestimated, in developing protein-rich strains for the tropics, in converting vast expanses of land for agriculture and in building the logistical infrastructure of roads and ports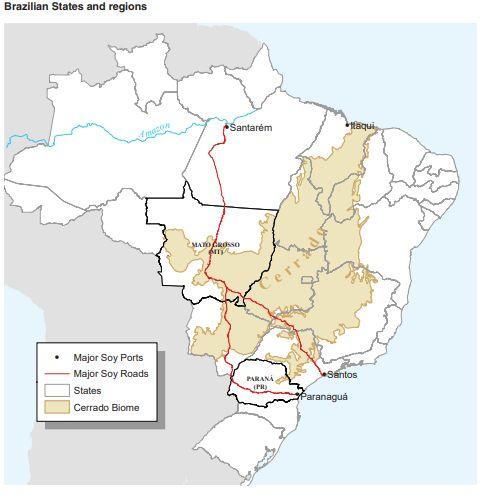 The vast tracks of unpopulated land have been the driver allowing what appeared to be limitless expansion and a 2017 yield / cost comparison of Mato Grosso with US Heartland and China's Heilongjiang Province confirms so much
Yield per hectare in Brazil and in the US are closely comparable and approx. 50% higher than in China
'Price received' is 20% higher in the US and 80% higher in China, a competitive advantage for Brazil due foremost to much lower rent of agricultural land and limited labor input
Land cost in Brazil is estimated at close to 25% of US land and 14% of Chinese land, differentials which vastly compensate for the considerable expense for fertilizers in Brazil (close to double the costs allocated by both the US and China)
Labor cost in Brazil, related to the huge scale of the Brazilian farms and intense mechanization, are very small indeed .... approx. 12% of US expense and 2% of Chinese small farmsteads
Details can be viewed in the USDA report, table 7 page 28

The data suggests that further yield improvements are unlikely, considering the fertilizer allocation required to narrow the gap with US productivity
Brazil will undoubtedly strive to maintain its leadership position - its price advantage benefits from the weakness of the Brazilian real currency, but the ability to deliver additional tonnage will be crucial...
Which begs the question how the Brazilian agro-industry is going to expand its land holdings in anticipation of growing Chinese demand
And if the country should…
These environmental challenges will be discussed in 'Brazil - global foodbasket' - published shortly