In the crucible of soybean trades
Pin-insights
The Chinese soybean imports – which represent approx. 65% of the world soy trade – originate essentially in two countries, with Brazil in the lead (43%) over the US (31%), as indispensable source of proteins for China's vast herd of – mostly – pork
Increasing by a multiple of ten since 1999 , China soybean imports reflect a shift of Chinese consumption as a newly affluent population favors a diversified diet, centered on meat products
With the 15-months trade conflict between China and the US, China imported no more than 13 million tonnes of U.S. soy in the 2018/19 marketing year that ended Aug. 31 2019, falling far short of the 36 million tons that China imported from the United States in 2016/2017
With its ability to pick up at least part of the slack in 2018/2019, Brazil has confirmed its reliability as trading partner, demonstrating its intent to cement its standing as premier agricultural power
Intertwined with Brazil's trade interests, the country's policies cannot discount environmental costs of extensive land exploitation, under the watchful eye of governments and NGO's
Between ever-increasing soybean demand from China and constraints to agricultural land in Brazil, something has to give...
***
Uncertainty has shrouded the unwinding of the US-China trade saga and the knock-on effects have been spreading far and wide across the global markets
The partial trade deal concluded between the two countries may not necessarily secure the increased market shares on Chinese agricultural imports the American negotiators expect
Pressing technological challenges, extensively discussed in 'Exposure to US-China trade' notes, have fallen by the wayside, but the Chinese trade negotiators have cast a glaring light on soybean trades and the key importance of the oilseed in the Chinese food chain
China, which is on an ever rising track of soybean imports (65% of total world imports today), leveraged its shipments from the US since late 2017, putting unrelenting pressure through 2019 on America's agricultural heartland assumed to be a stronghold of presidential supporters
While the strategy has been effective in the short term, as the newly found flexibility of the American trade negotiators have demonstrated, Chinese soybean imports as source of proteins for China's vast herd of – mostly – pork depend on only two supplying countries, the US and Brazil
Soybeans, the most traded agricultural commodity
The numbers are striking
China soybean imports have come from almost nowhere since 1999/2000 (approx. 10 million tons), to reach 95 million tons in 2018, reflecting a shift of Chinese consumption as a newly affluent population favors a diversified diet, centered on meat products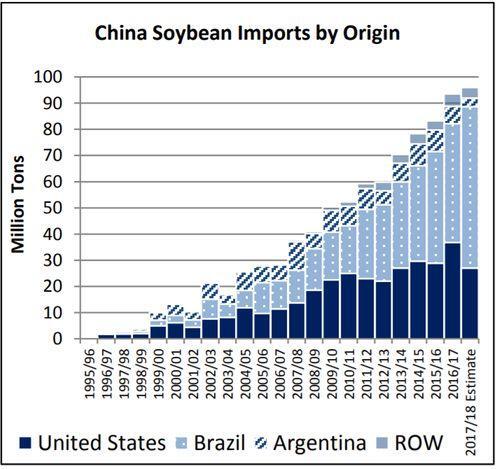 Quoting a US Department of Agriculture report (June '19), the volume of trade in soybeans and their products has surpassed that of wheat and coarse grains to become the most traded commodity, and soybeans account for over 10 percent of the value of agricultural trade
China has been the unique driver of soybean's market dominance, with a build-up of imports accounting for close to 90% of the growth in world soybean trade since early 2000
The soybean exports to China – which represent approx. 65% of the world trade – originate essentially in two countries alone, with Brazil taking the lead over the US, with respectively 49 million tons (43% of total crop) and 36 million tons (31%) in 2016/2017
With 15-months trade conflict, China imported no more than 13 million tonnes of U.S. soy in the 2018/19 marketing year that ended Aug. 31 2019, according to government data, falling far short of the tonnage that China used to import annually from the United States before the trade war
If the Chinese agricultural purchases could scale up to $40 billion-$50 billion annually following official announcement, as part of a partial trade deal, doubling potentially the $24 billion in agricultural and related products China purchased from the United States in 2017, remains to be seen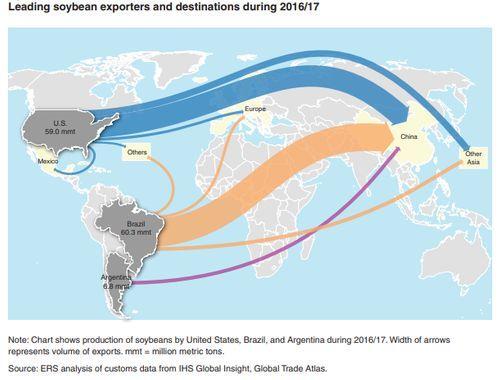 Discounting the disruption of the current tense trade negotiations, the growing importance of Brazilian soybean shipments reflects the country's ability to deliver increasing volumes to support China's rising imports
Even so, Brazil managed to increase its production by only approx. half the forced cut in US deliveries as of March '19 (a year-on-year increase of 11.5 million tons against a decline of 21.7 million tons US produce)
Presumably reduced hog production caused by the massive cull of animals related to the spread of African swine fever made up most of the balance
USDA projections through 2028 anticipate further increases in Chinese domestic consumption, albeit at a slower growth rate, both for soybeans (protein enrichment for animal feed) and soybean oil (individual consumption and food processing)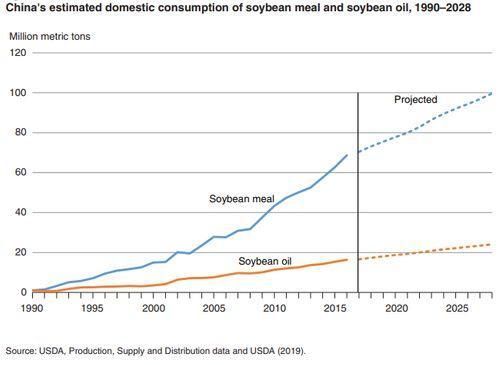 The Brazilian powerhouse
Brazil's dominant market position has been decades in the making and the factors of its success should not be underestimated, in developing protein-rich strains for the tropics, in converting vast expanses of land for agriculture and in building the logistical infrastructure of roads and ports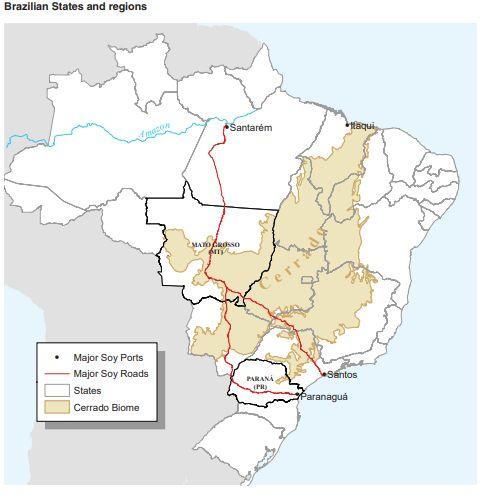 The vast tracks of unpopulated land have been the driver allowing what appeared to be limitless expansion and a 2017 yield / cost comparison of Mato Grosso with US Heartland and China's Heilongjiang Province confirms so much
Yield per hectare in Brazil and in the US are closely comparable and approx. 50% higher than in China
'Price received' is 20% higher in the US and 80% higher in China, a competitive advantage for Brazil due foremost to much lower rent of agricultural land and limited labor input
Land cost in Brazil is estimated at close to 25% of US land and 14% of Chinese land, differentials which vastly compensate for the considerable expense for fertilizers in Brazil (close to double the costs allocated by both the US and China)
Labor cost in Brazil, related to the huge scale of the Brazilian farms and intense mechanization, are very small indeed .... approx. 12% of US expense and 2% of Chinese small farmsteads
Details can be viewed in the USDA report, table 7 page 28

The data suggests that further yield improvements are unlikely, considering the fertilizer allocation required to narrow the gap with US productivity
Which begs the question how the Brazilian agro-industry is going to expand its land holdings in anticipation of growing Chinese demand
And if the country should…
As highlighted in the map above, the soybean farms have converted the wooded savanna of 'cerrado', focusing on the Brazilian middle west state of Mato Grosso, mostly empty in the 1960's and leading soy production today on close to 10 million ha (24 million acre) – expanding North-East into the state of Parana and neighboring states

In the highly acidic, aluminum rich soils of the cerrado, the nitrogen-fixing bacteria found in the roots of the soy would not have survived if state-sponsored Brazilian agricultural research had not managed to breed new soy varieties and to inoculate resistant bacteria strains, opening the way for an agricultural boom from the 1980's on
Burned and bulldozed into farmland, this land-use change did not draw much attention of the environmental groups, although almost as biodiverse as the rain forest
More farmland is still said to be available if feedback from a recent tour of American farmers (Feb. '19) is to be believed, providing Native tribes choose to put 1 million ha (2.4 million acres) under ownership into production
Quoting one farmer on the tour,
John Takacs, a hay and straw farmer from Wellington, Ohio, said he got a different view of Brazilian agriculture after expecting to see older combines and technology in the fields. "It's the complete opposite. They are doing everything that we are doing. The organization, the size of the farms, it's all there."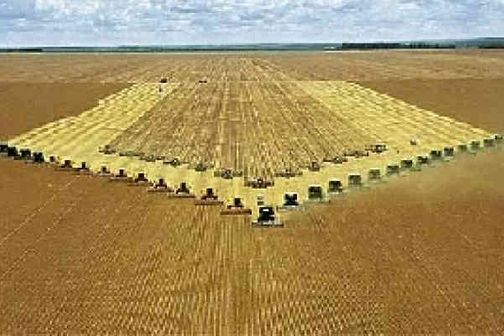 Takacs was also surprised at the scope of the reserve acreage and the emphasis some farmers placed on sustainability practices. At least one farm provided a detailed explanation of its sustainability measures and the importance of those practices to selling soybeans and other commodities to Europe.
"They have some viewpoints that are ahead of us in many ways," Takacs said. "They were all talking about their carbon footprint. It seems like they are well into their sustainability focus."
Conflicted ambitions
Soybean agro-industry is on a roll and port of first call to sate China's insatiable appetite of animal feed for its domestic herds
Favored by geography and by world-beating farming expertise, Brazil has gained market share in the global soy trade as a supplier capable of increasing shipments as China has demanded over the past 20 years
While uniquely dominant, soybean trade is not the only driver of ever closer commercial relations with China in a field of paramount political and economic importance to the country, securing food availability at affordable prices
In the 5 years from 2015 to 2019 (projection), beef imports by China (incl. Hong Kong) have increased by 122%, accounting for 25% of world beef trade, altering global beef flows to the benefit of Brazil, Uruguay, Argentina, Australia, and New Zealand
Brazil comes out on top, exporting about 22% of its beef to China which accounts for 31% of total Chinese beef imports. Another 17% of Brazil's exports are shipped to Hong Kong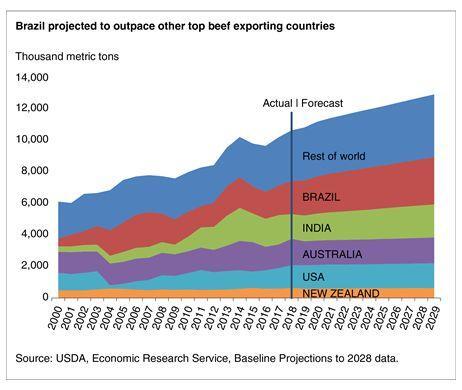 The dominant position Brazil consolidated in the beef trade in less than 2 decades needs to be factored in any evaluation of the country's agricultural potential
The opportunities to integrate the agroindustry more and more closely in complex facilities for the soybean feed, crushed into soy meal rations, and for meat processing on a massive scale, have been – and continue to be – infinite, limiting the costly impact of poor transportation infrastructure
A recent (Aug. '19) report by the Brazilian Ministry of Agriculture sets the guidance for a 10 million ha increase in acreage dedicated to soybean by 2029 (aiming at a total of 45.3 million hectares or 111.8 million acres)
With a 33% soybean production increase, on top of today's huge oilseed business, Brazil might be seeking to strengthen its status as reliable provider of China's projected future animal feed needs
But the planned acreage increase across the 'cerrado' from the North-East, still poorly served by transportation infrastructure, central Brazil and the southern fringe of the Amazonian states has far reaching consequences for existing pastures
With relatively expensive land prices in central Brazil – the focal area of soybean production – the projected volume increase can be expected to accelerate creeping conversion of pastures to row crop production, effectively pushing the herds out into the rim of the Amazonian forest, as even today most soybean expansion occurred over pastures, while areas newly deforested were most often used as pastures
The Mongabay report curated by Rhett Butler, of which the map of the Amazonian forest is excerpted, makes dismal (and recommended) reading
According to Rhett, "one opportunity is making better use of degraded cattle pasture in the Brazilian Amazon. Areas that were long ago deforested could be utilized more productively between rebuilding soil quality through better cattle management to planting other crops (including oil palm) to facilitating forest recovery"
This note has aimed at gaining understanding of the dynamics of agricultural expansion and resulting, often creeping, deforestation
Though the agroindustry's trade interests, driven by China's insatiable demand, appear irresistible, giving short shrift to the latter's supposed environmental commitments, international pressure might engage the Brazilian government on its own terms, with a focus on environmental risks for the country and on shared trade opportunities
Environmental risk comes unfortunately – but obviously – top of mind of Brazilian experts themselves with the 98% deforestation of the enormous Atlantic forest (situated between the 'cerrado' and the Atlantic coast), exposed today to a micro-climate where temperature increases due to climate change are twice the global average, putting the coffee culture (40% of world production) at risk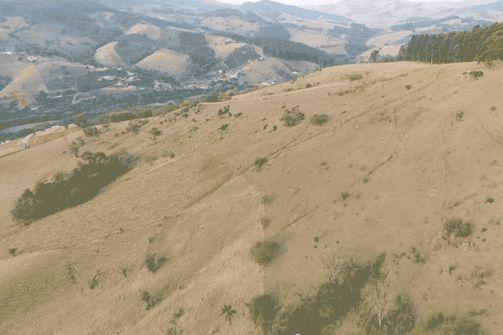 Value-adding trade opportunities are no less critical for Brazil's agroindustry and fully recognized as such by its leading – opinion setting – businessmen.
European environmental soybean import requirements are accounted for today in the Brazilian production chain as a matter of course and an international push for the adoption of a similar framework by global importers, foremost China, is not necessarily far fetched
Our suggestions sidestep a confrontational approach with the Brazilian government because, as our note hopes to demonstrate, Brazil's policies are intertwined with pressing trade interests of the country's commercial partners and, of course, with Brazil's intent to maintain its standing as premier agricultural power
Possibly a framework for international negotiators… but for now, the harvesters roll on