India - The meaning of Mukesh Ambani
Mr. Mukesh Ambani might be called a new-age business tycoon, not because he inherited massive wealth in the form of energy interests from his father Dhirubhai Ambani, and not because family feuds about succession rights with his brother Anil littered the broadsheets in their time…
On a mission to recast the fundamentals of India in a connected world, Ambani's Reliance Industries is on the forefront of the digital transformation of the consumer market, and the firm has been reaping the benefits of the shake-up
It may only be the opening salvo of India's dogged effort to catch-up with, and eventually surpass, China's economic boom
Mr. Ambani's strategic commitment, the visionary breadth and audacity of Reliance Industries' investments, loading up on debt and putting his industrial interests on the line, have been signature traits of his entry in the select club of 21st century entrepreneurs, alongside 2 or 3 American- and as many Chinese and Emerging Markets businessmen…
However attractive the initial stages of Reliance's expansion may be for foreign investors, and there are many, it should nevertheless be recognized that India, its multitudes of modest self-employed and its endemic poverty can be expected to stay first and foremost in the mind of Mukesh Ambani, when making the hard business choices
The destiny of India is not to become the playground of global firms, in search of the 'next billion' clients, although, as business partners or stakeholders, they will surely contribute to the country's success
Ranking 96th by revenue in the 2020 list released by Fortune in August 2020, with a market cap of more than $180 billion (Nov. '20) and close to 200 000 employees, Reliance Industries is on a journey to drag India's economy into the 21st century
Based on the 2019-2020 year report, and approx. in USD conversion,
2019-2020
crore
INR million
$ bn
%
Refining & Marketing
387522
3 875 220
54,2
Petrochemicals
145264
1 452 640
20,3
Exploration & Production
3211
32 110
0,4
Total Energy
5 359 970
74,9
69,3%
Retail
162936
1 629 360
22,8
21,1%
Digital Services
68462
684 620
9,6
8,9%
Media & Entertainment
5357
53 570
0,7
0,7%
Total
772752
7 727 520
108,1
(1) 1 Indian Rupee = 0,014 USD
sce - Company accounts 2019-2020
Reliance is today a significant global player in the integrated energy value chain, but the firm has also, in less than 15 years, established leadership positions in retail and digital services in India
According to 2019-2020 accounts, the energy sector has been strongly impacted by the fall in crude prices following the pandemic (-6.1% EBITDA for the segment Refining and Marketing and -18.3% EBITDA due to weak markets in key Petrochemicals)
In a rebalancing act, the growth of Digital Services has been outstanding, both in terms of Revenue (+40% year-on-year) and in terms of EBITDA (+47%)
crore
$ bn
in % of
2019-2020
Revenue
EBITDA
EBITDA
Revenue
EBITDA
Refining & Marketing
387522
24461
3,2
Petrochemicals
145264
30933
4,1
Exploration & Production
3211
353
0,05
Total Energy
535997
7,35
68%
63%
Retail
162936
9654
1,35
22%
11%
Digital Services
68462
22517
3,15
9%
26%
Media & Entertainment
5357
1%
Total
1308749
87918
19,2
(1) 1 Indian Rupee = 0,014 USD
sce - Company accounts 2019-2020
With equally impressive growth in Retail (Revenue, close to +25% and EBITDA +55.7%), the mutually supporting expansion of Reliance's retail chains and e-commerce, underpinned by the firm's dominant mobile phone business, seems to work wonders
A retail giant
Founded in 2006, Reliance Retail runs around 11 784 stores (April '20) in 7 000 cities of India
In financial year 2019–2020 , the company reported record breaking revenue in the Retail segment of ₹1.62 trillion ($23 billion, +24.7%) and EBITDA of 9,654 crore ($1.4 billion) growing 55.7% year-over-year, becoming the country's largest retailer by reach, scale, revenue and profitability
According to Bloomberg, Reliance Retail ranks third largest retailer worldwide by market cap ($60 billion) behind Walmart ($412 billion) and Costco ($164 billion) – even though revenue of the Indian retailer is a fraction of the American firms
As a testimony of the potential growth of India's consumer market, Reliance Retail's PE of more than 130 makes up for the inconsistency of its market valuation, compared to U.S. retailers – Walmart (PE 21) and Costco (PE 40)
And growth of Reliance Retail might be supercharged by the firm's digital services which, mobile phone in hand, extend their reach across the country
...a dynamic cooperation which prompted strong foreign interest, raising $6.4bn (₹47,215-crore) in September '20 for a 10.52% stake at a $60bn valuation from 9 investors, reading like a 'who is who' of private equity, including Silver Lake (1.75%), KKR (1.24%), Abu Dhabi Sovereign (1.2%) and Mubadala Investment Funds (1.4%), TPG and others
Jio Platform - expanding at a price
Publicly available since 2016, Jio, the mobile service of RIL, has become the first telecom operator within 4 years, servicing approx. 400 million subscribers, with the most aggressive, and very successful, marketing campaign (free voice and ultra low data subscriptions)
The heavy investments reflect in the firm's debt position - starting virtually debt-free on a net basis in 2012, - ended the account year 2019-2020 with a net debt of 1.54.478 crore (approx. $21bn) , accumulating a gross debt of more than $40bn - the price RIL was willing to pay to expand into the consumer-focused businesses of retail, telecom and e-commerce while investing simultaneously in upgrades required by the core refining and petrochemicals businesses
Investments in Jio - the mobile - and Jio the platform - are difficult to filter out as Reliance's commitment grew rapidly over time, from a projected $14 billion originally, adjusted to a 'peak' estimate of $22 billion over 3 to 4 years as of 2015...
None of which mattered by the time Jio buldozed its way successfully through to the top of the mobile industry in India...Credit Suisse' quick turnaround evaluation on RIL's fortunes in 2019 demonstrated as much
Pegging RIL total financial liabilities in August '19 at $65 billion, Credit Suisse downgraded RIL's stock to underperform...not for long as the investment bank reverted to a 'neutral' stance with days, upon the sale of a 20% stake in the oil and petrochemicals business to Saudi Arabia's Aramco for an estimated $15 billion
Mukesh Ambani's followed through with further minority equity sales to sovereign and private equity funds - raising a further $35 billion as of late September '20 (incl. a $7.2 billion rights issue in May '20 and BP plc 49% stake in RIL's fuel retailing business for $1 billion ), on the back of the very successful annual results 2019-2020 of Retail and Digital Services (Jio)
Building scrum power
A scrum is a method of restarting play in rugby football that involves players packing closely together with their heads down and attempting to gain possession of the ball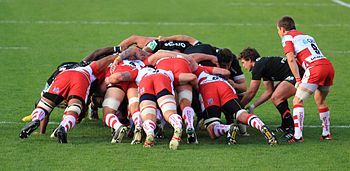 By packing his investors onto the Jio platform, Mukesh Ambani puts rugby football in play, sort of...
The roster of stakeholders assembled on the digital platform, raising ₹1,52,055 crore equity ($20.2 billion) for a 32.94% stake from 13 investors, valuing the platform at $65bn, has special relevance by hinting at fast upgrades of the services, in partnership with leading investors Facebook (9.9%, $5.7bn at a lower $59bn valuation) and Google (7.73%, $4.5bn), and Qualcomm (0.15%), the later linking its small investment to the "roll-out of advanced 5G infrastructure and services for Indian customers"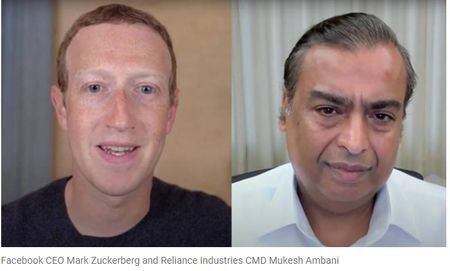 Facebook's cooperation with Jio is centered on serving small business, with currently 15 million business app users on Whatsapp, according to Facebook, which meets Ambani's aspiration to serve tens of millions of small shopkeepers who are, as Mukesh Ambani restated, the bedrock of employment, bringing digital connectivity (Jio platform), digital interactivity with the customer (WhatsApp Pay) and online-offline retail (Jio Mart)
Google will collaborate on designing an entry-level smartphone 4G (5G compatible), running on the Android operating system, powered by a Qualcomm chipset. Reliance is outsourcing the production in India with a target of 200 million phones (over two years) at a retail price of INR 4000 ($55). Launch has been delayed from December '20 to late Q1-2021
E-commerce, the battle field
Estimated at $250 billion, ranking fourth after the U.S., China and Japan, only a fraction of distribution in the Indian retail sector was organized in 2018-2019 (9%) and e-commerce accounted for an additional 3%, leaving an 88% share to 'unorganized' traditional stores
Facilitated by new regulations of foreign direct investments (FDI), e-commerce got a boost with access to the Indian market of Amazon and Walmart (Flipkart investor), and is further projected to grow strongly, potentially to 7% of total retail as early as 2021 (sce Statista)
According to the government's optimistic expectations, highly attractive growth opportunities of around 9-10% annually might benefit both organized retail and e-commerce for the next 5 years
However, total employment of India's still essentially informal retail sector of traditional family-owned stores is at the receiving end of the retail revolution and potential losses of livelihoods will not be taken lightly
Estimates vary - but a 2014 Confederation of Indian Industry is probably still relevant
2004-2005
2011-2012
Formal
All sectors
7,3%
8,1%
Informal
in millions
426,2
435,66
Agriculture
57,7%
48,9%
Non-Agr.
35,0%
43,0%
Total Informal
92,7%
91,9%
sce - CII report - Oct.14
The stage is set for a three-way challenge - between the American giants determined to power the growth of their sales by extending their reach on lagging foreign markets, foremost in India, and Reliance Industries, with traditional retail right in the middle
It is still early days and the determined push of Amazon to establish its dominance in India is impressive but, in the words of Digital keys to Indian e-commerce - published a year ago in Aug. '19
.... e-commerce may - at 3% - just be the tip of the Indian retail market and the digital combination of Mukesh Ambani's Reliance Retail with Reliance Jio may be the true game changer for India
With the livelihood of tens of millions of Indian families depending on traditional shops at stake, the balance between digital progress and backing of long-established retail needs to be found, one step at a time