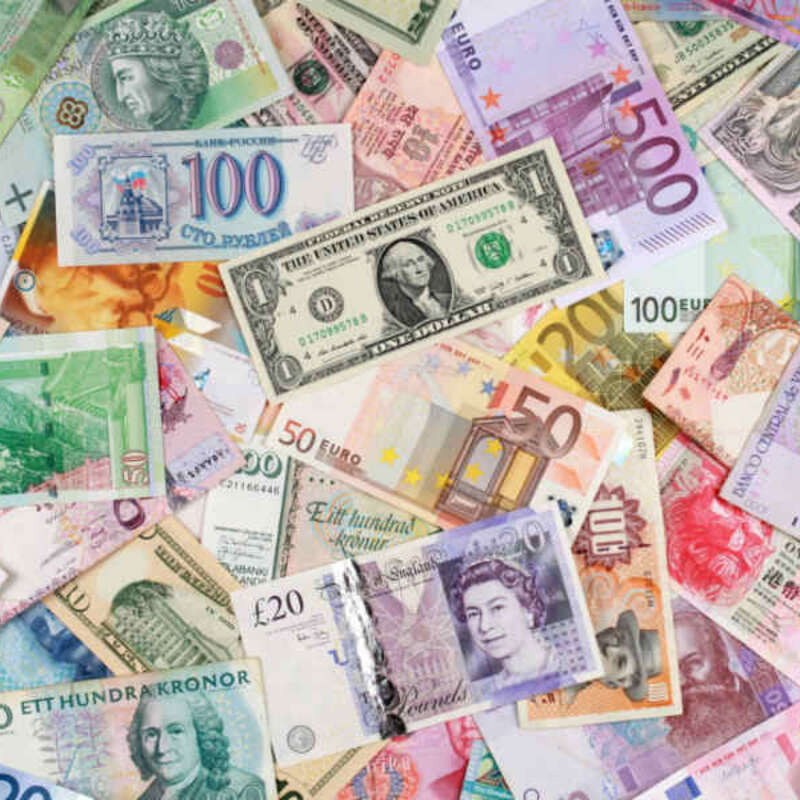 [Update - March 25, 2021]
In the latest development, according to the Financial Times, "Ant Group is demanding a larger slice of lucrative commissions from its popular payments platform at the expense of local banks"
The financial group appears confident its control over a very large swath of transaction data remains unencumbered
The power exercised by the third-party duopoly, along with TenPay, may ultimately be constrained, as we expect to discuss in 'the Future of Data"
Whether Ant Group is overplaying its hand will be seen soon enough....
***
Chinese state regulators have been pursuing overlapping and, to some extent, conflicting goals in their effort to rein in the wild expansion of "fintech" giants
Much has been made of the retreat of Alibaba's founder, J. Ma, who may have shaken the Chinese banking establishment last October in the run-up to the IPO of Ant Group, his firm's large fintech subsidiary
Mr. Ma had a point in highlighting the inability of the banking system to support efficiently the demand for loans of small and medium businesses in China without the support of Ant's powerful data analytics
However, if Ma's aggressive posture was hitting home, it was because his analysis rubbed in the utter helplessness of the banks to mend their own loan performance
Control over credit
Fresh out of the peer-to-peer debacle, which shook the Chinese credit in the last decade, regulators have been focused on the paramount importance of control and of managed growth of even the most innovative fintech development
As discussed in 'Ant Group's Digital Treasure', the firm, which branded itself as 'Tech-Fin', was raising the specter of an untethered financial behemoth, roaming freely and tightening its grip on China's credit system
The bare-bones model was simple enough...
With a ever fresh and expanding data base of hundreds of millions transactions, powerful analytical tools and razor-sharp credit ratings, to vet the loans underwritten by the banks partnering with the firm - for a fee of 30% to 40% of the interest paid on the loan and basically no skin in the game (compliance with a measly 2% of any loan, covered by the commission and beyond)
What could go wrong in this virtuous circle of an ever more detailed data stockpile, more reliable ratings and enthusiastic access of small businesses and consumers to loans which the data-poor banks had been unable to evaluate and to service ?
Nothing could ... except for one factor bringing down the house - unbridled credit growth itself
Systemic risk
Gnawing doubts and latent risks of the firm's capital-light loan 'advisory' came to the fore during the run-up to the IPO , upending the credibility of Ant's business model
To make matters worse, by generating the illusion of 'get-rich' schemes and with an exceedingly tight share offering to millions of small investors (80% of the shares were reserved), Ant overplayed its hand and its hoped-for IPO was brought to a brutal halt
How to preserve the best of Ant's fintech venture, supporting the firm's global outreach, but curbing its overweening control over domestic Chinese credit, these are the questions 'New Ant' is preparing to address
In a face-off between the economic framework, with its financial institutions, its business entities and its commanding presence as job provider on the one hand, and transactional economics of the digital platform, reversal to control and commnand looks improbable
With its botched IPO, Ant Group has added a sense of urgency to the search of bridges meshing the old and the new...
The search will continue for some time...
Recently published "Ant Group's Digital Treasure" described the conundrum facing the Chinese authorities in a few concluding remarks
Ant brought a digital transformation to every nook of the Chinese financial system, leaving the regulatory framework with an unenviable choice
ad hoc regulatory constraints, with unpredictable consequences on a global success story
or flexible remodeling of the Chinese financial system, with weak and unappealing control over Ant's fintech dynamics
As will be discussed in 'Inventing New Ant', the - seemingly contradictory - options of the Chinese authorities are framed
by their global ambitions, across Asia and beyond - of which the outsized success of Ant is a standard-bearer -
and by the exposure of unbridled domestic digital growth - of which Ant's willy expansion has been the symbol
New rules
Hardly a day has gone by without new regulatory announcements since the cancellation of the November '20 IPO - and the array of measures, unpicking Ant's sprawling financial interests, have targeted the company's interests in wealth management, in insurance and in consumer lending
2019
in ¥ (billion)
in $ (million)
digital payments
43%
51,91
7 527
micro lending
34,70%
41,89
6 074
weathmanagement
14%
17,4
2 523
insurance
7,40%
9,4
1 363
Total
100%
120,6
17 487
source Ant Group
RMB/USD - approx 1/0.145
Under the umbrella of a revamped Ant as financial holding, these various businesses could indeed be subjected to tighter control, in line with the governmental concern - and the restructuring of Ant might prepare their spin-off as alone standing companies at later dates
Plugging credit distribution opportunities
While the intent to rein in the Group's dominance across multiple financial industries has been signaled repeatedly over the past years, the regulatory efforts turned out to be too timid and regulatory constraints circumvented by Ant's efforts to enter new markets, in novel ways
This is how Ant, its fund management hemmed in by 2018, after gaining world proeminence in money markets with the Yu'e Bao fund in only 4 years of explosive growth, reaching $268 billion held in 370 million accounts, as discussed in "Is Ant Group feeling antsy?", pivoted to lending advisory business
And the regulators appear to take a page out of their 2018 playbook by setting out rules constraining Ant's market share again and encouraging competitive alternative lenders
Going forward, under the new rules, only 50% of each bank's outstanding loans can be issued via cooperation with online companies (such as Ant), and only a quarter of their tier-1 capital through such lending
Further restrictions compel regional banks to limit loans to their geographical juridiction (barring nation-wide distribution by way of third-party originators such as Ant)
Regulations are a straigth jacket with no escape routes for Ant...
Calling for (a lot of) skin in the lending game
A September '20 ruling which required originators to fund and retain 30% of the loans they initiated (from 2% today) had been an early warning shot, apparently ignored in the excitement generated by the run-up to Ant's giant IPO
The funding requirement - roughly 87 billion yuan ($13.4 billion), according to a Reuters calculation based on its historical consumer loan volume, will constrain Ant Group's growth severely
In the U.S., the Dodd-Frank Act requires securitization sponsors to retain not less than a 5% share of the aggregate credit risk of the assets they securitize '
Ant Group's profitable loan advisory business will be strapped down with unusual force and, in combination with the new limitations to its distribution rights, Ant's expansion plans come to a screeching halt
The regulations align Ant's loan business with a traditional banking activity, on quite unattractive terms, because the Group can hardly be expected to finance 30% of a loan book on the new conditions to be negociated with individual banks, and still generate the profits of a 'tech' star
China 2.0
In many ways, Ant Group with Alipay's third-party digital transactions app, and its only competitor, Tencent's Tenpay, have ridden a wave transforming consumer- and business expectations utterly and conclusively
Mobile payments' walled off gardens
For consumers, cash payments are on the road to oblivion, replaced by mobile wallets and QR codes, facilitated by the ubiquity of the two digital processors who handled RNB 210 trillion ($32 trillion) in the first nine months of 2020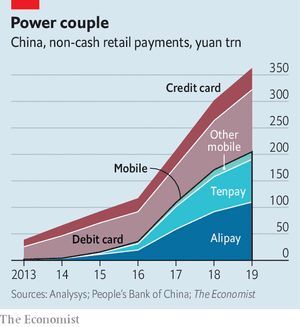 Alipay has a 54% share and Tenpay 39% of the Chinese mobile-payments market by value, according to Analysys, a research firm. And mobile today accounts for more than half of all non-cash retail payments in China
Small and medium businesses, themselves encouraged to stay on Alipay for transfer payments to their suppliers, are ushered into an era of credit-driven expansion, because small loans are granted by virtue of exact and continuous update of transaction streams
Skipping the complexities of financial networks in developed countries, digitalization has integrated the processing of payments and the attribution of credit in one fell swoop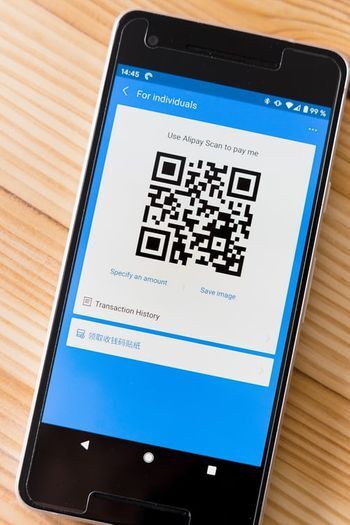 Well-aware of the unique advantage handed to them by the Chinese banks, which remained reluctant or uneasy to compete on such unfamiliar terms, Alibaba/Ant and Tencent made sure to pin down their competitive advantage in 'walled gardens' of which their QR codes had the key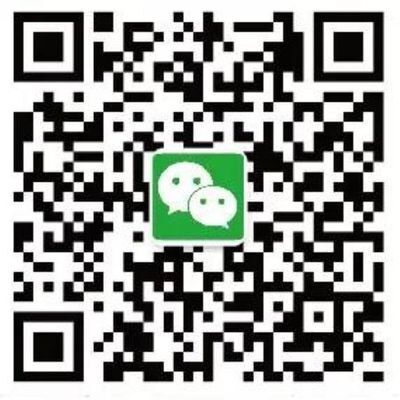 As discussed in 'Ant Group, a risk too far',
Collected by way of QR codes, the black-and-white matrix recognized by digital scanners, widely distributed in distinct formats by each firm, the data are entered as digital payment orders by the customer
Information, which used to be the preserve of the banking system, may have been underrated in a predigital age, but the banks were bound to recognize soon enough how their core function of loan attribution - to consumers as well as to businesses - was coming to depend on credit profiling outside their purview, all on the strength of QR codes
The resulting fragmentation was becoming more detrimental by the day, as digital payments were gaining ground
Tear down that wall
Control over data is the central - and most sensitive -issue in the undoubtedly fraught - current negotiations between the regulators and Ant Group
Official plans for standards have been made public ever since 2017
As discussed in 'Non cash China, a mobile frontrunner', the status of the QR code became central to the planning of the Chinese Central Bank, ever since 2017, highlighted in the Bank's "Fintech Development Plan (2019-2021)" as a priority for standardization
Unambiguously, standard QR codes, with unified technological standards and compatibility between the systems, are bent on bringing Union Pay, supported by the major Chinese banks, back in play by leveling the field with the dominant players
How the regulatory push will play out by target date of 2021 is not known but Alipay, which has much to lose with its privileged position backed by Alibaba's e-commerce dominance, must have been seeking strenuously to protect its 'moat' of customer data
The writing may have been on the wall for some time....
Standard QR codes, unified technological standards, interoperability and cash transactions streaming by way of banking accounts, would upend the existing business model which aims at recycling payments within the Alipay or Tenpay 'gardens' between customers, merchants and merchant suppliers
...an existential threat for both giant firms
Patience wearing thin
Following the March 12 '21 resignation of Ant Group's CEO, Simon Hu, and the withdrawal of Jack Ma from the public eye, the firm may have lost most of its say on an outcome which appears incontrovertible
With brutal clarity, as reported by CNN on March 16,
Chinese President Xi Jinping called on the country's regulators this week to step up their crackdown on tech companies and extend scrutiny to all areas of financial activity.
Xi stressed the need to regulate "platform" companies to maintain social stability during a meeting of China's leaders on Monday, according to state-owned Xinhua News Agency. The phrase "platform company" in China typically refers to businesses that offer online services for customers
Data - centricity
In China 2.0, data plays a central part in control but the frustration, palpable in President Xi's summons and in the embarrassing negotiation delays around Ant's future, betrays the difficulty in coming to grips with data's many dimensions
Generating a continuous stream of information, raw data is of limited value and value-creating interpretations of data are as varied as businness expectations...
It may well be that the digital economy in which China has been ushered by the fintech giants is impossible to unstitch
The Chinese Central Bank is presumably - in this reading - well aware that data management has outpaced every shred of the former command economy
If this assumption is true, regulators will need to protect and enhance "Ant's Digital Tresor" because data will be driving expansion of the domestic economy and strenghten China's commercial presence across Asia
The paradox created by data-centricity is that an attempt to rein in the digital economy will curb the economy itself
Rather than drive the economy forward, encourage domestic consumption and contribute to the growth of inclusive industrial and commercial Asian trade, goals which are forcefully pursued by China, constrained data management could become a drag
There is a case to be made on behalf of Ant's core business of pitch-perfect data management
To wither or to expand... and how to preserve the high valuation Ant's potential contribution would amply justify ?
The answer might be found in a web knitting data analytics with the Chinese banking system
A tall order or "the Future of Data" ?