Is Ed Balls breaking Brexit ?
Professor Larry Summers, former US Treasury Secretary: "It is delusional to think that a US-UK trade deal will happen anytime soon. It is simply not possible"
With this quote, one of many, the research paper published by Ed Balls, former British Labour government minister and by Peter Sands, former chief executive of Standard Chartered Bank, sets the tone
The report explains convincingly how a myriad of complicated issues boils down to an array of impossibilities
By the numbers, 60% of UK trades is devolved to the European Union and to countries signatories of trade agreements with the EU. Of the remaining 40% of Britain's exports, half go to the US
If the UK were to loose part of its European export markets, additional exports to the US, rebalancing and compensating for such a loss, would need to be quite significant, % wise – a doubtful proposition at best
In a globalized world, businesses are structured in two ways, fitfully ignored by 'UK go-it-alone' politicians

Contemporary enterprise is realigned with at least one, and possibly 2 or all 3 major regulatory environments – defined by the US, by the European Union and by China, either one of which generates enough volume for modern production outfits
Supply chains, nurtured and fine-tuned over time, have created a fully integrated environment, where dedicated cross-border specialists contribute to the added value of the final product. As the current NAFTA renegotiation amply demonstrate, the undoing of these supply chains is uncertain at best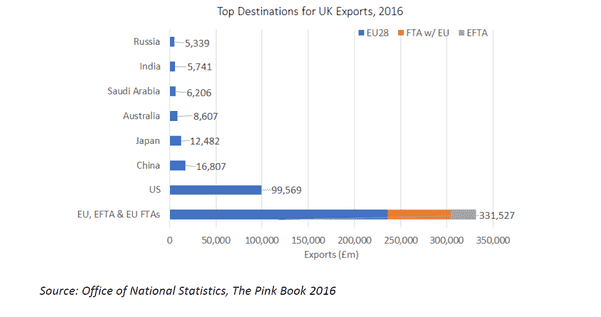 Because the US negotiating team will require a realignment of UK (EU based) regulations on the American model to gain access on the British markets, the UK will in fact be confronted with the option to exchange one set of regulations – the European ones they effectively contributed to define – for another set – the American ones in which they never had, or will have, any say
This alternative puts a lie to the airy statement of 'gaining back control' while in fact losing the control the British negotiating team effectively had in Brussels
Furthermore, as has been highlighted by an army of commentators, the British public is mostly at ease with regulations meant to protect the environment, food quality, private digital data and more… Though some rules may be perceived as extreme, the British consumer is, on the whole, strongly supportive of this regulatory context and shares – not unsurprisingly – the sensitivity of the European public at large
Unquestionably, non-tariff issues are at the core of most Free Trade Agreements and this most sensitive issue warrants, more than anything else, the stark pessimism of Prof. Summers. Il will be noted that the rule-based common regulatory environment on a very large scale was – and remains – the 'raison d'être' of the EU common market
As the Balls-Sands research highlights (finding 5 – page 10), the Transatlantic Trade Agreement (TTIP) attempted to harmonize regulations and standards. The approach raised a storm of protests, for part from industries feeling exposed to unwanted competition but mainly from the general public stirred into uncompromising opposition
American expectations will raise additional hurdles as the US companies will logically seek to gain market share by replacing not only current products and services originating from EU countries but also domestic British produce
With a global trade of goods imbalance in favor of the UK, agriculture probably tops the agenda of tomorrow's US negotiators as 'low-hanging' export opportunity. But British farming, an obvious beneficiary of today's protectionist European barriers, would be very much exposed – and the repeal of consumer-protective rules opens even more issues with the consumers themselves
Industrial goods, and especially automobiles, are another bone of contention, bound to resurface in a US-UK trade deal with a 10% import tax at EU level against 2.5% US duties. As a lower regimen would be a possible backdoor entry of US cars and car parts into the EU post-Brexit, the negotiating margin of the UK seems very small indeed
Services, fairly balanced between both countries, do not seem to offer much potentially negotiable margin as the US has refused steadfastly to adjust their politically sensitive framework for the financial services during TTIP rounds

Specifically, regarding health services, we will not even try to confront the high expectations of the US health care industry with NHS coverage in Britain – worlds apart
On the British side, while the US certainly is a preferred trading partner, and is expected to remain so, it is an open question which industries would actually be positioned to drive a significant increase in trade between the 2 countries
Confronted with the powerful lobbies of American exporting industries, it is not clear which British businesses would actually be positioned to expand on the US market, while constrained to do so today, and much less on the scale required to compensate for potential losses suffered on EU markets
Current exports to the US of approx. £ 100m (against £ 330M in EU and affiliated countries) include

Goods exported to the US – valued at $ 61.5m – of which machinery (25%), transportation (15%), precious metals (12%)
Services exported to the US were 52m £ - almost exclusively financial services
All numbers from Balls research – section "Context for a UK-UK negotiation" page 16-19
The overview presented in summary in the Balls-Sands research paper [table 1 – page 49] reads as a testament to the absurdity of the British negotiating position with a final word of advice of the former Secretary of State and Shadow Chancellor of the Exchequer to his Conservative colleagues :
Avoid looking desperate
Prospects for a US-UK Free Trade Agreement working paper - co-authored by Ed Balls and Peter Sands with Mehek Sethi, Eleanor Hallam, Sebastian Leape and Nyasha Weingberg – published May 2018
Articles on British Industry on US exchanges
As probably thousands of products are aligned on EU requirements and their representative associations have been very active in shaping EU policy, the prospect of free trade agreements outside the European Union is dire
In the special relationship, the British outlook has been moral as much it was strategic The American outlook has been strategic as much as it was moral
"Les faits ne pénètrent pas dans le monde où vivent nos croyances" Marcel Proust
1 more article ...