Bidding a cautious welcome to e-commerce, the Indian government allowed full-fledged foreign investment in the sector in 2016
More far reaching still was the attribution of a 'digital identity' to the entire Indian population, with a National Security number and a bank account and the creation of an integrated digital payment system (UPI)
Although these policies boosted market acceptance of e-commerce, for consumers and for suppliers, and favored the new entrants, the foreign firms might - going forward - want to consider fairly balanced partnerships with Indian retail industry to anchor their durable presence in the sub-continent
A 'winner take all' strategy could prove ineffective (and costly) for Amazon, Walmart and their foreign competitors
According to Wikipedia, the King's Indian Defense is a common chess opening gambit where Black deliberately allows White control of the centre with his pawns, with the view to subsequently challenge it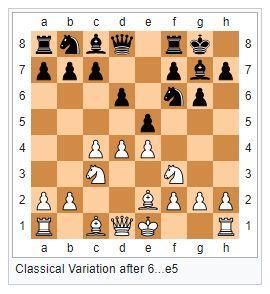 The game of chess is reminiscent of the Indian government's gambit, playing Black, in its approach of e-commerce market penetration
Bidding a cautious welcome to foreign marketers, from China (Alibaba and Tencent) and from the US (Amazon, Google and Walmart), the Indian regulators, committed to India's modernization, were prepared to take e-commerce in their stride
As of April 2016, the Indian regulator allowed 100% foreign direct investment (FDI) in online distribution of goods and services under the so-called "marketplace model"
to create a level digital playing field, open to all sellers
to facilitate the relation between buyer and seller by way of an IT platform and logistics
but not to allow an e-commerce merchant to hold inventory (acting as a retailer)
The observation round of the e-commerce stars, playing White and heady from successes in their home countries, has been a learning experience for Black, for the Indian regulators and for India's retailers
But the players should have been left in no doubt of the long game where India's 1.35 billion consumers may simply be serviced by... Indian retailers
However vast their achievements and their global ambitions, tech and e-commerce behemoths may come to recognize in time that a 'beachhead' on the Indian market, backed by minority partnership with local players, is the more attractive strategy
E-commerce - a numbers game
The size of India's population, the number of Internet users (34% of total population - 459 million) and mobile payment expected to be worth approx. $33 billion in 2018, make for a uniquely attractive proposition
The public efforts have geared up to bridge the digital divide
by providing all Indians with an individual security number identifier and with a bank account
and by creating a unified payment system (UPI) connecting all payment modes and bank accounts together, leveling the playing field for digital payments
Cutting out intermediaries in local government, a degree of social assistance is expected to benefit directly the vast majority of under-served Indians
The profound impact on Indian consumer finance is highlighted by UPI transaction growth, from 25 million in September '17 to close to 250 million in July '18 and 650 million in December '18, the July '18 announcement curtailing incentives for shopkeepers to accept UPI payments notwithstanding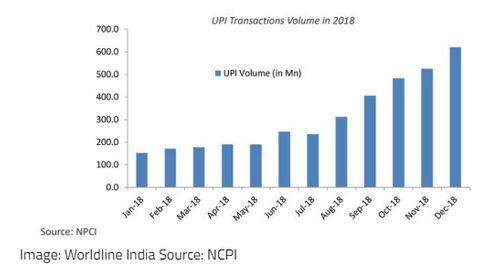 The digital transition has been boosted by the launch in 2016 of Reliance Jio, a new mobile operator bankrolled by Mukesh Ambani's Reliance Industries,
Reliance transformed the landscape entirely with sharply reduced data pricing from approx. $4.5 per gigabyte to a world record low of $0.5 between 2014 and 2018, securing a rising market share of approx. 24% and a user base of 280 million by Dec '18
The potential of the Indian market, the fast growing adoption of smart phones and Internet apps, and the wide access to mobile payments, have e-commerce distributors drooling, while confronted with a conundrum
e-commerce is expected to reach only 2.9% ($32.7billion) of the total retail market in 2018, according to eMarketer, which is low compared to other Asian markets and certainly with reference to China
by 2021, e-commerce share of total retail market is forecasted to grow to 7% ($84billion) according to Deloitte India
average e-commerce spending per shopper remains very small (estimated at $113 in 2017 by 'We are Social' WSJ - paywall) vs. China's e-consumer spending (estimated at approx. $1 800 by e-Marketer)
Considering low average buying power and a fairly small sized middle class, all the Internet giants entering the Indian market counsel patience....and again more patience, while voicing their willingness to invest for the long term
A game of poker (after all...)
The first skirmishes of a battle all contenders expect to be long drawn might only be significant in the shadow of the company weighing more heavily on Indian retail than any other - Reliance Retail
Reliance Retail doubled its yearly revenue to March '18, with record sales of $10 billion, surpassing sales of its rivals Future Group, Avenue Supermart, Shoppers Stop and Tata Trent together
Revenue doubled again year-on-year as of end of March '19, with sales of $18.7billion, strong EBITDA growth (+145% at $885 million) and a network of 10 400 stores (+2 800 stores in the fiscal year)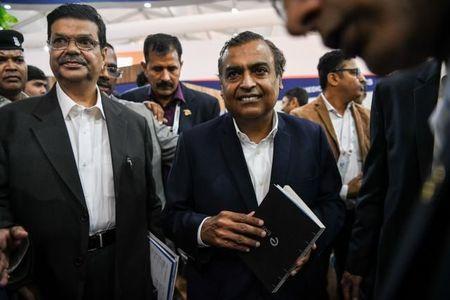 Reliance Industries, the conglomerate to which Retail belongs, may well have an unbeatable poker hand in the high stakes game with its mobile phone subsidiary Reliance Jio mobile services (available to the public since Sept. '16), JioPhone and Jio Gigafiber (with plans 50% below competition, launched in August '18)
It will be noted that Jio relies on the KaiOS low-cost mobile phone operating system launched by Google for its Internet-enabled phones. Google expects KaiOS to expand in South East Asia and Africa
As discussed last August '18 in 'Is a Passage to India the new frontier', a Reliance Jio - in conjunction with Reliance Retail - had the potential to establish the seamless omnichannel service, combining on-line features (with content, order placement and payment) with off-line in-store delivery options
The answer has not been long coming, with the January '19 announcement, launching an e-commerce portal integrated with the low cost Reliance Trends fashion stores, which could be viewed as a measured approach on the learning curve of e-commerce logistics - with more to come ?
On the chessboard of the Indian subcontinent, foreign e-commerce, holding White, has moved center field and will have to fend off the challenges of Indian retail, playing Black
In a fast evolving retail landscape, business plans drawn from successful ventures in home (US or China) or foreign markets (Japan for Amazon) by the largest e-retailers on the planet may need to be reviewed to align with Indian priorities, under regulatory pressure and in the face of local competition
The game is in its first innings and we will attempt to describe the options in our follow-up reports on American high-rollers and Chinese strategists in India