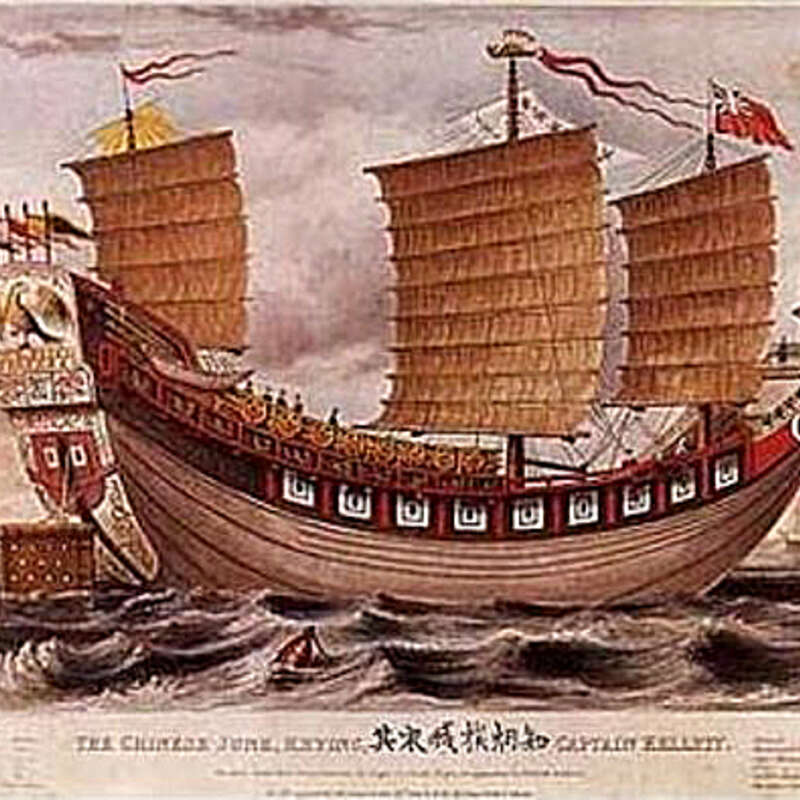 Navigating maturing markets
Pin-insights
Alibaba and Tencent, the giant Chinese Internet companies share singular challenges as the core - and very profitable - businesses, which drove their success in China, must be reinvented
Alibaba will be drawn in highly competitive retail markets by expanding beyond the firm's stronghold in mobile e-commerce, in China and beyond
Tencent has to explore with urgency international gaming potential as expansion on the firm's domestic market grinds to a halt, under regulatory fire
Medium term, ambitious high tech projects might come to fruition but for now, expanding core business - e-commerce at Alibaba and gaming for Tencent - is all that matters
***
Competing for investor attention, Alibaba and Tencent , the two Chinese darling Internet stars on the world equity markets with market caps of respectively $483bn and $410bn (as of Nov. 2019), have to find ways to grow in - or out of - a maturing domestic market
Although the two firms consolidated their position in China by starting out from quite distinct premises, e-commerce for Alibaba and gaming for Tencent, the drivers of their market penetration are quite similar
These common drivers are the wild-fire spread of mobile access and universal adoption of digital wallets in China
Maturity is only a word in the eye of the beholder
Revenues can hardly be expected to increase for ever and new, rule-breaking market concepts are bound, at some point, to hit the buffers as their share of consumer wallets (for e-commerce) or player's attention span (for gaming) stabilizes
Maturity in markets still remains a matter of subjective evaluation .... and both firms' ambitious growth targets are reason enough to wait and see
Is Alibaba's retail business maturing ?
Alibaba still seems to be flying, unruffled by trade wars and potential economic slowdown in China while times have been less forgiving for Tencent
The e-commerce giant holds a relatively unfettered grip on Chinese domestic online shopping, but may still have to contend with slower consumer growth as market penetration is down to the smaller Chinese cities (tier III and tier IV) with weaker buying power
Seemingly unstoppable total revenue growth hardly suggests that the party is ending ....
year
in million RMB
year-on-year
2014
52 504
2015
76 204
45%
2016
101 143
33%
2017
158 273
56%
2018
250 266
58%
2019
376 844
51%
company data
Daniel Zhang, Alibaba's new Executive Chairman, expounded in his conference call, as restated in the Q3-2019 press release (Nov. 1, 2019)
Today, our consumers, merchants, and partners are entering a new journey in the digital era. We will continue to create value for them by leveraging the power of data technology to make it easy to do business for them anywhere for the decades to come. We aim to serve over one billion annual active consumers and help our merchants achieve over RMB10 trillion [equiv. $1.4 trillion at current rates] in annual gross merchandise volume by end of fiscal 2024
In 'helping merchants to achieve over RMB 10 trillion in gross merchandise volume', we understand Mr. Zhang to mean that merchants realizing approx. a quarter of total Chinese consumer sales (RMB 38 trillion in 2018) are expected to partner with Alibaba
The huge merchandise volume is not an Alibaba sales goal but broadening the partnership base will obviously impact turnover very favorably
Based on 9-months 2019, Mr Zhang estimates total consumer sales in China alone at RMB 30 trillion, growing 8.2% Y-on-Y and e-commerce retail growing much faster at 17% (superseded again by Alibaba's own growth of commerce retail of 25%) - company quarterly Sept. '19 (page 5)
If (under our assumption) the company's retail sales can be maintained at the 25% growth rate, Alibaba consumer turnover could triple in 5 years (by 2024), certainly a worthy target relying on a number of critical assumptions
Alibaba remains consumer focused but, to achieve ambitious targets, its reach is likely to extend to traditional 'brick-and-mortar' local distribution and internationally
Head-on , the strategy will encroach on Tencent's merchant network, generating smaller but repetitive orders for daily consumption
International ambitions may be stymied by 'walled gardens' around the world, with US-based Amazon firmly rooted in Japan, heavily committed to India and to the largest European economies (led by Germany and the UK) but South East Asia could in turn
For reference, Amazon's sales of Q3-2019 ending in Sept. (page 18), not counting AWS cloud services were
for North America - $42.6bn (+ 24% over the quarter) and $61bn (including international sales) vs Alibaba equiv. $9bn (incl. intl. sales)
for Jan-Sept 2019 - $117.1bn in North America and $168bn including international sales vs Alibaba equiv. $25.3bn (incl. intl. sales)
Even accounting for much lower average purchasing power in China and certainly in the South-East Asian markets targeted by Alibaba, comparison with Amazon's sales suggests strong growth potential in retail going forward
Alibaba Retail
all data in billion RMB
Quarter
China Retail
Intl Ret.
Total Ret.
China Retail
Intl Ret.
Total Ret.
Q4-18
69,8
5,8
75,6
Q4-17
60,1
4,7
64,8
Q1-19
44,9
5
49,9
Q1-18
40,2
3,9
44,1
Q2-19
58,8
5,6
64,4
Q2-18
46,8
4,3
51,1
Q3-19
57,5
6
63,5
Q3-18
46
4,5
50,5
12-months
231
22,4
253,4
12-months
202,7
18,5
210,5
Source - company quarterly data
pininvest.com
Alibaba China retail sales include commissions - Total Retail includes China & International Retail
Over 12 months (as of end of Sept. 2019), total retail sales growth has been 20% and over the 9 months '19 (Jan-Sept) 22%
Our focus on retail sales set various retail related items - essentially logistics - apart to get a precise understanding of Alibaba's e-commerce growth driver
Retail sales remain at the core of the company and contribute to more than 50% of turnover
Alibaba
all data in billion RMB
Quarterly Data
Dec 2018
Weight
Sept.2019
Weight
Total Retail
75,6
64%
63,5
53%
Tot. Core commerce
102,843
88%
101,2
85%
Total (all)
117,278
119
Alibaba's business segment of 'core commerce' includes revenues related to commerce wholesale, logistics and services, growing even in a weaker quarter (such as Q-3 ending September '19) and potentially weighing down profitability
With the build-up of new business lines - in cloud computing, digital media and 'innovation initiatives' - the weight of core commerce in total company revenue is being rolled back
Whether the emphasis on new business is a strategic shift or - as Mr. Zhang seems to suggest - data technology is the latest powerful driver to consolidate Alibaba's commercial empire remains to be seen
Is Tencent's gaming empire mature ?
Challenges facing Alibaba and Tencent are eerily similar, while the powerful revenue base of each company could not be more different
While e-commerce retail drives Alibaba, Tencent has a stranglehold on gaming
The ventures top 50% of total turnover in both companies
Tencent is the world's premier videogame developer and distributor, supported by a successful social network, WeChat, with more than 1.1 billion monthly active users (MAU)
Reminiscent of Alibaba's grip on mobile retail, Tencent's massive game entertainment market share is topping 60% in China (accounting for international sales)
In the company's accounting, gaming is reported in 'Value-added Services', engaged in the provision of online and mobile games, and in social network services (digital content such as live streaming, video streaming subscriptions and music streaming services)
Tencent Revenue
all data in billion RMB
Quarter
Value-added Services
(VAS)
Q4-2018
43,6
Q4-2017
40
Q1-2019
49
Q1-2018
46,9
Q2-2019
48
Q2-2018
42,1
Q3-2019
50,6
Q3-2018
44
12-months
191,2
173
Source - company quarterly data
pininvest.com
Gaming is critical for Tencent's core profitability, as discussed in 'Tencent of China', much like retail e-commerce is central to Alibaba's
As is the case for Alibaba in e-commerce, Tencent's share of game revenues has dropped from 80% in 2014 to about 50% today, with smartphone games and digital content services picking up flagging PC client game sales
Tencent Revenue
all data in billion RMB
Quarterly Data
Dec.2018
Weight
Sept.2019
Weight
Value-added Services
43,6
51%
50,6
52%
Advertising & Others
19,6
23%
19,9
20%
Total Revenue
84,9
97,2
Yearly game-related revenues exceeding RNMB 190 billion (USD 27 billion at USD 0.14 / RMB) might obscure the magnitude of the challenges awaiting the firm
Management has laid out the plans to navigate the regulatory constraints of the domestic Chinese market and international expansion
Worldwide, gaming, projected to grow close to double digits (+9.6% in 2019 for a $ 152.1 billion turnover) according to the July 2019 Newzoo Global Games Market report, raises the stakes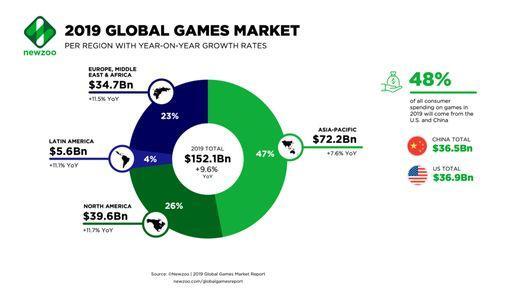 Tencent's long-held international strategy of partnerships and licence agreements with many of the key videogame developers around the world is a positive...
However
Fast shifting technologies, such as game streaming, Tencent's preferred mobile gateway may come under fire
With emphasis on international markets to maintain growth momentum, costs of game developments tailored to national tastes and of user acquisition may be rising
On the regulatory front, China's nine-month licensing freeze on new games in 2018, the new approval process, as well as measures to reduce screen time among children, have taken their toll and will reverberate throughout 2019
Tencent's voluntary action, as well as regulatory steps taken by the Chinese authorities throughout '18, to block new game releases, to restrain videogame 'youth addiction' and to limit inducements to acquire virtual add-ons (a key source of profit) has been a major factor
Withholding approval for new games crimped the company's profit targets for 2018 and release dates for new games on a much reduced scale in 2019 still cloud projections today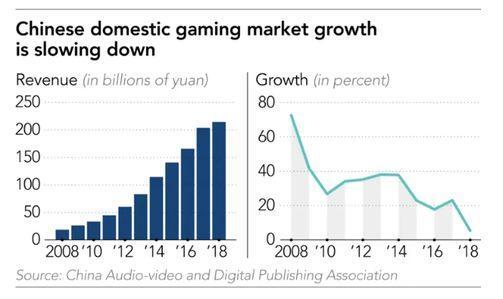 The resulting slow-down of mobile gaming growth in China, the main driver of Tencent's player engagement, is expected to constrain the country's premier share of the global market, still estimated at $36.5 billion, in a tie with surging US sales at $36.9 billion, according to Newzoo
The new regulations impacted gross margin from Q2-2018 onwards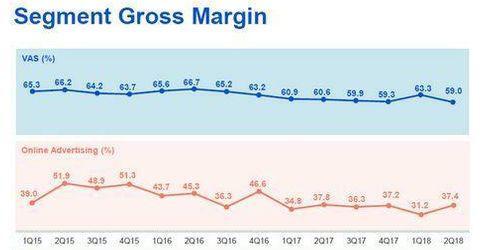 Dragging down Tencent's gross profit of Value Added Services (VAS), regulatory constraints are likely to impact full 2019 results
in billion RMB
Jan-Jun 19
Jan-Jun 18
Jan-Jun 17
VAS Revenues
97,05
88,94
71,91
Gross Profit
53,49
54,47
43,96
Margin
55%
61%
61%
Interim reports
(p.50)
(p.49)
pininvest
While segment information on operating profitability is not provided, operating profit for the entire company is indicative of the sensitivity of gaming as core value driver
Operating profit has been taking significant hits
Sinking from approx. 40% in 2017 to less than 20% by Q4-2018, operating margins have been regained in part by Q3-2019 at 27%
A push for online advertising may have been - in our opinion - the stop-gap measure to keep investors on board...
An international rebalance of Tencent's gaming empire is likely to remain the top priority
Alibaba and Tencent remain well positioned to defend their stakes
It is likely that expansion will come at a price as both firms have to venture beyond their familiar terrain
International expansion is an imperative Tencent cannot skirt because regulations are putting a lid on domestic growth
Alibaba is - in contrast - confronted with domestic priorities because - in a global perpective - the firm's international ambitions will be constrained by the many 'walled gardens' erected around the world
Because of their considerable size and investement capacity, the two firms will shake up the markets
Alibaba's opportunities to expand on the Chinese market overlap at every turn with Tencent's WeChat 'mobile to mortar' retail network of small shops
Tencent will be raising the bar in gaming by fine-tuning its entertainment to local tastes, with a likely focus on South-East Asia and India
Either way, profitability will suffer short term
Equity valuation rightly puts each of the two stocks in the growth segment, confidently forecasting their potential, but such expectations imply more radical transformations, relying very much on each firm's expertise in payment systems and cloud-based initiatives
Ambitions we hope to discuss in 'Withering digital wallets ?'