According to the apocryphal Acts of Peter, encountering the risen Jesus on the road outside Rome, Peter asked 'where are you going?'
We would not think of drawing a parallel with the biblical tradition but the bond market is raising that very question … Quo vadis?
The Italian government is hard-pressed to answer with clarity – and probably prefers not to
Not quite dismal (yet)
For the stake of appearances, the conversation about Italian public finances, about the Italian banking system and about the impact of both on the euro zone may be ongoing, but behind closed doors
Italian public debt is a walking disaster at 132% of GDP – €2.3 trillion which, as helpfully calculated by Andreas Burth at debtclock, boils down to close to 38 000€ per Italian citizen (population of 60.5 million as of January 2017)
Only Portugal is close (at 128%) but, discounting the basket case (Japan at 224% of GDP) and much smaller Greece (180%), Italian public debt is paramount to a no-go zone in European politics
To make a bad situation worse, economists, such as Mrs Reinhart, have argued with good reason that the payment system which rebalances cross-border deposits within the monetary union creates additional liabilities in the books of the Italian Central Bank on behalf of the European Central Bank
As discussed in our technical note, the liability – and the balancing asset on the balance sheet of the ECB – both stem from independent decisions from multiple actors, both domestic and foreign, both in the economic and in the monetary fields, making causality a subject of dispute…
But – at least in theory – the liability of the Banca d'Italia rebalancing payments and other deposits exiting Italy (Eurosystem settlement system Target2), which grew to €471 billion as of July '18 – 26% of the country's GDP – could be called, pushing the total debt load close to 160%
Europe's financiers are wishing the risk away
Walking a (very) tight rope, the Eurozone has been fairly successful in treating Italian debt as a static object, a fact of life to be moved far, very far down the road to oblivion, with no likely impact on the current state of affairs
This propitious, dreamlike, strategy, founded on fair signals of goodwill from successive Italian governments, came to a crashing halt in March '18 with the success of political parties promising free 'Panettone' all year around to a population exhausted by austerity measures: the Christmas and New Year Italian delicacy, marketed in oversized boxes, surely must have been too tempting to withstand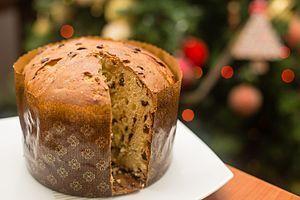 As discussed in Italià farà da sé, there is no reason to ponder on the improbable agendas of the two parties topping the March vote, if taken literally - flat tax of 15% on business and 15-20% for individuals, minimum guaranteed revenue of 780€ a month paid to those with no revenue (or topped up), roll-back of retirement age, full nationalization of failed Monte dei Paschi bank, cancelation of sale of failed airline Alitalia …and a batch of anti-immigration measures to top-off the brew
Following the usual pattern of obfuscation, the freshly minted Italian government kept the ball rolling with an aggressive stance on immigration
Soft on the budget, and a guaranteed vote winner for the extremist League, the blocking of the ports of Italy turned Interior Minister Salvini into a decisive personality
The loss of life in the Mediterranean is wistfully ignored
As quoted by the Guardian (July 3, '18), figures prepared by Matteo Villa, a research fellow at the Italian thinktank ISPI, show that so far in 2018 only half of those leaving Libya have made it to Europe, down from 86% last year.The data shows 44% have been brought back by the Libyan coastguard, compared with 12% last year. A total of 4.5% died or had gone missing, compared with 2.3% last year. But in June, almost one in 10 died or went missing upon departure from the Libyan coast – the highest proportion ever
Though morally indefensible, the Italian stance confronts Europe with its own internal contradictions in that domain
Battling on the frontlines of immigration waves the country could under no circumstances hope to integrate, Italy was, and remains, justly critical of its main European partners, who camp on the moral high ground while remaining pretty weak-kneed in matters of immigrant reception
But cheap propaganda stunts can only take the government so far, especially when the minority partner – the League with its 17.5% of the vote – sweeps the board with measures many 5-Star voters do not support
Solidly anchored in fantasy world, budgetary discussions may not be settled as of this writing (10 September '18) but no one should find solace in even a milder, watered-down program negotiated under the cloud of rising bond yields
Reassuring statements aimed at the bond market notwithstanding
we expect universal revenue, one of the totem 5-Star policies, to pass with fairly stringent limitations focusing the social measure on the poorest population
infrastructure should also be a showpiece in budget priorities, following the Genoa bridge disaster, as the 5-Star movement rejoins, albeit reluctantly, this signature policy of the League
But it would come as a surprise if all further announcements, from the reduction of retirement age to the flat tax on companies and reduced taxes on income, were not pushed into the distant future, give or take a few minor adjustments
Instead of conforming to EU regulations by cutting the structural budget deficit, a measure that strips out the effects of the business cycle and one-off income and spending, seen at 1.7% of GDP in 2018, the implication is a rise in deficits, projected initially at 2% in 2019 (instead of dropping to 0.9% as required) and raised to 2.5% under our assumptions
Considering the total budget – after dropping to 2.3% in 2017, a trend reversal increasing the deficit to 3.2-3.3% is probably realistic – breaking the EU rule of 3% but allowing additional expenditures of €17-18 billion

All things considered, these projections establish a fine balance between wild promises (not held) and a European rule book (not respected either) but the intentions, hopefully, are good enough to satisfy all parties…

More to the point, will the foreign financiers of Italian debt be convinced?

In dire straits
At first blush, yield on the Italian 10-year bond is enough of an answer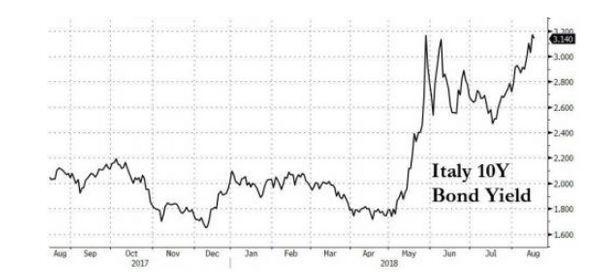 Since the new government took office in May '18, yield is stuck in the 2.5%-3% range
Worse, foreign investors have been bailing

The June '18 Bank of Italy balance-of-payment data show outflows in the portfolio investments of foreigners in Italy, down by €33 billion in May (of which €25 billion in government debt) and €42 billion in June (of which €33 billion in government debt)
Further outflows from bank debt (€6.7 billion in May and €4 billion in June) and in bank equity (€1.2 million each month) and in direct investment (positive at €2.1 billion in May but negative in June at €4.2billion) add to the trend
As discussed on Brueghel by Mrs Merler, these monthly outflows, larger than any of the previous 'scares' – 2011/2012 and 2016, are marks of significant defiance of Italian public debt

On the liabilities side,
Central bank inflows have been of €37.8 billion in May and of €17.3 billion in June – and an increase in Italian banks' recourse to centrally cleared repos is very marked in June for €26.3 billion
The ECB table reporting the aggregated balance sheet of monetary financial institutions (MFIs) by country (March-July '18) highlights the continued support of the European Central Bank
Total holdings of Italian debt securities (Gvt, MFIs, others)- Source ECB

| € in bn | March | June | 4-months trend | July |
| --- | --- | --- | --- | --- |
| Euro area | 3 620 | 3 601 | -0,5% | 3 622,5 |
| Germany | 786 | 778 | -1% | 772,7 |
| Spain | 456 | 443 | -2,9% | 439,2 |
| France | 791 | 777 | -1,8% | 795,1 |
| Italy | 600 | 634 | 5,7% | 647,4 |
| Netherlands | 240 | 240 | 0% | 233 |
Italy stands out with increased holdings at the ECB while all its main partners, more or less fitfully (at least regarding France) are on a path of slow shrinkage
As stated on 14 June '18, the intent of the Governing Council was set out with much clarity: "the Council anticipates that, after September 2018, subject to incoming data confirming the Governing Council's medium-term inflation outlook, the monthly pace of the net asset purchases will be reduced to €15 billion until the end of December 2018 and that net purchases will then end."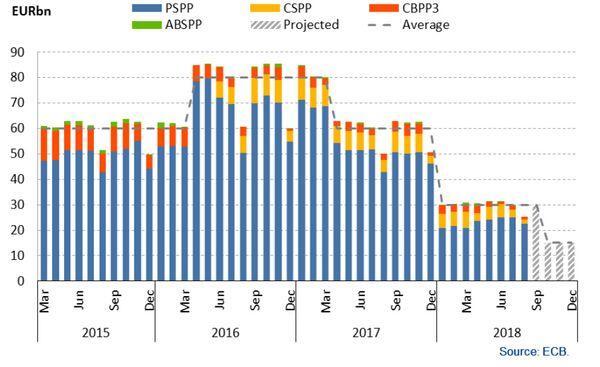 The fact that 80% of the purchases benefitted the public sector program (PSPP – in blue on the chart) shades the ECB's pledge of a very gradual policy tightening with a darkish tinge regarding Italy
Shuffling the deck chairs
In summary, the Eurozone and Italy are entangled in interlocking constraints
Foreign buyers of Italian debt will resume their purchases only if the back-up guarantee of the ECB is confirmed – today, it is not
If the guarantee holds, the spread over German Bunds should not exist – today, it does (at approx. 200 bps)
The ECB cannot back down on their intent to ease out of QE (i.e. extraordinary support of the bond market), which implies winding down the purchase of Italian debt securities, mainly Italian Treasuries, is a given
The Italian government plays a very weak hand because the domestic bond market is awash with Treasuries, as discussed in No commedia dell'arte, exposing the Italian banking system, the Italian insurance and pensions, and the Italian investors to extreme risk
Because further reliance on domestic Italian investors is simply impossible, and because the Eurozone cannot fathom the collapse of the Italian banking system, a new window of debt financing could conceivably be launched
The concept would be politically be acceptable by the EU partners only on terms establishing a definite link between debt finance and growth. This concept has been broached in our comments on Cohesion policies for Mezzogiorno
To be workable, the approach would rely on the issue of Eurobonds 'for growth' by the Eurozone itself – establishing a clear break with past debt service, which remains of sole responsibility of Italy
A play on avowed investment plans of the Italian government, the approach certainly responds to French designs in favor of Eurobonds and might actually fall in line with German financial rectitude
Leaving the final word to Robert Taylor…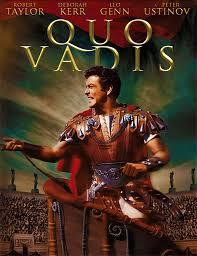 Articles on Italian Companies all US listings
Italians, conflicted – likable and engaging and torn between hopes of yesteryear and today's reality – tread a narrow path between a make-believe tantrum, irreversible commitments in the name of uncertain policies and actual structural reform
A look at the prospective budget of Italy's new government - Is it time to run for the hills?
While his criticism of the EU was unfounded, Mr. Salvini unwittingly shines a harsh light on the dismal state of Italian infrastructure. To achieve its objectives, the Italian government should be supportive of a growth-oriented allocation of EU funds
2 more articles ...