Robots - orthopedic evolution, surgery revolution
The note on Robotics competition – a fragmented landscape argued that the medical device majors dominated the healthcare market essentially by relying on outstanding distribution networks, positioning the companies as inescapable partners of the large hospital organizations
This business model is singularly focused on the acquisition of promising start-ups to keep abreast of technological advances, complementing – and to some extent, replacing – in-house research
Source : pininvest - asset infos / financials - by Sharadar - (*) R&D consolidated for all JNJ segments)
in bn USD
in million USD
Mkt Cap
Revenue
R&D
R&D/Revenue
Johnson & Johnson
368
80 684
11 252
13,9% (*)
Medtronic
130
29 947
2 290
7,6%
Stryker
64
13 040
823
6,3%
Intuitive Surgical
61
3 455
361
10,4%
Zimmer Biomet
25
7 918
381
4,8%
Smith & Nephew
17
4 765
223
4,7%
Mazor Robotics
1,2
65
8
12,3%
TransEnterix
1,1
15
21
140,0%
The volume of R&D / company revenue, computed over June '17 – June '18, is a clear differentiator, setting apart the companies committed to in-house research for often different reasons
Intuitive Surgical has renewed its focus on R&D to defend its unique hold on surgical robotics
Mazor Robotics strengthens its recognized expertise in spine with a partnership with Medtronic for both research and distribution. Medtronic invested $72m in three successive tranches with a stake of 10.6% in the company, giving the company exclusive global distribution rights for the flagship Mazor X robot-assisted spinal surgery device, with annual minimum purchase targets. The introduction in September '18 of the Mazor X Stealth Station deepens the relationship by combining the Medtronic 'Stealth' navigation with the Mazor X robotic guidance system, a significant advance in robotic systems for spine procedures
TransEnterix continues to build on the recent FDA approval of its Senhance surgical robot, cause of its large price run-up since May '18
In a range of 6% to 8%, the R&D effort of the 3 majors, Johnson & Johnson, Medtronic and Stryker, and the commitment to robotics it implies, is informative
Johnson & Johnson should be set apart
the R&D investment allocated to medical devices under direct control of the company is 6% of revenue, after accounting for the very large research effort in pharmaceuticals, according to 2017 company data

with a focus on radical innovation, surgical robotics stands apart in a major enterprise, pursued with Alphabet's main health tech business Verily and structured as an independent company called Verb Surgical; R&D of the venture will not be accounted for in JNJ R&D
Medtronic has approached product development with a dual strategy, in a partnership with Mazor for brain and spinal procedures and by developing robotic surgery in-house
at approx. $2.3bn, the annual R&D allocation is large but has remained unchanged since 2015 as a % of revenue, making it difficult to evaluate any special effort in favor of robotics
the time-line of the project has been adjusted with a tentative date of product launch in 2020 as "software/hardware integration and testing is taking longer than expected" according to the company
developing one of the few probable competitors to Intuitive in the robotic surgery space, Medtronic is expected to incorporate its open and laparoscopic technologies on the robotic platform
the stock price is likely to respond to any announcement of breakthrough into early '19, with the first testing of the system on patients
Stryker
On a large addressable market in orthopedics , Stryker has been staking out areas with its robotic joint replacement system (knee, hip) where Intuitive is not present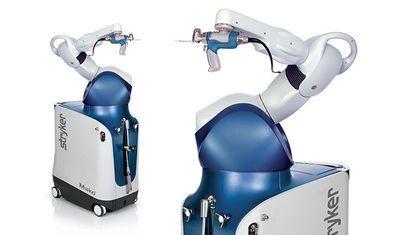 Following the playbook of limited R&D investments (6.3% of revenue) complemented by acquisitions, Stryker has integrated MAKO (2013 – FDA approval for total knee replacement procedures in 2015), specialties such as Entellus Medical (2018 – ear, nose and throat devices with minimally invasive balloon device products) or recently announced purchase of spinal device maker K2M (Aug. 2018) and photonics specialist Invuity (Sept.18)
The acquisition of Invuity, specialized in "single-use, lighted instruments that deliver enhanced visualization for a wide variety of clinical applications including orthopaedic and spine surgery, general surgery, and women's health procedures", is a model of the bolt-on strategy in robotics
With a focus on minimally invasive and complex procedures, Stryker side-steps the challenge and the costs of robotic surgery, but secures a solid position in the medical device industry
Smith & Nephew and Zimmer Biomet , both sizable and strong competitors in the orthopedics space, have notably lower R&D investments (4.7%)
Smith & Nephew is a recognized specialist in knee replacement by robotic assistant, strengthening its position for total knee replacement with the acquisition of Blue Belt Technologies in June '17
Zimmer and Biomet merged in 2015 with strong presence in joint, reconstructive and trauma products, including brain and spinal procedures.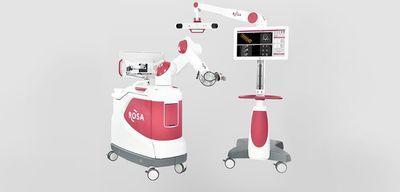 In July '16, Zimmer Biomet acquired 59% of French company Medtech SA, developer and maker of the ROSA robotic device for minimally invasive brain and spine surgery. Zimmer Biomet also spent $1.07 billion on LDR Holding Corp. for its spinal technology: LDR's Mobi-C cervical disk device has unique FDA approval and has been implanted more than 30,000 times since 2004
Focused and complementary, the Zimmer Biomet team-up forced JNJ to address its weakness in joint and spine products (with a February '18 acquisition of Orthotaxy, developer of software-enabled surgery technologies, in early-stage development for total and partial knee replacement)
Our overview of the public companies dominating the medical device industry sets apart the orthopedics specialists from Johnson & Johnson and Medtronic, the sole companies competing with Intuitive Surgical
Robotic applications in orthopedics could be described as extensions of existing procedures, approved as such from 2015 on – less costly to develop and less complex to integrate in the operating room, the technology gives the upper hand to the legacy companies in the market
Robotic platforms in specialized surgery, on the other hand, envision radical transformations, involving new ways to interact between surgeon and patient, new ways to collect and to analyze data, and possibly new ways to fine-tune robotic programs to the specific requirements of surgery teams
The launch of robotic surgery 2.0 (or 3.0…) is vastly ambitious, opening a treasure vault of applications in visualization, advanced instrumentation, artificial intelligence and machine learning
If cost targets of the devices can be met, it will be profoundly transformative of healthcare worldwide
Articles on Medical Robotics
Challenging dominant Intuitive Surgical, many robotics systems are coming to market but the vast ambitions of Auris Health stand out and Verb Surgical, a Google / Johnson & Johnson partnership, is waiting in the wings
Confronted with the challenge of robotic procedures, orthopedic device majors take comfort with technological evolution, on step at a time while innovation in robotic surgery is a revolution the dominant players must join or face oblivion
With an extended, and unusual, lag in responding to the challenge, the 20-year old robotic industry Intuitive created single-handedly is about to confront a wave of novel alternatives
4 more articles ...