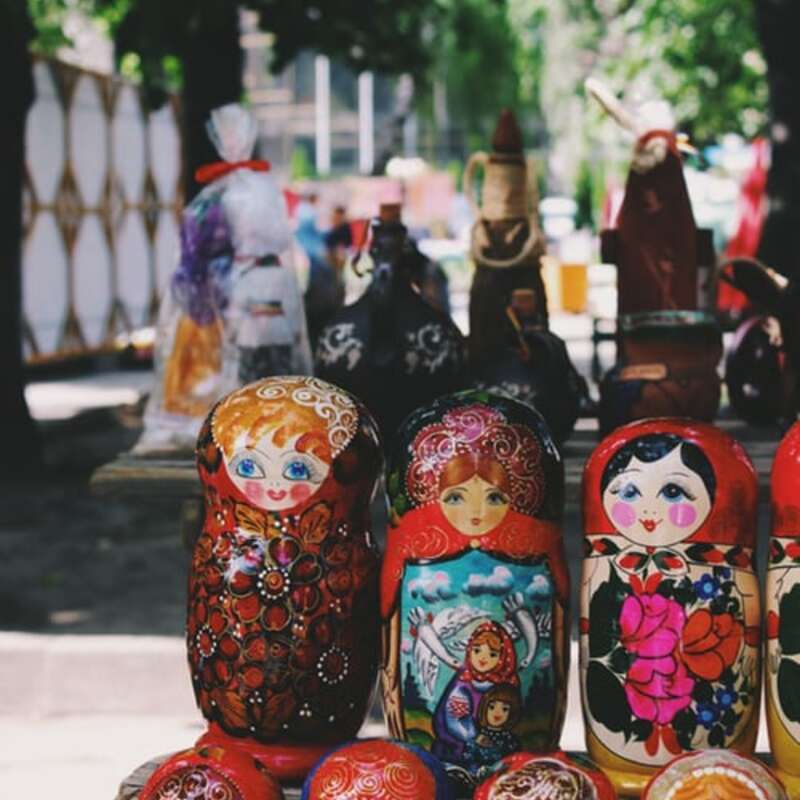 Pin-insights
Signed last Dec. 20, 2019 by the U.S. President, the Defense bill voted by a large bipartisan majority of Congress included a section targeting Nord Stream 2, a pipeline under the Baltic Sea delivering natural gas from Russia to Western Europe
The attempt to block construction of the pipeline is unusual in confronting the engagement of close allies (foremost Germany but also France) financially committed alongside Russia, and interfering at a late stage (the infrastructure is under construction since April 2018 and 90% finished)
Domestic considerations often are the main motivation for interference by the American Congress in foreign affairs
Commercial interests of the American energy sector, eager to export natural gas and forcefully represented by Texas Senator Cruz, have the unfortunate consequence of obscuring legitimate concerns regarding independence of Western European energy provision and reliance on Russian deliveries
Energy should be an essential part of broad security considerations but for now, the strategic vision has been in Moscow, not in Washington
The "Rattenfänger" - Pied Piper or rat-catcher - of Hamelin is one of the oldest German legends, narrated by the Brothers Grimm and first depicted on a stained-glass window of the church of Hamelin (circa 1300)
The tale recounts how a ratcatcher, who saved the town of Hamelin from the plague by drawing all the rats and mices with his seductive flaut play, took revenge after the town failed to hold to its promise of payment...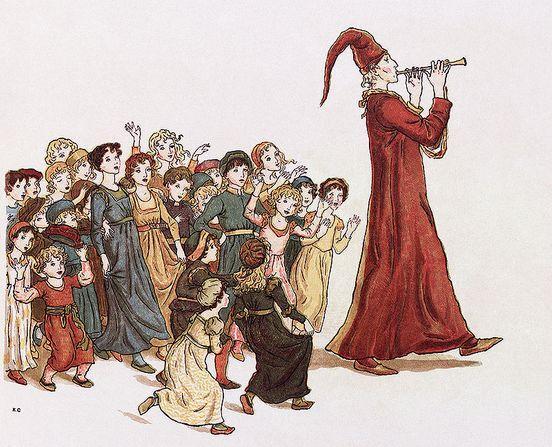 Trailing Hamelin's children behind him with another of his irresistible tunes, the ratcacher disappeared into the forests, taking the children with him, never to be seen again...
...which is why the powerful draw of Russia's energy policy on its neighbors, to the West and to the East, should be viewed with a measure of clear-eyed realism and a sense of its ambiguity, no different from the Rattenfänger's enchanting tunes, good in eradicating the dangers of pestilence and, potentially, rather less seductive...
A winning hand takes all ?
Russia's diplomatic focus on energy provisions is familiar but has gained new life with a number of recent developments which could be viewed as crowning achievements of the Putin administration
Intervening almost simultaneously in the span of two months, and centered on gas provisions around Eurasia, the vast continental mass and Russia's heartland, the achievements should leave any observer in awe
Implementation of pipeline Nord Stream 2's last leg thru Danish waters, greenlighted by Denmark (Oct. 31, 2019)
Inauguration of the 'Power of Siberia', delivering gas to China (Dec. 2, 2019)
Contractual agreement with Ukraine on the terms of gas transit to European clients (Dec. 20, 2019)
Whether viewed in combination or separately, these initiatives rout the poorly conceived US effort to uncouple European (and especially German) gas imports from Russia by attempting to block the final leg of the new Nord Stream 2 pipeline
But in the end, US interference hardly mattered, which should be a wake-up call for the country's diplomats
The American push was driven by short-term interests (selling LPG produced in vast quantity by the American fracking industry) and deeper concerns about Russian influence in NATO allies' internal affairs
Underestimating woefully Russia's position of strength across Eurasia, it was always hard for the U.S. to counterbalance geographic proximity, abundance of gas reserves (30% of world reserves are located in Russia and Turkmenistan), declining nuclear-power generation and climate-change induced transfer from coal to gas-fired electricity generation
The contractual commitments of gas delivery binding Russia to Europe and to China reflect a long-term strategic engagements, forging cast-iron links America would be hard-pressed to break even if the opportunity arose in the future
Countermanding Russian strategic thinking will require a clear vision of the global US-European relationship in the medium term, with access to energy one of the major pillar
Unfortunately, this is not today's reality


Nord Stream, a Baltic storm in a teacup?
Nord Stream is an infrastructure of pipelines across the Baltic Sea, from Russia's port of Vyborg near the Finnish border to Greifswald (Mecklenburg Vorpommern - 170 miles east of Hamburg) in Germany, delivering Russian directly by circumventing Belarus, Ukraine and Poland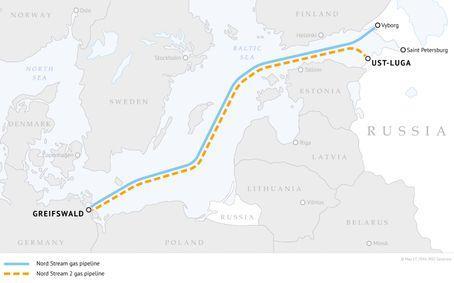 Ukraine, deprived of the leverage the country could exercise to levy a transit fee and to extract favorable terms on its own gas consumption, and Poland, losing a fair degree of political clout, were faced down by the powerful gas importers, Germany but also France and the Netherlands
Contracted in September 2005 between Russia's Gazprom , Germany's BASF/Wintershall and E.ON , the first pipeline string, through the territorial waters and exclusive economic zones of Finland, Sweden, Denmark and Germany, avoiding Poland and the Baltic States of Estonia, Latvia and Lithuania, started delivery in November 2011, followed by the second string in October 2012 boosting capacity to 55 billion cubic meters yearly


The project acquired broad EU participation with the Dutch gas infrastructure company N.V. Nederlandse Gasunie acquisition of a 9% share in Nord Stream AG in 2008 and France's Engie , formerly GDF Suez, similar holding of 9% in March 2010, a major geopolitical accomplishment for the Putin-Medvedev government in face of strong US opposition
Gazprom has kept voting control over the entity with a 51% share, followed by the two original German partners, now Wintershall Dea and Uniper (following the E.ON spinoff in 2016), holding 15.5% each
Nord Stream feeds into a joint venture established in 1993 between Gazprom and Wintershall (a wholly-owned subsidiary of BASF), WINGAS, a downstream wholesale and retail gas supplier with natural gas storage in Germany and Austria, selling gas to German consumers and delivering gas to Belgium, France, the UK, the Netherlands, Austria, the Czech Republic, and Denmark
In December 2013, the European Commission approved transfer of sole ownership of WINGAS to Gazprom which took the form of a swap, with Wintershall gaining a 25.01% share in Russian gas fields
Led by Gazprom , half of the $10.5 billion funding of Nord Stream2 is provided by Germany's Uniper , BASF's Wintershall unit, Royal Dutch Shell , Austria's OMV and France's Engie
Launched in April 2018, and 85% completed as of Oct. 30, 2019 with 2 100 kilometers (1 300 miles) piping laid in the Baltic sea, the Nord Stream2 received its final, albeit reluctant, greenlight from Denmark on Oct. 30 granting construction in the Danish Exclusive Economic Zone (EEZ) covering a 147-km-long route section
Citing the United Nations Convention on the Law of the Sea, the Danish Energy Agency said "Denmark is obliged to allow the construction of transit pipelines"
With a Dec. 20, 2019 bill that includes legislation imposing sanctions on firms laying pipe for Nord Stream 2, the U.S. Administration intends, belatedly, to bring Nord Stream2 to a halt, forcing a major contractor, Swiss-Dutch Allseas, to suspend pipe-laying activities - an estimated 5-weeks before planned completion
It is unclear how this show-down will play out since the American Administration is undoubtedly uncomfortable with blatant interference in the internal affairs of its close allies as Germany's government made clear by "rejecting extraterritorial sanctions"
A network of pipes
Unrelenting political focus on Nord Stream loses sight of the larger picture and deep pre-existing interaction between Russian gas deliveries and the demand of West European economy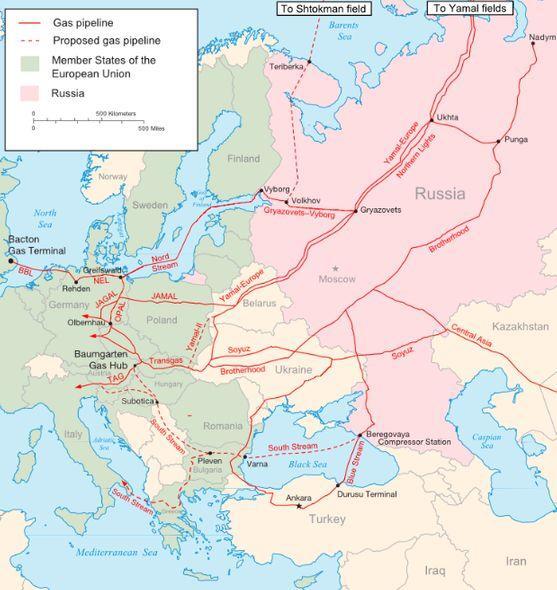 The economic outlook and winter cold snaps across Western Europe have usually been driving what remained essentially a business relation between the supplier of an abundant energy resource and clients willing to enter long-term contracts for reliable availability
In an E3G report dated June 2015 and entitled "Europe's declining gas demand", the authors highlight a 23% drop of gas deliveries as of 2014 from their 2010 peak, fig. 1 (page 5) affecting industry, power generation and residential. Critical of what appeared at the time to be systematic official consumption overestimation, the report questioned the viability of overbuilt gas infrastructures, financed in part by EU funding
Even though gas demand turned around in spectacular fashion, influence Russia stands to gain over European affairs by partial control over the continent's energy supply remains a matter of subjective appreciation
Europe imports approx. 40% of its natural gas from Russia, its first provider followed by Norway (30%) and the EU countries imported a total of 401 billion cubic meters (bcm) of natural gas in 2018, according to McKinsey
According to Gazprom, exports of gas to Europe (incl. other countries not part of the former Soviet block) - which accounts for deliveries to Turkey but apparently not China - is projected in 2019 at 198.6 to 201.1 (bcm). The company declared total gas production of 497.6 Bcm in 2018
As a % of European gas imports, the share of the main EU countries remained stable since 5 years : Germany (78.9 bcm | 19.7% share of EU imports), Italy (63.8 bcm | 15.9% share), and France (47.8 bcm|11.9%) - with Russia contributing between 50 and 75% of German gas imports, and between 25% and 50% for Italy and France
Actual gas deliveries to Europe (incl. 'other countries') provide further insight (by quarter)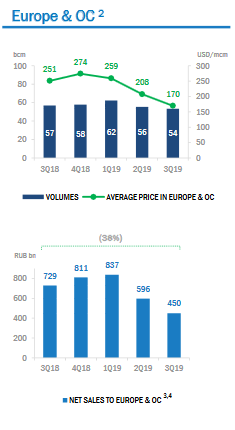 By the numbers, it would appear that the European countries, and especially Germany, have a considerable stake in Russian gas deliveries but the reciprocal is true as well...
Shipments to Europe 'and other countries' are essential for Gazprom, both in terms of volume (approx. 40% of total gas production by the firm) and in terms of profitability - as shown by the comparison in the referenced Q3-2019 presentation (page 6)
While undeniably political leverage cannot be discounted, interruption of gas deliveries to its best paying customer and for such a large share of its revenue is not something Gazprom would relish or shoulder for long
Energy's discursive strategies
Discursive strategies are all those linguistic resources to which one resorts to maximize the effectiveness of his message, with the intention of fulfilling particular interests
Strategic discourse, confounding security policy with other policy issues, discussed by Michael J. Shapiro (U. of Hawaii) in an International Quarterly Studies (1990 -34) paper, could characterize the posture of the American Administration, inserted in the FY20 National Defense Authorization Act under Sec. 7503 and supported by a broad cross-partisan majority in Congress
According to CNBC (Dec. 18, 2019), reporting the sanctions on the Nord Stream 2 pipe line, Senator Ted Cruz summed up U.S. sentiment toward Nord Stream 2 saying it "poses a grave threat to the national security of the United States and our European allies." Urging NS2′s construction to be halted, he said "the United States must stand with our European allies, support energy diversity, and combat Russia's economic blackmail."
U.S. Senator Cruz went as far as sending a formal warning dated Dec. 18 to Allseas, the pipe-laying contractor, to stop further installations as of the signature of the bill (Dec. 20) and commented the bill's push for European security, stating on Fox News, that Nord Stream 2 would make Europe even more dependent on Russian energy, and that makes Europe susceptible to economic blackmail.
While concern about Russian leverage enters American consideration, and can of course not be discounted, economic interest is intertwined with security in Senator Cruz's discursive strategy
According to the Senator, by getting the sanction's legislation passed, [...] that will hurt Putin, it will take billions away from him, it will help Europe, it helps Ukraine enormously, and it helps American jobs. [It's] much better for European energy needs to be satisfied by American natural gas, that creates jobs here in America rather than fueling Putin's military aggression."
Representing Texas, the hub of US energy production, Senator Cruz would know...
It is not entirely clear why American elected representatives feel entitled to address European security against the wishes of the continent's largest countries and important US allies (Germany, France) but economic considerations may be overbearing
To interpret the U.S. postion, we suggest that projected future gas consumption in Europe could weigh on American interests, since the winding down of nuclear energy production, at least in Germany, and the closing of coal-fired thermal plants are bound to increase demand for alternative power sources - which the 55 bcm of Nord Stream2 (approx. 25% of current consumption in Europe) will be able to honor...
A. Miller, CEO of Gazprom confirms the favorable trend, quoted at the June '19 General Assembly :"Three years ago at the [2016] AGM, we said that by 2035 demand in Europe for additional gas imports may be 150 bcm. Today we see that in the last three years alone imports to Europe have increased by 67 bcm"
By implication, Nord Stream2 anticipates fast growing demand thru the decade in Europe, and may not trigger a redirection of current gas flows by way of Ukraine, as has been the case in 2017/2018
Indeed, according to McKinsey, the load of the existing Nord Stream pipeline increased to 94% in 2018 (from 82% the previous year) while at Velke Kapusany, located at the border between Slovakia and Ukraine, and the key transit point of pipelines passing thru Ukraine, the average utilization dropped from 68% to 62%
By no coincidence, on Dec. 20, 2019, the day the U.S. legislation meant to protect Ukrainian interests was signed into law, a contractual agreement with Ukraine on the terms of gas transit to European clients (Dec. 20, 2019) was concluded in short order after fraught negotiations between the two countries
While not known in detail, the key terms of the agreement cover contractual duration (5 years), volume of gaz transiting (65 bcm in year 1, 40 bcm in year 2) and fees expected to rise, resolution of pending litigation between Ukraine and Gazprom and probable (albeit unconfirmed) resumption of direct gas deliveries from Russia to Ukraine (replacing the 'reverse' scheme by which Ukrain purchased its gas from European countries
While the later point is contested by the Ukrainian opposition led by former president Poroshenko, in the name of independence from Russia, the agreement brings the stand-off to an end
The talks also take the wind out of the sails of the American discursive strategy ....
With completion of the Nord Stream 2 pipe line, expected to be delayed by a few months at most by US action, and formal agreement with Ukraine on gas transit, Gazprom has achieved its goals in servicing Northern and Central Europe
American security concerns failed to redirect the economic interests of its main European allies because legitimate issues of continental independence mixed awkwardly with the interests of the American energy industry
A sharper Atlantic securiy strategy could be set in global terms, including but not limited to energy deliveries, and find the European audience receptive
Gazprom, for its part, is engaged in a balancing act of equal consequence for the Russian interests, protecting Russia's traditional influence in Central Asia and establishing a new partnership with China, as gas starts flowing thru the 3000-km (1850-mile) long 'Power of Siberia' pipeline