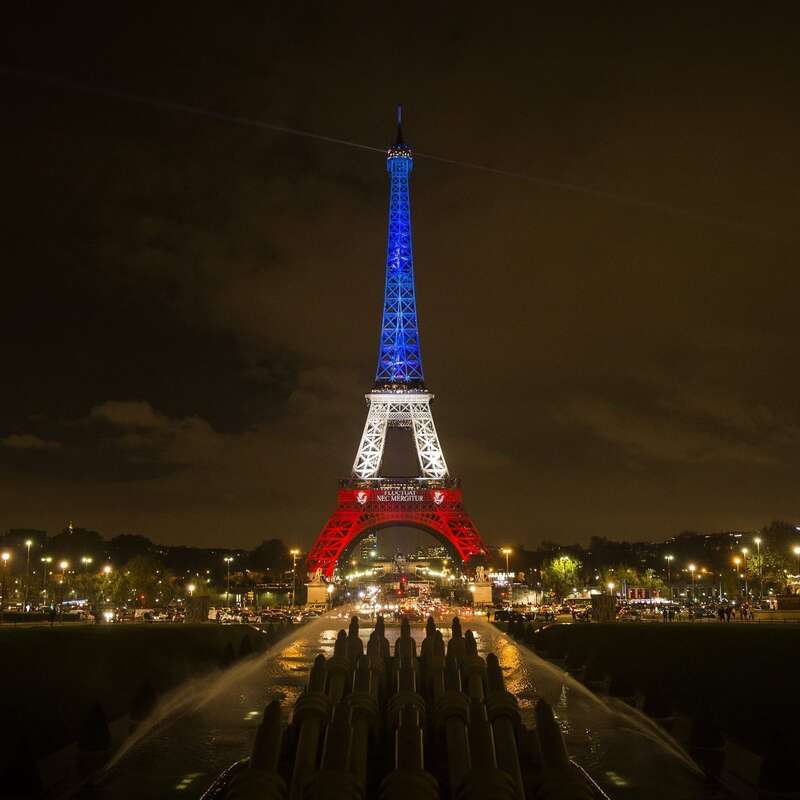 Pin-insights
The series 'Remains of the Day' highlights some of the challenges medium-sized ex-colonial powers such as France encounter in a world of swaggering upstarts
From strategically located Djibouti on the Gulf of Aden, which opens on the Red Sea waterway to the Suez Canal, independent since 1977 and today highly indebted to China, to the Central African Republic (CAR) where entrenched French interests confront Russian encroachments, France's sovereignty is challenged
Long dormant, the claims of Madagascar on the neighboring Scattered Islands, which remained under French sovereignty at the country's independence in 1960, have become more pressing
The build-up of global trade transiting through the Mozambique Channel (separating the country from the African continent) and the considerable interest stirred by access to the region's natural commodities (coal, oil and natural gas) put France on a crash course with the globe's upcoming powers (India and China, as well as Japan)
A challenge bar none to balance French sovereignty rights, economic interests and the geopolitics of the Indian Ocean
***


Undisputedly, each of the French former colonies, sometimes full 'Départements' integrated in France's institutional framework, such as French Guiana or Mayotte, is singular in its own way, because exploration of natural resources beckons, or because of a coveted strategic location
What all of these territories share are demanding expectations for policies addressing their special needs and French reluctance to adapt policies for these 'ultra-marine' territories to local contingencies
Gallic pride and well-worn reliance on central (Parisian) policy buttress a degree of governmental inflexibility, but highly inflammable combinations of geostrategic interests and economic competition by well-endowed rising world powers will have to be confronted
Scattered
The Scattered Islands of the Indian Ocean, located around the coast of Madagascar, are a case in point
The 5 islands, 4 of which located in the North, Central and South Mozambique Channel and one west of Madagascar, remain inhabited, except for a French minimal military presence and a meteorological alert station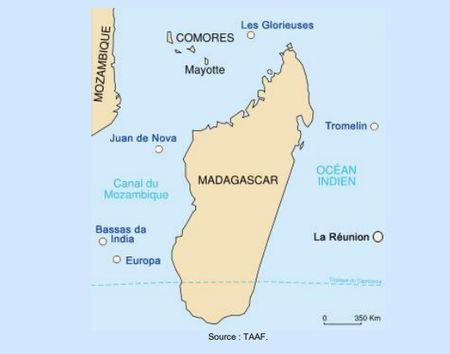 Quite small, from 1 square km to 7 square km, except for island 'Europa' (33 square km), the Scattered Islands had been specifically excluded from sovereignty of freshly independent Madagascar in 1960 because of their geostrategic location
General de Gaulle, President of France, was blunt in a note to then-advisor J. Foccart (July 3, 1961), quoted by Pierre Caminade, in "Comores-Mayotte : une histoire néocoloniale" Marseille, Éditions Agone, 2003, p. 26
"I forewarn the Department of Foreign Affairs against any encroachment by Madagascar on the French islands and islets. This is in no way justified and could lead to complications …."
Since independence, and as General de Gaulle anticipated, Madagascar has periodically restated its interest for the Islands (as did the Comoros and Mauritius for the islands close to their coasts)
The geostrategic location in the Mozambique Channel, one of the world's major maritime gateways, was probably the major factor in holding on to the Islands in 1960, but a singular conjunction of developments has whetted the appetites of competing interests
The Mozambique Channel has grown in importance along the factors driving international trade, leaving the impressive 2015 statistics reported by French Marine Defense in need of an update
A gateway for 30% of world oil production (700 million tons per year)
5 000 ships transiting every year (as of 2015)
Mozambique's coal exports revival
Africa-India-China trade routes delivering natural resources are focusing the interest for adequate export logistics, rocketing with the revival of the coal industry in Mozambique (estimated reserves of 25.6 billion ton and 9th largest coal producer out of 49 active producers worldwide) and (marginally) in Botswana
2017 - formal completion of a deep-water port in Nacala bordering Tanzania, with a 900 km rail corridor, serving Northern Mozambique, a $4.5 billion project financed by the Brazilian mining group Vale (supported by Mitsui Corp. of Japan, the African Development Bank and several South African banks)
2017 - after scaling back its mining operations, International Coal Ventures of India consortium (ICVL) restarted a three-phase development program at Benga, said to be Africa's largest coke coal mine
Further mining interests are owned by Jindal of India, Japanese Nippon Steel / Sumitomo and POSCO of South Korea
Next to the 'northern corridor', two other railways serving the interior are under discussion and in various statements of construction
2016/17 - a $5 billion central railway (500 km) is expected to transport minerals, agricultural and other products from Mozambique, Zambia and Malawi to the deepwater port to be built in Macuze, Central Mozambique
2016-2018 - the construction of a deep-water port in Techabanine (Maputo province, Southern Mozambique), discussed off and on since 2011 and relaunched in 2016-2018 with the planned construction /upgrade of a 1700 km railway, expected to cross the continent, serving Botswana and Zimbabwe, seems to gain momentum. The president of Mozambique, Filipe Nyusi, restated his country's commitment to the project in Beijing in April 2019, with a guaranteed initial $2.9 billion tranche (presumably by the Chinese operators although the terms are not specified). China Harbor Engineering Co (CHEC) and China Railway International Group are referred to in the official announcements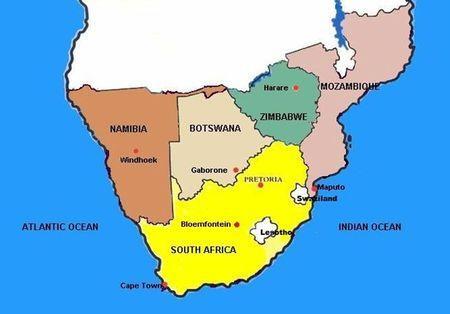 Although Chinese interests seem to be latecomers, the Techabanine Southern corridor, skirting South-Africa to reach the African interior by way of Zimbabwe, strongly supported by local governments, with Botswana most eager to access the Indian Ocean, is likely to be meet China's medium-term objectives to mine the African interior and control its logistics
French economic interests
By enforcing its rights to an Exclusive Economic Zone of 200 nautical miles (370 km) around the Islands, France increased its total Zone in the area which includes the island of Réunion and Mayotte by 600 thousand square kilometers (240 000 square miles)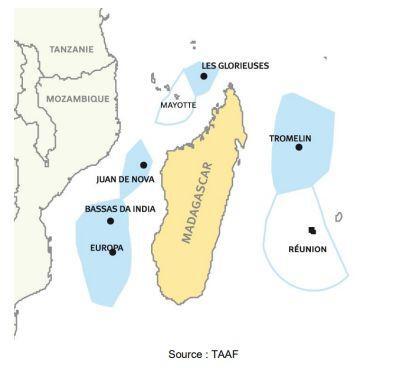 Originally focused on fishing rights and on – to this writer – somewhat forlorn efforts to control fishing stock, especially tuna resources, according to the 2015 Marine Defense report, tensions with bordering countries have undoubtedly been ratchet up by the discovery of oil reserves in the Channel, a third of which is included in the French Zone
Quoting Tor Sellström in Africa in the Indian Ocean: Islands in Ebb and Flow (page 333)
"Adjacent to a belt of oil and gas deposits compared to that of the North Sea, stretching from the Mozambican gas fields of Pand, Temane and Buzi across the Mozambique Channel to the onshore Malagasy oil sites of Tsimiroro and Bemalango, the promising belt has attracted several of the world's major petroleum companies (Anadarko (US), ENI (Italy), ExxonMobil (US), Korean Gas (South Korea), Statoil (Norway) and Total (France)

The [French controlled] Juan de Nova EEZ lies in the middle of this, with that of Mayotte slightly to the North"


France awarded two five-year exploration contracts in 2009, renewed in 2014, opening a 'battle for territory' between countries, according to author Sellström
It is unclear how competing interests will play out
The Northern Mozambique Channel (NMC) is ranked amongst the richest marine areas in the world in terms of biodiversity
In Dec. 2018, Madagascar has announced an auction for 44 concessions covering 24 440 square miles on the west coast, in the Morondava Basin, close to Mozambique, where vast offshore natural gas reserves were discovered in 2010, hightening conservationist concern
In 2017, France announced its intention to pass legislation to phase out all oil and gas exploration and production on its mainland and overseas territories by 2040 (Reuters)
Muscling in on the Mozambique Channel
The transformation of South Eastern Africa into a hydrocarbon hub appears to be in the line of sight of the oil majors - and much favored by the export destinations
short distances to the US and to Northern Europe
no geographical choke point, as is the case for Middle East oil (Hormuz, Bab el Mandeb and Suez going West, Hormuz and Malacca Straights going to China)
Anadarko and ENI, with the largest off-shore investments in North-Eastern Mozambique, offer the clearest outline of developments at hand
2018 - Anadarko and ENI scheduled a joint facility of gas conversion to liquefied natural gas (LNG) on site for transport via tanker to worldwide markets
India - because natural gas is expected to become key in electrical generation, and to avoid being entirely dependent on Quatar (as is the case today), India's Oil and Natural Gas Corp (ONGC), India Oil Limited (staterun), and Bharat Petroleum Corp have purchased a combined 30 per cent stake in the Anadarko's Rovuma fields at a cost of well over $5bn
China - China National Petroleum Company (CNPC) bought into ENI's Mozambique lease for a 28 per cent stake ($4.2bn), making the Mozambique "China's biggest ever investment in overseas natural gas fields" according to the Financial Times (14 March 2013), quoted by cimsec.org
Japan and South Korea - Mitsui holds a 25 per cent stake in Anadarko's concession and Korean Gas Corp (Kogas) holds a 10% stake in Eni's concession
Too little, too late ?
It is true, as the Marine Defense report emphasizes, that the Scattered Islands are probably some of the world's unique, well-preserved natural environments where scientific research can focus on the study of plant and animal species in their untouched, natural state, and can evaluate the impact of human activity and climate change
On principle, French protection of the ecosystems and early tornado-warning meteorological outposts are a valuable contribution – and neighboring countries are likely to recognize as much
However, weighty economic interests of the bordering States and pressing Chinese concern to control the routes to Africa put the onus on France, by confronting the country with a significant strategy shift
Madagascar's newish President Andry Rajoelina called for fresh negotiations to return the islands to his country during a May 2019 visit to Paris; a joint conciliation committee has been tasked with the improbable responsibility of resolving the two countries' differences

National identity may indeed be a political gambit for Mr Rajoelina but weighty afterthoughts will cast a shadow on any attempt to find common ground
Security, an priceless asset
As this overview has shown, the vested interests of some of the globe's largest countries, and the investments committed to logistics (ports and railways) and resources (coal, oil and gas) are simply too large, pervading their every move
In an attempt to control strong points on the Indian Ocean and to secure medium-term energy sources, neither India nor China will let down any time soon
Simply not playing in the same league, France does not share these interests...
This is why we believe France could turn into a key facilitator of an invaluable - and indispensable - asset, regional security
While South-Africa has been contributing to some security in the Channel with Operation Copper, there is little doubt that the intense trade will continue to facilitate piracy and corruption - and India and China, locked in deep confrontation, will suffer disruption to essential exports
If France were to provide an advanced level of security in the Channel, from a powerful military base located on one of the Scattered Islands, putting the country's expertise on the line, there is little doubt all the parties would recognize the benefits to their trading routes far outweighs the influence France will undoubtedly regain...
The future may tell ?