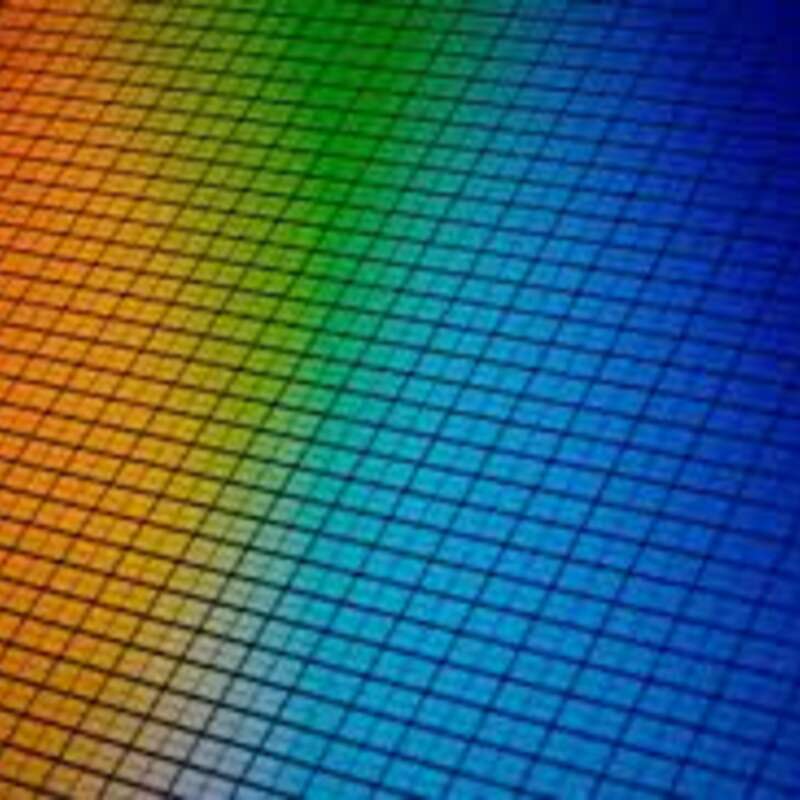 Semiconductor Memory Doldrums
Pin-insights
Memory Integrated Circuits (ICs) are central to any discussion about technology; new developments in smartphones and the reliance on ever more potent data centers all depend on memory chips. The battle over control of the technologies is only heating up but, for now, the highly concentrated industry remains in flux
In the short term, subdued smartphone sales and flat data center demand make for negative investor perception but, with the future of entire industries at stake, this is unlikely to last. While Samsung and SK Hynix are quoted in Seoul, Micron Technology can be monitored closely... and it should be
***
Revenues of the semiconductor industry have been stable around $335 billion for the years 2014 through 2016 – followed by a growth spurt in 2017 (+21%) and in 2018 (est. +12%)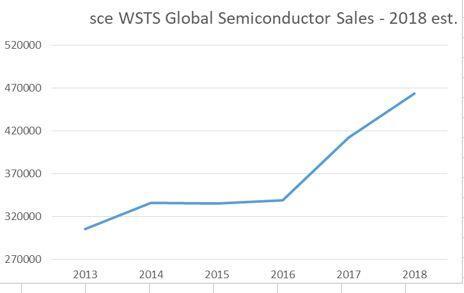 Our comment will focus on memory ICs (integrated circuits) because of the exceptionally strong growth of the segment, contributing greatly to industry sales
+ 61% from 2017/2016 – sales of $124 billion which is 30% of total 2017 semiconductor sales (against 22.6% the previous year)
+ 26% from 2018/2017 – est. sales of $157 billion and 33% of total 2018 sales
The NAND flash and DRAM memory chips, in combination, take on the bulk of the cell phone and the cloud server markets
NAND flash memory is a type of non-volatile storage that does not require power to retain data, used for general storage and transfer of data in main memory, memory cards, flash drives, and SSD drives
DRAM, unlike flash memory, is volatile, meaning that information is lost when power is lost. DRAM offers a low-cost, high-capacity solution, commonly used as the main memory in modern computing devices and graphics cards
NAND and DRAM here to stay...?
In deploying in-memory cloud server architectures, DRAM can provide computation power and speed while NAND flash lowers data-center power drain significantly but runs 50% slower
The arbitrage, balancing the combination between the 2 cell designs, is likely to move in sync with R&D advances
the possibility to off-load processing to DRAM is a prize which will become more relevant as heavy workloads (machine learning and other AI applications) become the norm
as the majority of processes will originate more and more often with machines – and not humans – in the near future, microsecond latencies will make a difference and tip the balance in favor of DRAM as well
The mobile industry has relied on ever increasing DRAM capacity to differentiate the phone line-ups - from 2GB to 4 GB to the fairly common 6GB today and the recent top-of-the-line 8 to 10GB phones of Chinese Vivo or Xiaomi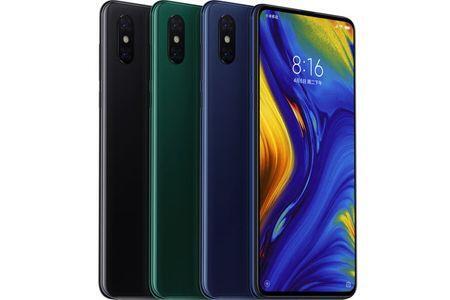 though not a necessity, the additional GBs run an ever increasing load of mobile applications, after reserving space for the low-level management of the system
driven by consumer expectations, the trend is pushing for ever more advanced mobile gaming apps on the smartphone
after many failed attempts, the transition from the mainstream PC to the desktop-enabled mobile looks ready for roll-out, dispensing with the PC altogether and nurturing new demand
Though limits to miniaturization are closing in, alternative options look improbable for now
We found the Electronic Design presentation of memory ICs to be very informative on the decade long research on technological solutions we are not qualified to cover
None of these solutions has hit the mainstream because, to become cost competitive, high volumes must be reached and this will only happen when NAND and DRAM hit their scaling limits to miniaturization
Hobbled by flagging demand
Demand has been driven by both smartphone manufacturers and data systems since late 2016
Smartphone storage and DRAMs for Apple as well as Chinese manufacturers (OPPO, Vivo, Xiaomi & Huawei)
Cloud Computing DRAM and data center SSDs
High density DRAM servers
According to market researcher Canalys, global smartphone shipments dropped by 7% in Q3-2018 and server clients are said to be working through oversupply
An understanding of future trends in memory devices remains especially relevant because a small number of companies dominate the entire segment
NAND flash manufacturers have never been very numerous and the DRAM oligopoly results from a shake-out after the 2007 recession when oversupply and sharp price drops pushed the weaker firms into bankrupcy
DRAM company investments are closely monitored and any expansion project is quickly interpreted by the market as signaling a potential price war
Q3-2018 market shares
DRAM
NAND flash
Samsung Electronics
45,5%
35,6%
Toshiba
18,8%
Western Digital
14,9%
SK Hynix
29,1%
10,8%
Micron
21,1%
13,1%
Intel
6,4%
95,7%
99,6%
Source
Statista
Statista
A steeper slide
With a fourth quarter 2018 year-on-year 29% drop in operating profit, the announcement by Samsung Electronics (Seoul ticker 005930), bellwether of the semi-conductor industry and dominant memory devices manufacturer, was not unexpected
The firm had benefitted considerably from surging DRAM and NAND flash memory sales in 2017/2018 but oversupply and price pressures were beckoning as early as August '18
With memory chips representing close to 85% of Samsung's semiconductor business and about 75% of operation profit in recent quarters, the company has further lowered expectations with falling prices into 2019 and 'subdued' demand going forward
The expected duration of this slowdown, however, took the market by surprise and the depth of the down cycle has been variously commented
A strong possibility of an average price drop of 20% in Q1-2019 over the previous quarter, following drops of 10% at the end of last year, is suggested, according to DRAMeXchange,
Of the major suppliers, only Micron reduced its prices sharply in Q4-2018 to lower its inventory level, while both Samung and SK Hynix (Seoul ticker - 000660) delayed such adjustments
With memory bit supply growth anticipated to exceed sales growth in the short term, the price downtrend could push well into the 3d quarter 2019
A concluding remark
NASDAQ-listed Micron Technology is followed closely by US analysts (both Samsung and SK Hynix are quoted on the Seoul stock exchange)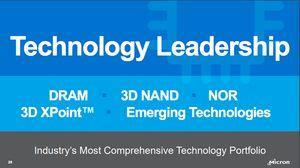 Current pricing in the $32-35 range is seen as overreacting to a number of headwinds (price was hovering around $50 this summer)
Anti-competitive price fixing of memory chips is a perennial criticism, most recently taken-up by the Chinese regulator, but the volatility of memory pricing should deflate the legal case to a large extent
The entry of Chinese memory manufacturers is a possibility in the medium term, as we are discussing in a forthcoming note, but technological advance of the established US and South-Korean suppliers remains a significant barrier
Simmering trade tensions between the US and China are a major source of uncertainty. Buying into Micron is a vote of confidence that the global supply chains will be preserved in the end
On the demand side, mobile sales are cyclical and subdued but the cloud server business is not. In addition, new markets such as enterprise storage and automotive electronics hold promise
Our recommendation : check the fact sheet, bookmark Micron on pininvest and track the share price closely through March...