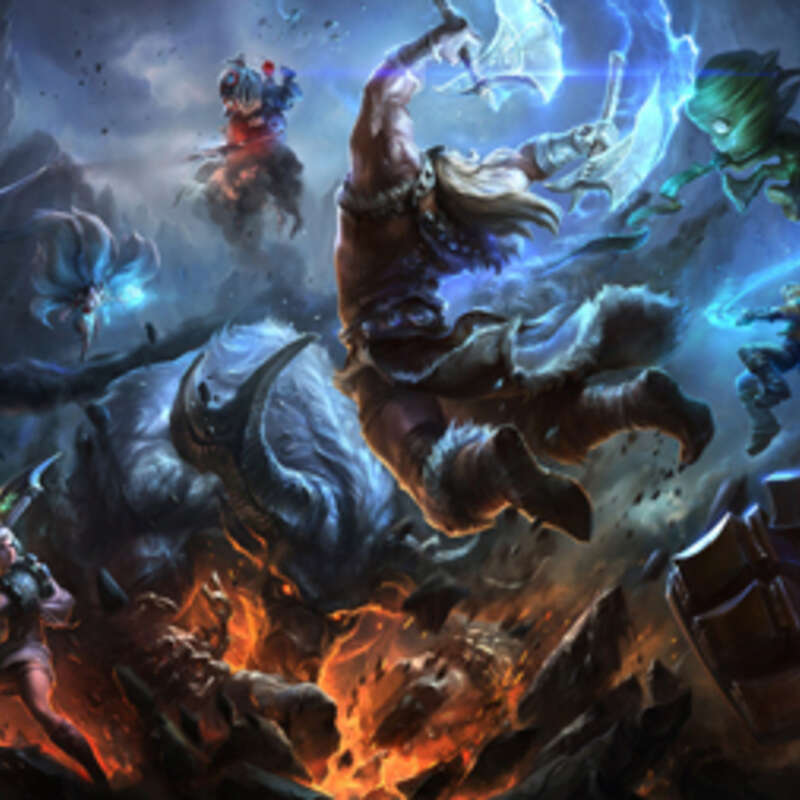 Pin-insights
The tide might seem to be turning for videogames, after decades of spectacular growth putting gaming at the head of the table of the entertainment industry
But while the outlook of the major game publishers has been unusually conservative for 2019, this might have as much to do with managing expectations in the short term as with the failure to produce new 'big hits' or consumer fatigue
The industry has always been going through air pockets, from expensive flops to big hits, but forecasts today may signal a more fundamental shift
Technological progress has always contributed incrementally to more advanced gaming experiences but with streaming on the drawing board, could a gaming revolution be underway ?
****
According to Adam Williams on Wolf Street, video games have become the largest entertainment industry worldwide by revenue: $138 billion in 2018 – beating TV ($105 billion), film box office ($41 billion), and digital music ($17 billion)
But the industry is also very concentrated according to Newzoo statistics for 2018
China, the US and Japan generate $83.6 billion, 60% of worldwide revenue
The 4 runners-up, South-Korea, Germany, United Kingdom and France, together only contribute 13.6% of global revenue ($19 billion)
The revenue ratio to the estimated Internet population puts Japan in the top spot ($146), followed by South Korea and the US ($120 each) with the European countries well behind (in a $60-70 range)
With the largest Internet population (850 million - 60% of total census), China stands apart
per capita revenue, at $40, is much lower than in the leading countries, but revenue is probably generated by a small segment of the Internet population
It is not unreasonable to assume that spending by Chinese gamers is in fact close to the profile of Japanese, American or South Korean players
The statistics go a long way in explaining the pushback experienced by the industry since 12 months from China and from the US
A punishing season
The largest videogame companies have fallen down to earth, brutally and within 6 months, from mid-2018 to early 2019, losing approx half their market cap before correcting course in part
Out of favor, majors such as Activision , Electronic Arts , Ubisoft and Tencent do not seem positioned to scale the towering heights they abandoned in June '18 any time soon and, with a few exceptions, staring well received games (Gravity ) or tight management and solid franchises (Zynga ), our entire theme has fallen on hard times
Sobering, the loss of market confidence does not quite fit with revenue and profitability growth
Activision finished the year in top form - year-on-year sales were up 7% and operation income up 50% - but the firm laid off 800 people (about 8% of the workforce), which might leave investors queasy about the company's prospects
Electronic Arts also improved sales in 2018 (+4%) and operating income (+11%) - but also cut 350 jobs, in the 'non-development' marketing and analysis departments (4% of the workforce)
Ubisoft reported a strong 9 months (April-Dec. '18) with bookings up 13.5% (€1.351billion) and no job cuts (!)
Tencent's diversified revenue sources - and its size ($19 billion revenue in games) - does not lend itself to comparison, but the new organization, announced in September '18, sets games, still the company's main profit center
While prudent management, weak pipelines of new games and global trade-related uncertainty have all contributed to the industry's fall-back, deeper causes might be playing out
Electronic Arts seems to rely on its EA Sports game franchise and third party developers, with little to show for its efforts in 2019
Acitivision will be running with its 'World of Warcraft' hits, without any "frontline release" planned for the 2019 fiscal year, and the publisher will not attend the June E3 videogame trade show in Los Angeles with its usual space on the show floor
Tencent, while booking some run-away successes on the international markets has singular problems to contend with on their home turf
The sites dedicated to the game industry make for uncomfortable reading
It is true that the new big 'hits' are hard to come by and costly flops have the industry rushing to the safety of past money spinners
But the industry's outlook might reflect the obvious - none of the traditional segments (consoles and PCs) grow any more and mobile - which was the only driver since 2010 - seems to stabilize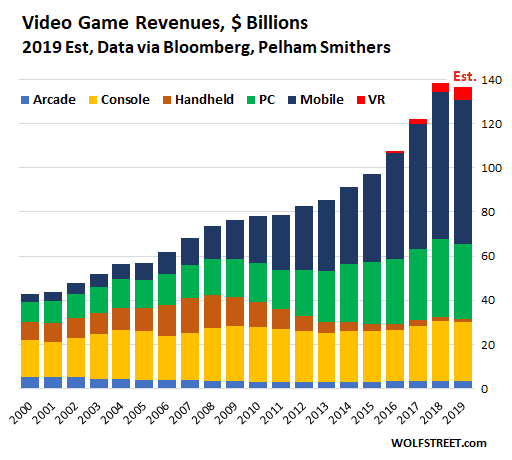 Is the bloom off the rose ?
Not so ....
Advance in technology could very well lift the game industry out of the doldrums
Mobile processors have been getting more powerful, and RAM sizes have increased to the point where mobile becomes competitive with PCs for many games (but not all the very high definition ones)
4K resolution (more than 4000 horizontal pixels) displays equip all latest monitors and laptops, showing crisper images and more details
AR and VR technologies, developed for Mobile, have been spreading for PCs and consoles
But a Battle Royale is engaged around cloud gaming, which will give access to high-end games from any existing box, dispensing of consoles (or PCs) entirely and putting mobile on a level playing field
Google has announced that its Stadia game streaming has graphic performance of 10.7 Tflops , which is more than Sony PS4Pro and Xbox 1 combined
Mid-May '19, Microsoft and Sony announced a cooperation on videogaming and cloud services, a defensive move as their competing legacy consoles (Xbox and Playstation) might be overtaken, but also a vote of confidence new gaming markets will be opening in a few years

Both companies are still launching new consoles, PS5 and Xbox2, signaling the business model might still have 3-5 years to run....
One of the industry's luminaries, Yves Guillemot of Ubisoft...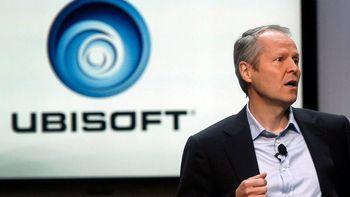 ...just a year ago (June '18) predicted easy access to high end gaming over the cloud benefiting a much larger addressable market
With the option to play on any screen, much faster growth of the gaming industry would become a near-certainty, provided the promising technology is achieved in the coming years
Cisco seems to believe so
The company expects average broadband speed to increase from 27.5 Mbps in 2016 to 53 Mbps in 2021, coming from 3.7 Mbps in 2007
Projections of mobile data traffic between '16 and '21 anticipate a 7-fold increase (CAGR of 46%) and increasing twice as fast as global fixed IP traffic
And Google certainly seems to pull out all stops; Techspot explains
Similar to Microsoft's upcoming xCloud, Stadia uses custom-built servers to physically run games. Google partnered with AMD to ensure each server contains an x86 AMD processor running at 2.7Ghz, 16GB of RAM, and a custom AMD GPU that boasts 10.7 teraflops of performance. Google openly compared Stadia to both Xbox One X and PS4 Pro which run at 6 teraflops and 4.2 teraflops, respectively
The challengers defy established standards of broadband speed and computing power, lining up server armies and preparing to take to satellite constellations
Technological breakthroughs will transform the way games are played but, as 'content providers', the publishers might be in line for a major shake-up
If the new technology delivers, probably by 2020-2021, the gaming industry expects to be ready, as we hope to discuss in 'A matter of principle'