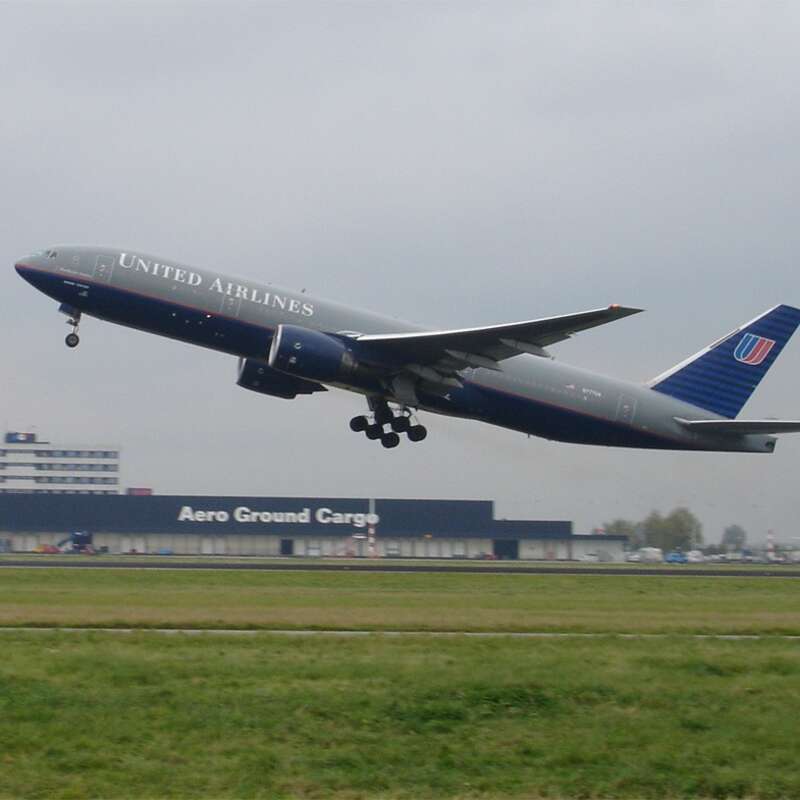 Surging clientele on global markets
Pin-insights
With the acquisition of a significant stake in Air France - KLM (14% as of Feb. 27, 2019), the Dutch government signaled unambiguously how European mergers walk a narrow path between global strategies and national interest
In the case of national flag carriers, especially successful ones in terms of prestige, financial results and employment, such as KLM, national interests bring global ambitions to a halt more often than not
And, as we argue in our report, European airlines remain laggards in terms of restructuration and mergers, with limited opportunities to compete on the growing inter-continental routes
But with keen awareness of the global competition, to which the Dutch economy, with its powerful commercial and industrial hub, is exposed like no other, KLM backed by the Dutch government, may actually push for further airline integration across Europe
Air France will lose its overweening influence if - and when - a third partner merges with the company, but in a European perspective, it is a matter of survival
We will attempt to project growth patterns on the global airline routes - sounding both as a warning and a call to arms for the European flag carriers
The implications of the Dutch engagement will be discussed in a follow-up report
****
The airline industry seems to be continuously on the brink …
On the brink
When oil prices take unhedged companies on a wild ride
Because of periodic seat overcapacity on key routes – and brutal swings in demand
Because new entrants competing on price from a low cost base endanger legacy carriers
When technological advance in engines powering the planes opens longer – and less energy consuming routes, exposing established airlines to unwarranted competition
But in our view, these issues are pedestrian in the broader scheme of things, where well-established – and esteemed – airlines may not exactly fade away but remain stuck on their larger regional markets – North America and Europe
The lightning growth of China and of the larger Asian markets could be the gateway to this new reality
This is the promise projections of IATA (the International Air Transport Association) for 2036 may hold, with a degree of moderation...
to/from/within
Growth Rate
Additional Passengers
Total Market
2016/2036
Year-on-Year
(in millions) by 2036
Asia-Pacific
4.6%
2 100
3 500
North America
2.3%
452
1 200
Europe
2.3%
550
1 500
Latin America
4.2%
421
757
Middle East
5.0%
322
517
Africa
5.9%
274
400
Total
7 874
Over time, countries with a large geographical expanse have been at a premium (and this will continue to be the case)
The US - putting its house in order
US airlines restructured after years of dismal losses amounting to $60 billion for the industry between 2001 and 2005, according to industry trade group Airlines for America
Delta Air Lines merged with Northwest Airlines in 2008
United with Continental in 2010
American with US Airways in 2013
and Alaska Airlines with Virgin America in 2016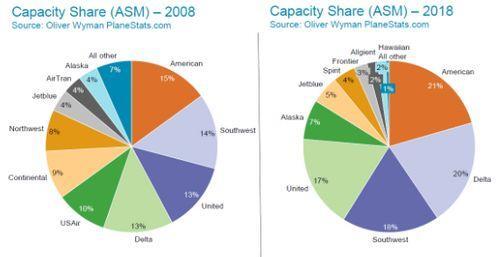 Controlling significant market share, the networks of legacy airlines have relied on hub airports to service local destinations as so many 'spokes'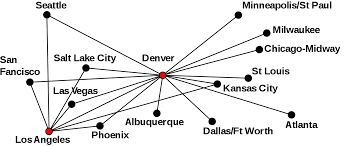 To forecast the future of the industry and to identify the growth opportunities by country and by national airline, the hubs will most probably remain the deciding factors
The architecture has outlasted large geopolitical shifts, and the US model is prevailing across the world
Most markets block 'cabotage' which would be the option for foreign airlines to carry commercial passengers between two locations within a given country
Domestic traffic is effectively reserved to the national airlines on their respective markets
The notable exception to the rule prohibiting 'cabotage' is the European Union, where all country members grant cabotage rights to one another
But the 'hub and spoke' network has also opened opportunities of point to point airline service between heavy travelled destinations, such as the Caribbean or US tourist destinations, of which US budget and regional airlines have been taking advantage
The strength of the US airport hubs – like so many 'boots on the ground' – remains in our view the backbone of the American airline industry, with 8 out of the top 12 airports worldwide
Atlanta (more than 100m passengers / year
Los Angeles (85m passengers)
Chicago (80m passengers)
and Dallas (65m passengers)
ahead of Denver, New York, San Francisco, Las Vegas
With a record 848 million passengers in 2017 (+ 14 % over ten years), IATA expects the North American region to grow by 2.3% annually, adding 452 million passengers (total market estimated at 1.2 billion passengers in 2036)
As of September 2018, the rolling 12-months net profit margin of US companies signals - in various degrees - the industry's good health
Delta's rolling 12-months net profit margin of nearly 7.9 % outpaced its closest competitors
American's profit margin was 3.1% and United's 5.6 %, according to pininvest fundamentals
Europe - integration or perennial fragmentation ?
The urge to merge has been fitful with the top 7 airlines controlling 55% of the seats to/from/within Europe (compared to 82% for the top 7 North American companies)
In 2004, Air France merged with KLM,
followed by Lufthansa with Swiss (2005), Austrian Airlines (2009), Air Berlin subsidiary LGW (2017) and Brussels Airlines (2018)
and the combination of British Airways and Iberia to form IAG (2011) with an acquisition of Vueling (2013), Aer Lingus (2015) and of Norwegian perennially under consideration (2018)
The process of consolidation remains a work-in-progress – with Lufthansa net income ratio at 6.6% and IAG at 8.6% better positioned than Air France, which posted a € 274 million loss on revenue of € 25.8 billion (based on Yahoo Finance 2017 data)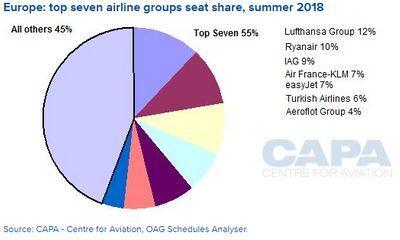 With political roadblocks, complex labor relations and cultural differences, a market reach comparable to the US carriers is improbable, tamping down international ambitions in the long run
The European market is expected to grow at 2.3% a year, adding 550 million passengers (total market estimated at 1.5 billion passengers in 2036 according to IATA)
And the hubs remain structured around their national flag carriers, limiting the scope of their regional ambitions
Rankings with London (n°7) – Paris (n°10) and Amsterdam (n°11) – Frankfurt n°14 and Istanbul n° 15 put the companies on the back foot, with the US hubs holding their own ...
...and Asia surging
Asian airports are n°2 (Beijing), n°4 (Tokyo), n°8 (Hong Kong), n°9 (Shanghai), n°13 (Guangzhou) with New Delhi, Jakarta, Singapore and Seoul in the top 20 world airports
| | | | |
| --- | --- | --- | --- |
| to/from/within | Growth Rate | Passenger Growth | 2036 Share of |
| 2016/2036 | Year-on-Year | over 20 Years | Global Travel |
| Asia-Pacific | 4.6% | 60% | 44,5% |
| North America | 2.3% | 37,7% | 15,2% |
| Europe | 2.3% | 36,7% | 19,1% |
| Latin America | 4.2% | 55,6% | 9,6% |
| Middle East | 5.0% | 62,3% | 6,6% |
| Africa | 5.9% | 68,5% | 5,1% |
Growth rates on routes to, from and within Asia-Pacific of 4.6% (as estimated by IATA) would be approximately double US and European projections for the coming 20 years
The projection translates in an extra 2.1 billion annual passengers by 2036, for an overall market size of 3.5 billion within the Asia-Pacific zone and might be underestimated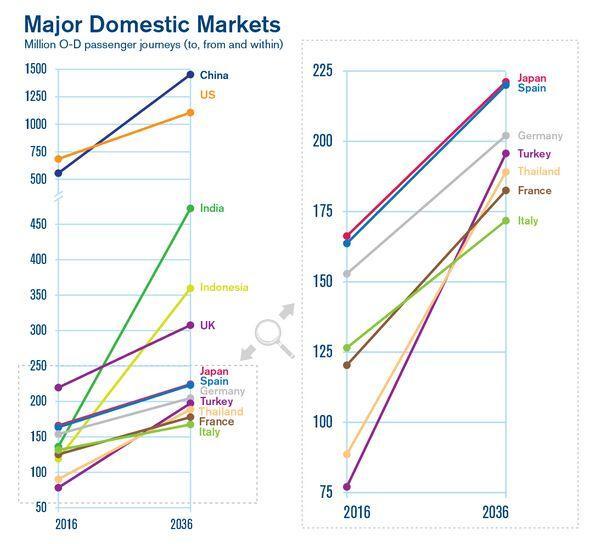 With the Chinese Civil Aviation Development Five-Year Plan (2016-2020) estimating the air passenger number to grow 10.4 percent annually to 720 million by 2020 alone, the weight of the whole region could be significantly higher
Boeing predicts (as of September '18) that, by upping the projected annual growth to 6.2%, China will need 5,730 single-aisle planes up to 2037, accounting for 75 per cent of the total, in addition to 1,620 wide-body fleet, which will triple the current size over the next two decades – a total of 7,690 aircrafts
To cope with the surge in passengers, China plans to build 74 new civil airports by 2020, taking the total to 260. Up from 175 in 2010 and 229 in 2017, the Five-Year plan amounts to more than ten new airports through 2020 - 139 airport expansions are also planned

In South-East Asia, airline turnover is expected to triple in 7 years from $12.5 to $40 bn by 2025. Airlines 45% of total travel online budget – high demand of LCC (35% of bookings vs 13% of APAC) – high internet penetration (55% vs 35% for regional carriers)
Undoubtedly, the expansion will prove beneficial for Asian airlines, not least because travel is mostly concentrated between Asian countries and because, on international routes, Asian nationals will tend to prefer their country's flag carrier
Growth rates, coming to a head for national carriers
The shift in growth trends worldwide points to fast growth in air travel on the Asian markets and in contrast, maturing developments on the Western markets
Growth on the Asian markets is projected at 60% over 20 years by IATA – an estimate which might be lowballing the buying power of emerging middle classes, their travel interest in the broader Asian region and the ambitious 2020 infrastructure program in China
The fastest-growing Asian markets in terms of annual additional passengers in 2036 compared to 2016, according to IATA will be
China (921 million new passengers for a total of 1.5 billion)
India (337 million new passengers for a total of 478 million)
Indonesia (235 million new passengers for a total of 355 million)
While the IATA 4.6% 20-year projections are only indicative of general trends, we argue that China – and possibly Indonesia – will achieve the 2036 target much faster
Growth rates range from 6.2% (estimated by Boeing, over 20 years) to 10.4% (according to the Chinese Civil Aviation Development Plan over 5 years), with a Morgan Stanley prediction in personal consumption in the smaller cities of 8.7% until 2030
All the projections are well above the IATA estimates and even retaining the lower estimate suggested by Boeing, China and the US will count approx. equivalent of 1 billion passengers each within 10 years, starting in 2017 at 550 million and 850 million passengers respectively
By 2036, China air transport market would, based on Boeing's estimate, reach 1.8 billion passengers, approx. 50% larger than the US market at that time
These estimates do not cover the large countries of South-East Asia and of India, where the enrichment of a growing middle class will have a similar impact
Taking into account the current cabotage rules, and as implied in this report, the large countries and the integrated European Union will be at a considerable advantage because their internal markets are broadly protected – and most passengers travel within their own country
For the US, as of 2017, domestic travel represented 87% of total 850 million passengers
If growth mainly benefits national aerospaces, the Chinese airlines listed in our theme will capitalize on a remarkable potential
Exposed to global market share loss, US airlines could
either double down on domestic protective measures, losing most of the Asian international routes over time but keeping their hold on inland travel
or strengthen the ties with their natural allies in the Pacific basin, by accepting flexible cabotage rules to secure a solid presence across the Asia-Pacific region

the price to pay to maintain a significant international role ?
the price also to contain Chinese influence in the entire Asian region by forging strong bonds with national airlines from Japan to Indonesia to India ?
The decisions, either reluctantly made or forcefully chosen, will weigh on long term strategies and they can be expected reveal themselves in the medium term