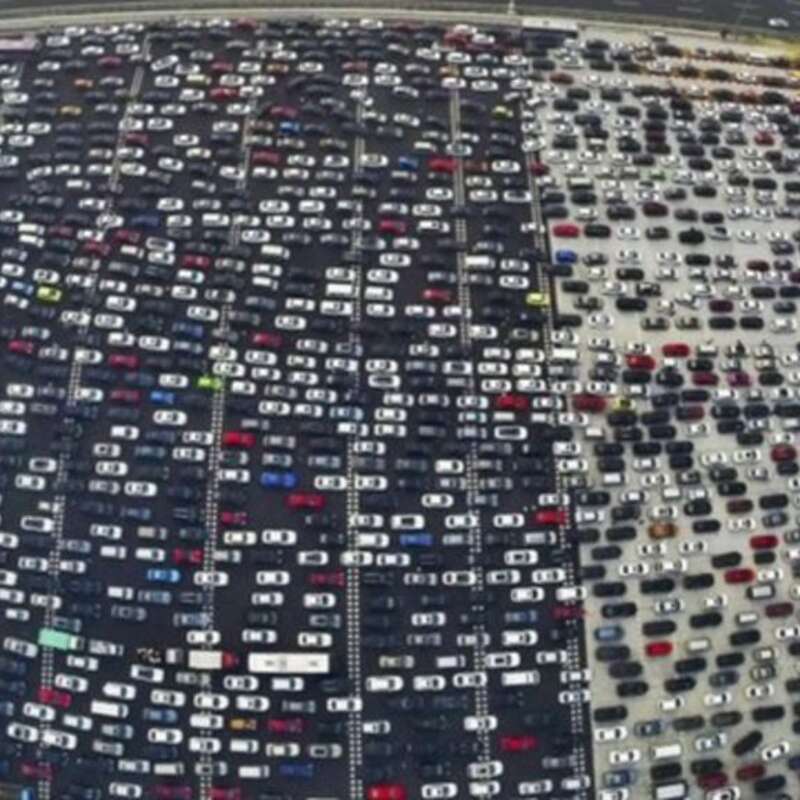 Tesla - avant-garde or poster child
Laying out the facts, this note will not argue with the true believers in the electrical vehicle and the self-driving revolution engineered by Tesla – nor is it seemingly possible to convince the investors, who are afraid to be 'left behind', that there is a fair price of everything, even for a Tesla share…
Tesla's highly recognized brand, revolutionary approach to automotive solutions and front-running position in advanced countries are an extraordinary feat, achieved by Elon Musk, the driving force behind the firm
Investing relentlessly (adding $1.5 billion to net "Property, Plant and Equipment" year-on-year by Sept. '20), Total Debt more than tripled since Q1-2015 and Long-Term Assets more than quadrupled, funding 80% of the company's balance sheet with liabilities
Simply stated, Tesla's assets were financed almost exclusively with debt, mainly debt which could be converted in equity
Putting doubters to shame, Tesla demonstrated by mid-2018 that revenue was starting to grow significantly faster than the debt burden
Over the next 12 months (2018-2019), the trend became undisputable and the stock price started its long track from $63 (Oct. 1, 2019) to $570 (Dec. 1, 2020)
Some answers, but certainly not all...can be found in this report - how these developments came about, what should be recognized as weaknesses in Dec. '20 (the firm's strengths are well known...) and how legacy car manufacturers are responding
Update of the note, first published in August '20
They are here again !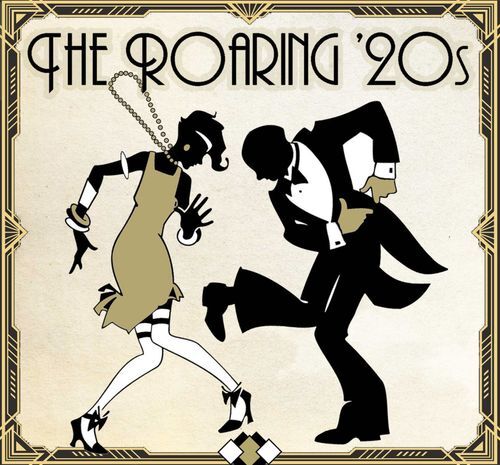 This is how PBS describes 'the Roaring Twenties' in the American Experience, with great photography from "the age of permanent prosperity" ... or so they figured a hundred years ago...
Many Americans spent the 1920s in a great mood. Investors flocked to a rising stock market. Companies launched brand-new, cutting-edge products, like radios and washing machines. Exuberant Americans kicked up their heels to jazz music, tried crazy stunts, and supported a black market in liquor after Prohibition. A popular expression of the time asked :
"What will they think of next?"
Maybe a timely reminder…?
With no axe to grind (being neither long, nor short Tesla stock), the analysis will focus on financial and market share data, leaving evaluation of the EV firm's technological advance in battery and in self-driving software to informed specialists
Sticking to the numbers – the stockholders
Private investors have taken command of Tesla stock with unusually large ownership percentages
According to latest data (Feb. 20 on Fintel and Jun. 20 on NASDAQ),
Total of shares outstanding : 947.9 million shares (after accounting for stock split)
Financial institutions : 397.9 million shares (41.98 % of total)
According to the Fintel listing, large privately owned stakes are included in SEC 13 D/G filing for institutionals
The major private owner is, of course, E. Musk , whose share ownership is still recorded before the 5/1 split at 38.6 million shares according to SEC 13 D/G filing (as of Feb. 20) – which represents 32% of holdings classified as 'institutional' and close to 21% of the entire company - down from 40% as institutional holdings increased by almost 100 million shares since Jun. 20 record
Listing Elon Musk's shares as 'private' is not how shareholdings are usually reported, but it accounts for the fact that the entrepreneur is a big factor in the trust expressed by the general public
non-financials (private shareholding) which topped 68%, including the 21% stake of Mr. Musk, are down to 58% as of Oct. 20
institutional interest (investment funds and the like) increased from 32% in June '20, which was unusually low, to close to 42% as of Nasdaq latest record
by comparison, 62% Apple stock is owned by financial institutions – Steve Jobs owned a small stake at his death and the ownership of other individuals such as A. Levinson (Chairman) 0.03%, T. Cook (CEO) 0.02% or Al Gore 0.01% remains small
This large base of private investors has meant a lot
'Keeping the faith' and holding on to their shares for the long run, private investors have remained unaffected by poor quarterly reports
The unusual balance in favor of private investors may have explained why short sellers, confident in their financial acumen, made a grave miscalculation in their bets on falling share prices...and why the investment professionals were lukewarm
It appears Mr. Musk did not sell any shares (in fact, investing $10 million in shares in Feb. '20) but the private ownership of the company turns out more unusual than ever, increasing Mr Musk's share to 36% as private investors sold out (100 million shares to the institutionals)
And there may be more to come...
Inclusion in the S&P market index is driving the demand of institutional investors for their tracker funds
Because of the large size of the funds - SPDR State Streeet has around $328.4 billion assets under management and iShares net assets of $240 billion, buying orders on TSLA will be very large as well....
Sticking to the numbers - the S&P 500
Tesla Motors , with the 6th largest market cap at $539 billion as of Dec. 2020, will be entering the major S&P indices on Dec. 21, 2020
According to the guidelines summarized in the S&P 500 Brochure, "the sum of the most recent four consecutive quarters ... earnings should be positive as should the most recent quarter"
Details about Index Methodology for inclusion could not be found in the Equities Policies and Practices for S&P Dow Jones Indices
With positive earnings - 'Net income attributable to common stockholders (GAAP)' - Tesla was compliant as of June 30, '20
| | | |
| --- | --- | --- |
| unaudited | by quarter | $ millions |
| Sept. 30 | Q3-2019 | 143 |
| Dec. 31 | Q4-2019 | 105 |
| March 31 | Q1-2020 | 16 |
| June 30 | Q2-2020 | 104 |
| Oct. 31 | Q3-2020 | 331 |
Q3-2020 update (Statement of Operations)
As we observed in August, the question pending was when (not if…) Tesla would announce a new common stock offering, following the Feb. '20 issue of $2 billion - investors did not have to wait for long : a $5 billion stock offering was announced early September
The five-to-one stock split announcement on Aug. 11 further contributed to the price run-up, as explained by most commentators, but the event remains, in our view, less important than inclusion in the S&P 500
The GAAP accounting data as of June 30 may have been a key factor behind the initial price run-up from $1 079 to $1 500 (on July 16) and of the additional price jump following a fallback to $ 1 374 (Aug. 11), as the fund managers anticipated the index inclusion, with a sense of urgency
Sticking to the numbers – building a new industry from scratch
In "Car chips are down", we argued
Leading the innovation in Western markets, Tesla Motors is a major beneficiary of the disruption, both because the firm is not burdened by the legacy industrial investments and internal combustion know-how accumulated over decades, and because capital expenditures for Tesla cars are distributed along its supply chain, built from scratch
The significant valuation of Tesla could be the reflection of the difficulties weighing down the major car makers – giving Tesla a free hand to take on the market – rather than proof of unique technological advance alone
it is early days and difficult to identify the future winners who will prove able to surmount the new challenges in car manufacturing,
managing the impact of new – simplified – assembly lines on existing production modes
recasting their relations with car component makers who are forced to rethink their business models
coordonating unfamiliar technological partners in their supply chains
The shift of production lines away from existing processes is undoubtedly a costly industrial challenge but an engineering feat the car majors have the expertise to take on
However, the advent of EVs and autonomous-car driving features has also opened the supply chains to a host of new software and technology players who have every intention to capture the added value
In effect, both car manufacturers and car component makers have to confront strategic options to protect their brand reputation and the trust of the public
On account of Tesla's current performance, the firm has been winning hands down, but by outsourcing development of many, if not all, of the key components - and presumably the related research (R&D is 4.6% of revenues as of 2020) - Tesla relies for its success on build-in dependencies, bowing to the necessity to marshal the huge capital outlay - indirectly
As reported at year-end 2019, Tesla's $16 billion contractual purchase obligations are indicative of the commitments the firm made to secure delivery of supplies such as raw materials, components and services from third parties, and (presumably) to guarantee the investments made by some suppliers
But the grand total also includes a large amount of estimable purchase obligations ($13.79 billion) and since some of the company's obligations to purchase are off-balance sheet items, with amounts based on estimates, it is impossible to reconcile total commitments reliably
Still, at more than $16 billion (as of year-end 2019 - page 58 Q4-2019), to be fulfilled over 2020-2023, adjusted in each quarterly report (page 46 - Q3-2020), purchase obligations are very large, at approx. 50% of total assets ($34.3 billion), compelling the company to pursue growth relentlessly ... and flawlessly
Sticking to the numbers – the market share
The case has been made again and again - Tesla's global market share is insignificant, at 179 050 cars in the first half '20
According to focus2move, the World Light Vehicles ranking in the first half of 2020 aggregates sales by manufacturer group
Toyota Group on top, reaches a 12.4% market share (4.02 million vehicles, a drop of 23% year-on-year)
Volkswagen Group (11.3%) drops to the second position with 3.69 million vehicles (- 27%)
Renault Nissan Alliance stays in the third position with 3.36 million units sold (-32.2%)
Hyundai-Kia takes the 4th spot with an 8.6% share with sales of 2.78 million (-19.7%)
The loss of car sales may be running into the millions for the three top contenders, but their dominance of the industry remains undisputed
The comparison of Tesla's 13% increase in vehicle deliveries for the 1st half of 2020 with these negative trends across the industy in the first 6 months is misleading... drawing a very mistaken picture of competitive challenges playing out in the Plugin market segment and in fact, the chart has not been posted again on the Tesla Q3-20 report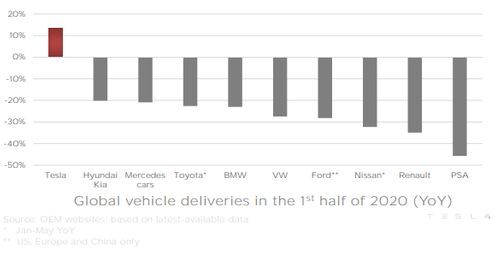 A close look at the Plugin and pure-EV segments of the major car manufacturers tells a very different story...
Competing on international markets
In terms of presence on the global electrical plug-in market (fully electric vehicles as well as plug-in hybrids), Tesla remains the dominant player, benefitting from its head start and technological advance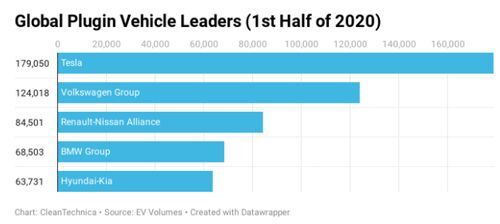 According to ev-volumes, total sales by region, all manufacturers combined, have been in a patchwork of contradictory trends in the first half of 2020
Asia (China & Japan) were down 40% on average, while their total car market dropped half that much, by 20%
In the US, Coronavirus lockdowns extracted their toll on both Plugin's and the total market - both down 25%
In Europe, the reverse is true - with very strong EV growth (+57%) against a falling total market (-37%)
To interpret the trends, two factors come in play, on top of the ever-present lock-downs
Plugin sales incentives, reducing the ticket price, are falling in China (driving sales down by 280 000 vehicles) while the incentives have been boosted in Europe (up 150 000 vehicles)
Competition has become a major factor on markets Tesla 'owned' as prime mover
Looking forward, the two regions dominating total plugin sales are China and Europe, with approx. 40% each and the US represented just 11%
With a factory in China (Shanghai) and a factory under construction in Germany (near Berlin), Tesla has its priorities right
In China
with a market presence in all vehicle types, from buses to low-medium to high-end personal vehicles, domestic competition has thrived on regulatory frameworks limiting the consumer options at country-, provincial- and city-level, as discussed in 'an Electrifying Future'
Tesla, a newcomer, will be seeking a high-end niche market - battling with BMW and Mercedes China-made cars - with high hopes for its two models - Model 3 is in production - with an annual production target increased from 100 000 to 250 000 Model 3 cars, repositioning the car at an entry price point for mid-sized sedans ( the production line of Model Y, announced in Q2, is not confirmed by the Q3 report)
Actual sales in China are not known, beyond the Q2-20 statement 'Model 3 has received a strong reception in China, not only becoming the bestselling EV, but also competing with mid-sized premium sedans...'
According to the International Energy Agency (IEA), 2.3 million EVs and hybrids were on the Chinese roads in 2018 (with 1.1 million vehicles sold that same year), representing 4.5% of the car market. Bucking falling trends in 2019 (-8.4% in sales of combustion vehicles, down 2 million vehicles), EV sales remained stable at 1.2 million cars
Tesla's upbeat public statement presumably refers to a narrow market segment of luxury cars, which may, or may not, grow considerably in volume, as the repositioning of Model 3 seems to suggest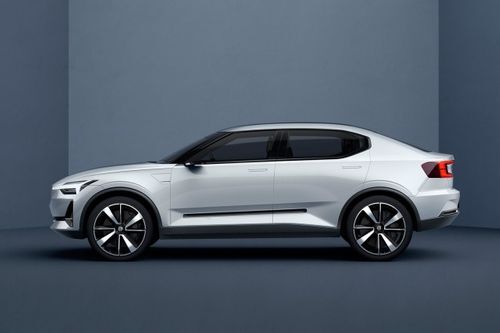 Reports seeded with upbeat projections of China's potential for Tesla will be watched closely, not only because of geopolitical uncertain
China's car makers align with governmental priorities and are determined to hold their own in every segment of the domestic market, including luxury...
Side-stepping the familiar franchised dealerships, Tesla's distribution strategy, via its own network of showrooms where customers can view a vehicle before placing an order online, is bound to create frictions with well-regarded dealers as Tesla's stake on the Chinese market grows. A recent and unauthorized Model-3 promotion in Wuhan may have been a harbinger of the price war picking up steam...
In Europe
Sales data published by industry analyst Matthias Schmidt, quoted on insideevs.com, focus exclusively on the all-electric car segment, the most relevant for Tesla and its direct competition
excluding hybrids, EVs still grew in the first half '20 by 34% - to 216 000 vehicles (which is about half the total 414 000 units including all plugin's)
While Tesla had a banner year in 2019, with competition still gearing up and line-ups incomplete, significant inroads have now been made
still a leading brand with 36 700 cars , of which 32 300 Model 3 and only 4 400 for the top range, Tesla retains a 17% share
but Renault took the lead with 42 000 cars, the low-priced Zoe (37 540 cars, +50%) becoming the top selling EV in Europe
Still a strong contender, Tesla cannot be pleased - sales dropped by 18% in a regional market growing by 34% (all-electric) and by 57% (all plug-ins)
In Germany
Along with France, Germany is the largest European car market and a likely trend-setter for the electrical future
Sales numbers remain tiny at 61 105 EVs (thru July 30 data for 7 months '20)
From about zero two years ago, EV sales increased by 65% year-on-year, 2020/2019, bearing a message...Europe's large car manufacturers are alive and well and kicking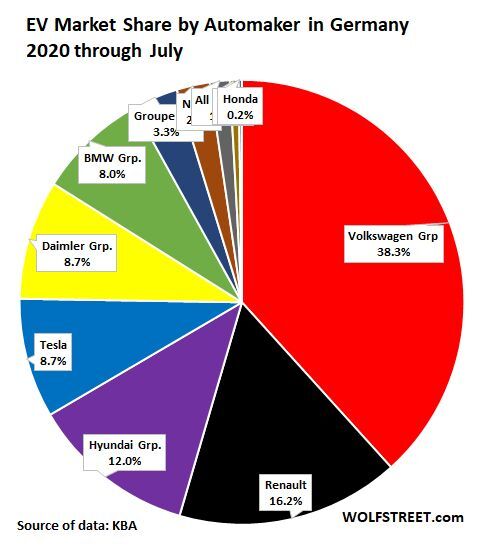 Arguably, German manufacturers recovering the crown in their home country, with about 2/3 of the fledging EV market, was to be expected and EV luxury sedans 'made in Germany' were bound to hurt Tesla's ambitions (source - KBA, the German new vehicle-registration agency)
The strong showing by Renault (with its affordable Zoe becoming Europe's top EV seller), by Hyundai and by part of the VW line-up, may be more worrisome
Undoubtedly, the drivers of rocketing sales in Europe (+57% for all plug-ins and +34% for pure EVs) and in Germany (+65%) have been in the low-to-middle price range, where volume will push manufacturing costs down relentlessly
It is fair to assume that projections of EV sales growth will remain very high for years to come as regulatory inducements and pent-up demand reconfigure the market but, if 2020 so far is any indicator, Mr. Musk has a fight on his hands
Inroads in Tesla's 17% European market share (July '20) by the German luxury brands with attractive line-ups in the middle-to-high end segment seems preordained
Demand will cluster at the low - volume-driven - end of the EV market, slamming into Tesla's well-honed marketing strategy
Undoubtedly, Tesla will make its mark and benefit from the shift in favor of car electrification, encouraged by the European authorities, but the company will not be alone
Tesla vehicle sales numbers will rise and possibly best their European luxury competitors, but holding on to an 8 to 9% market share, as is the case in Germany today, cutting today's European market presence in half, would be a great achievement by itself
We look for no more..
How uniquely unique Tesla is
Not unlike beauty, uniqueness at Tesla will remain unquestionable true ...until it is not
Therein lies the paradox - and Elon Musk, if he ever were to read this note, would share our conclusions
Tesla's founder has created single-handedly, by a sheer act of will and force of conviction, a category sated and sleepy car- manufacturing behemoths felt convenient to ignore
The general public has benefitted - both as drivers of exceptional vehicles and as potential customers of a car industry rediscovering the virtue of nimbleness
In sum, first mover advantage has been great while it lasted
Putting wind in the sails of the fledging company, the regulatory authorities around the world aided and abetted the innovative push
China's early commitment to electrification commingled industrial strategy with urban planning imperatives
The nation-wide Chinese experimentation fell on fertile ground in some U.S. states and in Europe where environmental concerns and ambitions for 'livable' cities upended traditional political commitments
Putting a regulatory lid on greenhouse gas emissions, governments set out their store of enticing subsidies and credits, of which Tesla, first mover again, was to benefit greatly
In sum, first mover advantage is great (again) but can it last ?
U.S. regulatory credits are allocated to the firms with zero emissions and bought by competing car companies to bring their average emissions in line with State regulations
By selling its credits to the likes of GM or Fiat-Chrysler (both known buyers), Tesla benefits all the more because credits have no 'cost' and the 'revenue' derived from their sale drops directly to the bottom line
This is how net income turned positive quarter after quarter and, according to CFO Kirkhorn, the company expects 2020 to be a banner year with the sale of over $ 1 billion regulatory credits
with $428 million reported in June and $397 million in Q3-20, this projection will be surpassed
however, this regulatory revenue ($1.3 billion declared over the past 4 quarters) provides cover for the losses recorded on the automotive revenues ($624 million)
unaudited
net income (2)
reg.credits
auto.income
by quarter
ending
$ millions
$ millions
$ millions (1)
Q3-2019
Sept. 30
143
134
9
Q4-2019
Dec. 31
105
133
-28
Q1-2020
Mar. 31
16
354
-338
Q2-2020
June 30
104
428
-324
Q3-2020
Oct. 31
331
397
- 66
(1) auto. income = automotive revenues
(2) net income attributable to common shareholders (GAAP)
This note has covered the dynamics of Tesla Motors
On the stock market, dynamics remain...unusual
In an increasingly competitive landscape, worldwide, the dynamics must rely on fast growing demand in the mid-to-high end tier...less unusual but not conclusive either
On the regulatory plane, the dynamics are fraught with uncertainty, fading smoothly at best, breaking up in a worst-case scenario...