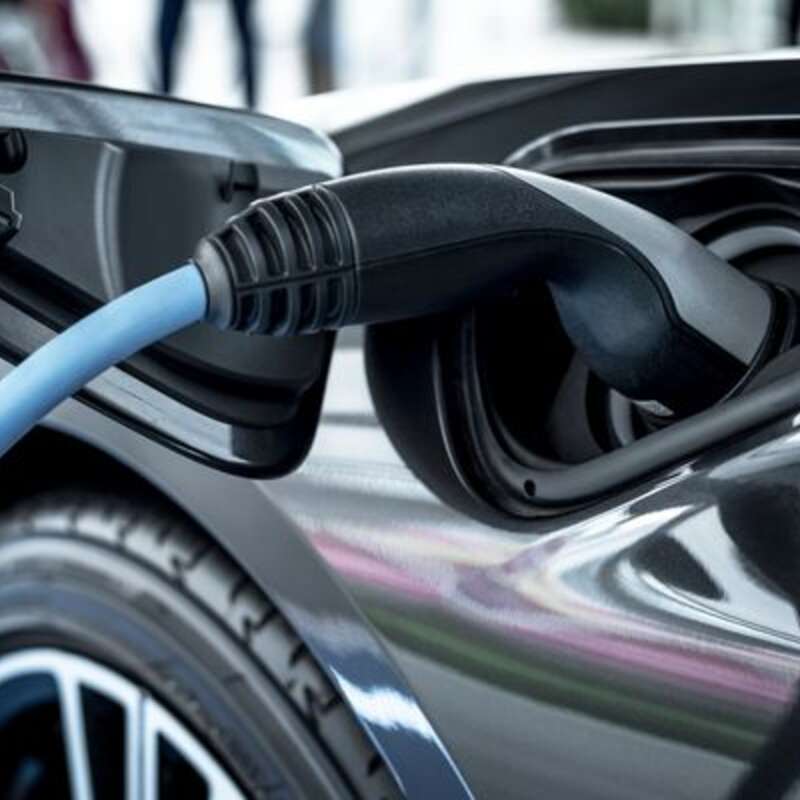 Tesla - Why were sales so great in the first quarter ?
Tesla's first quarter '21 sales of 185 000 cars have been well received – and commentators pointed to promising full year projections, since the first two months of the year were usually not Tesla's strongest
Compared to sales of 88 400 vehicles in the first quarter of '20, growth has been spectacular – but should be interpreted with caution
Q1-2020 may have been impacted negatively by the pandemic
Q1- 2021 benefitted from Tesla's strong expansion in China with locally produced vehicles
Price cuts, as reported in our recent update, have been substantial in early 2021
In any case, Tesla's sales of close to 500 000 cars in 2020 might indeed be surpassed with ease in 2021 and sales up to 800 00 vehicles (+60%) seem to be in the cards
Maybe …
But an element of evaluation is missing – regional sales, an all important factor because the drivers of Electrical Vehicle (EV) adoption rates are very different in China, in Europe and in the U.S.
As it turns out, China, with an estimated 40% of global sales, appears to be the real pivot of Tesla's growth in the first quarter '21, tripling sales numbers over the same quarter of '20 (our estimate), a performance almost assuredly not in line with Chinese planning on behalf of domestic brands in the nascent EV market
Possible regulatory pushback by the Chinese authorities and its impact on Tesla's sales must be monitored with care
Europe
Europe has edged past China as the world's largest EV market in 2020 with close to 1.4 million cars sold and a growth rate of 137%
Assuming the Jan-Feb '21 trend holds, 2021 will be another year of strong growth of hybrid (PHEVs) which jumped 117% for the 2 months, while battery-powered vehicles (BEVs) increased by a smaller 27%
Tesla's sales had dropped in volume over 2020 (-12%), which was predictable given the wide range of alternative EV brands, covering the various price ranges, entering the market
The March '21 sales of Tesla are still unknown but, based on Q1-2020 (23 743 vehicles sold) and the positive trend of BEVs in Europe, a 20% growth rate (for total sales of 28 500 vehicles) may be an optimistic but achievable assumption (accounting for the fact that low-priced BEVs tend to gain market share)
New BEVs entering the market this year include the Volkswagen ID.4, Volvo XC40 Recharge, Audi RS e-tron, Mazda MX-30, Fiat 500e, Dacia (Renault subsidiary) Spring, (VW's) Skoda Enyaq, Mercedes EQA (B and S classes), BMW iX3, Nissan Ariya and Tesla Model Y
Coming from a 31% market share in '19 of a much smaller market, dropping to 13.3% in 2020, with continent-wide competition ganging up, the trend does not look entirely comforting for Tesla
Success registered in the first quarter '21 might be short-lived
Projections of more than 150 000 cars in the full year, implying a 50% growth rate, will need to be tracked closely
The U.S.
In the U.S., a much smaller EV market with 328 000 cars sold in 2020, at less than a quarter of the European and Chinese markets, Tesla has dominated as front runner with a 62% share
Total market growth has been modest (+ 4% in 2020)
While strong federal support of electrification may turn out to be a game changer under the new Administration, implementation of publicly funded initiatives will take time and the legacy car manufacturers, both American and foreign, are starting to roll out their own EV models this year and even more so in 2022
Stil, based on registration figures, quoted by Insideevs.com, Tesla sales have spiked 18% in January '21 (compared to January '20) and over a full quarter (Nov '20 – Jan. '21), the increase over the previous Nov'19 – Jan'20 was even more spectacular (+45%)

Obviously, such growth ratios start marking a break from anemic 2020 growth in the American market, if the trend is consolidated moving forward
In the end, the driver for Tesla, and its competitors, will be the adoption rate of EVs by the American public – if the EV segment remains marginal, and growth subdued, the legacy car manufacturers will fight to establish their credibility and lay the foundation for future growth, a development detrimental to Tesla as market leader
Sales projections for Q1-2021 remain uncertain because last year's estimates vary widely for esteemed Tesla-trackers - between Carbase's Q1-20 of 52 800 and Troy Tesler's 33 536 vehicles sold
However, both analysts seem to agree on a range of 66 000 - 67 680 for Jan-March '21, which in any case, is indicative of much stronger uptake of EVs in the U.S.
China
China appears to be the least predictable market of all
In 2020 sales of an estimated 148 000 cars, 90% of which manufactured in the Shanghai plant which came on line in January 2020, gave Tesla an 11% market share in a market which grew by +12%, contributing decisively to global sales of close to 500 000 vehicles, with a 30% stake
According to Chinese plans, 2 million EVs (including plug-ins) should be put on the roads by 2022, implying a 30% growth rate in current '21, allowing Tesla to sell an additional 40 000 vehicles each year simpy by holding on to its current market share
Given what is known of Tesla's global sales in Q1-2021 (185 000 cars),
assuming our projected sales in Europe and in the U.S. for a total of 95 500
and discounting sales in other areas (Canada and APAC countries) for 14 000 cars,
quarterly sales in China have to be much more substantial - within a target number of 75 500, implying a growth rate over Q1-2020 (18 500 cars) of 300% - explained in good part by the launch of the Shanghai plant and the launch of Model Y
The outlandish growth rate allows Tesla to run well ahead of the 30% full-year growth rate planned for the Chinese EV market at large, and the firm could well have crushed the mid-to-high end competition in the process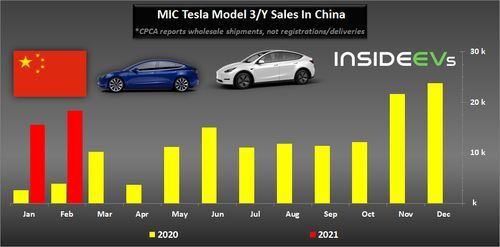 However, China's growth potential remains fraught with uncertainty
The 20% rollback of incentives, as of January '21, may have unpredictable consequences (the previous attempt to ween the Chinese consumer off incentives failed in 19-20 and was withdrawn)
Competition in Tesla's niche, at the high end of the EV market, is heating up, in China just like anywhere else, with the EV line-up of Chinese manufacturers and of German brands made in China
Very public regulatory pressure on Tesla, raising quality issues and questioning the data recording features of the cars, are a stark reminder of the company's reliance on official goodwill and suggests strongly that the Chinese leadership remains committed to the Chinese EV industry
Since quality of Chinese-made cars is said to be good, even better than U.S. production, and Tesla's camera and sensor devices could hardly have been ignored, the warnings signal the vulnerability of Chinese sales
E. Musk did not miss a beat, appearing duly and sincerely contrite in his comments, and committed to strict respect of Chinese rules
Whether Musk's swift response will be enough remains to be seen, as we expect to discuss in 'Tesla's China challenge'
Weighing regional Tesla sales in Q1-2021
While projections for 2021 are bound to remain very tentative, at this early stage and for lack of precise breakdown of sales by region, the Pininvest table highlights the potential weight of the different regions to achieve the global Q1 sales numbers – laying out sales in China and in the U.S. as key drivers
It is not a projection of actual sales by region, which remain unknown, but is based on realistic growth rates of the regional markets and competitive challenges
China +308% - not in line with governmental projections for the domestic market (+30%)
Europe +20 % - based on the 27% growth of the BEV market segment in Jan-Feb '21
U.S. + 25% - based on positive outlook of Nov. '20-Jan. '21 )
Others – Canada & APAC countries
2020
Q1- 2021 estimates
sales
mkt share (1)
est. sales
proj.growth(3)
China
148 349
11%
75 500
308%
Europe
98 995
7%
28 500
20%
U.S.
204 274
62%
67 000
25%
Other (2)
47 900
14 000
Total
49 9518
185 000
(1) market share of all EV (batteries & hybrid)
(2) Canada - APAC markets - est. by difference
(3) projected quarterly growth Q1-21 / Q1-20
A more detailed and very valuable spreadsheet by Troy Teslike, estimating deliveries by region and by Tesla model, for 2019-2021 is the reference document of the pininvest presentation
For lack of a convincing sales attribution, estimates of China have been increased by approx. 5 500 vehicles over Teslike's computations to reach the global volume, announced by the company
All sales figures are indicative, based on estimates and country registration data in some cases, since Tesla does not break down sales by region and country

We will know soon enough how wrong our estimates have been - adjustments will be made as more complete data becomes available