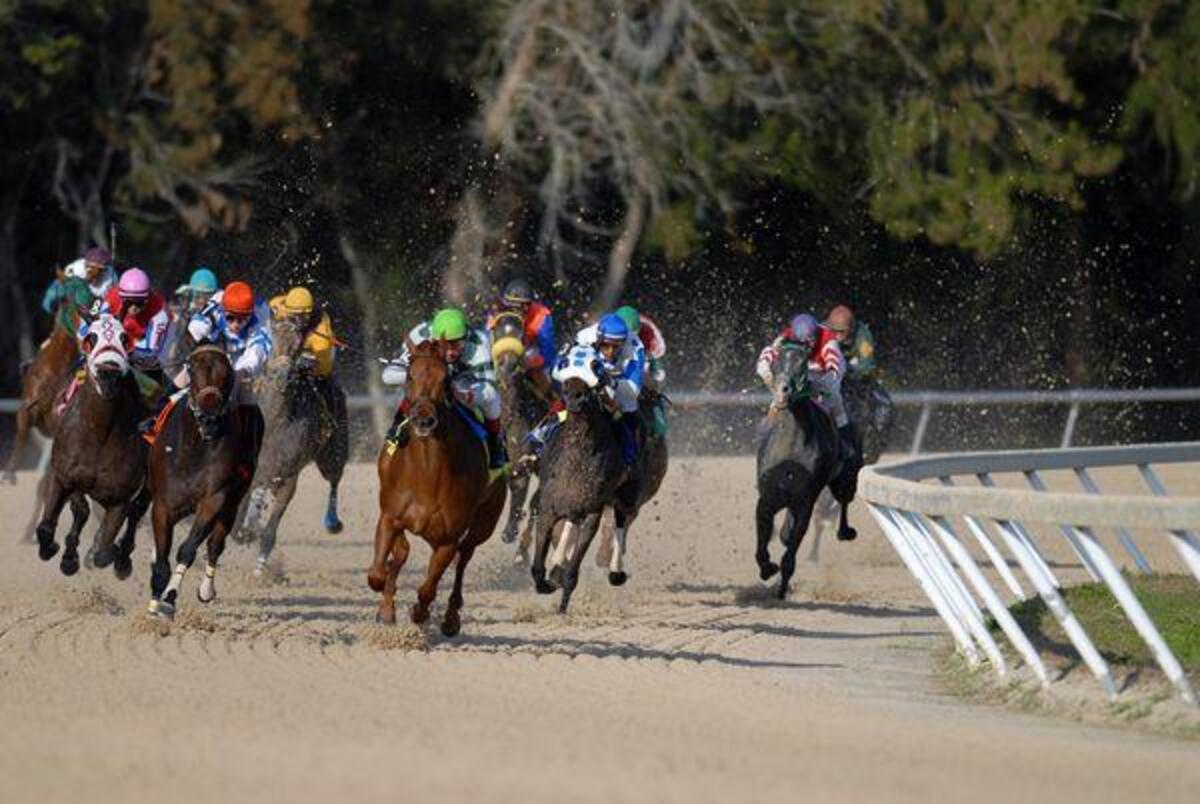 The reinvention of Rakuten
Read our introductory note about Rakuten, a neglected Internet giant
Japan's high stakes future
One of the world's most advanced economies, with high standards for efficiency, a knowledgeable population, living for 90% in urban areas, and a very high rate of Internet and online shopping penetration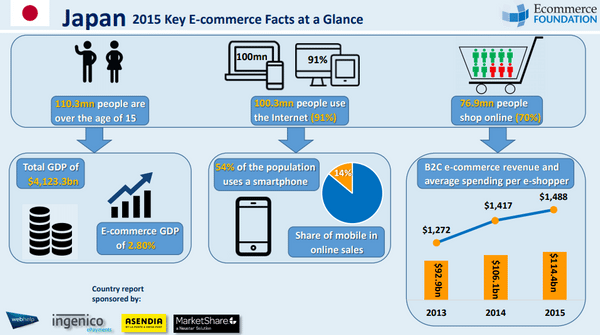 But also…
A country with challenged productivity and the dismal demographics of a fast aging population
The chart published by the British Office for National Statistics (last update April 2018) comparing 2015/2016 labor productivity across the G7 nations is sobering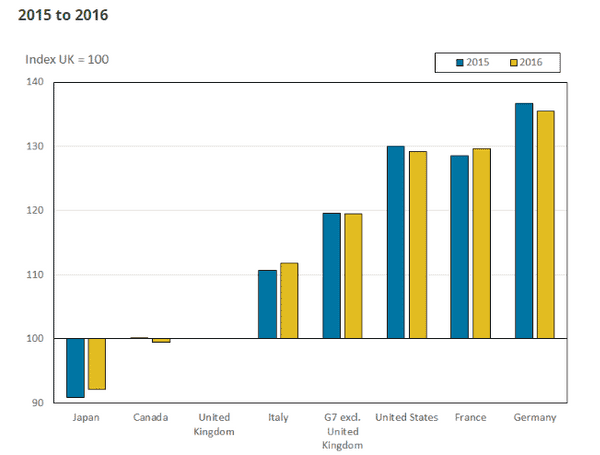 Clinging to the bottom rung of the G7 ranking in terms of levels of and growth in gross domestic product (GDP) per hour worked and GDP per worker, Japan's aging society is paying the price of self-containment...
Excerpt from a 2015 Word Population Review - The number of elderly people aged 65 or older accounts for 26.7 percent of the 127.11 million total population, up 3.7 percentage points from five years ago (2015 national census). In 2050, it's estimated by the government that 40% of Japan's population will be over 65. While 5 decades ago there were 12 workers for every retiree, there will be an equal 1:1 ratio in 50 years
The clogged growth venues of a post-modern society
With high levels of Internet use (80%) and e-shopping (77% of Internet users), progress in penetration rates has slowed notably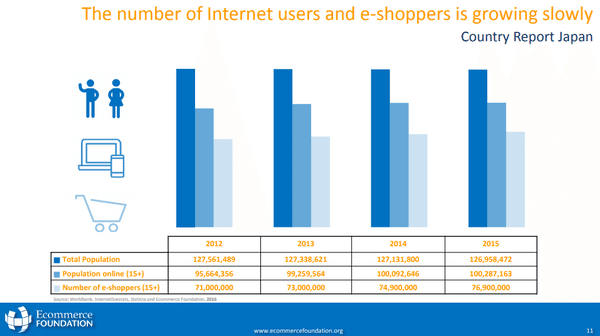 The slowing of e-commerce retail sales growth rates and projected share of total retail, in line with the US market penetration projected around 9.5% ($450bn/$5tn total retail in 2017), attest to the fact that the market is maturing
A challenge for Rakuten
The growth potential of e-commerce must rely essentially on tying new monetizing and engagement features into existing sales bundles
In volumes, Japan follows close behind Great Britain's e-commerce turnover and Rakuten's strong market presence on the Japanese market is a credible foundation to expand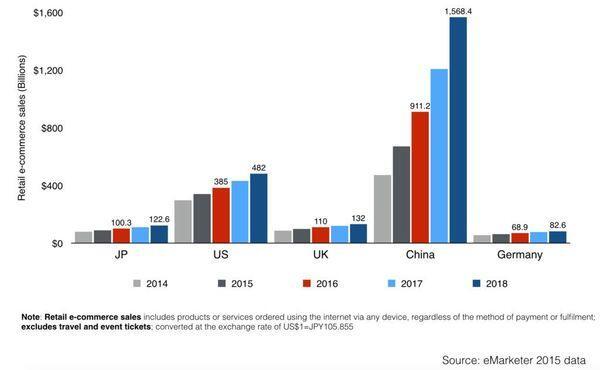 In contrast, the growth of China's e-commerce which is uniquely boosted by broad e-commerce adoption in a fragmented market, with limited access to most payment methods by an underbanked population, should probably be viewed as an outlier
This is why Alibaba and Tencent, the two Chinese powerhouses, do not offer much of a roadmap for Rakuten's expansion
And the original attempts to export the company's successful e-commerce market model (commission based sales on an Internet platform on behalf of third party retailers without getting involved in the logistics of distribution) have been thrown into question
either foreign markets turned out to be mature, and potential rivals entrenched
or developing markets had inadequate logistics, making duplication of the market place model impossible
Because of the complexity of Rakuten, with 146 consolidated subsidiaries worldwide and 70+ services in Japan alone, we will focus on the drivers of the company's enlarged 'eco-system'
An eco-system
By 'eco-system', as defined by the company, we understand Rakuten's ability to connect with a growing community of clients, members and subscribers
members, clients on one of the company's market places (Rakuten Ichiba in Japan, Ebates in the US)
customers of the digital travel services,
users of any one of the financial services provided by Rakuten (banking, credit card and security services, insurance incl. 2018 acquisition of Asahi Fire & Marine)
subscribers to IP communication (Viber) and, from 2019, mobile phone services (4G licence approved in April '18)
brands benefiting from marketing and custom audience-acquisition services, based on AI and machine learning, combined with a strong data strategy
Opportunities for targetted advertising and cross-selling of financial products will most likely be boosted by extending the reach of the eco-system, on the back of IP communication and mobile phone services
But a deeper relationship with the existing client base and recruitment of international (non-Japanese) clients will only come to pass if the legacy e-commerce business regains a true leadership position in Japan itself
Rakuten Ichiba
Because the market place was a founding principle of the company, the 95 million members in Japan are also the keystone of its future success
Slippage of market share is the hurdle that has to be overcome to demonstrate how Rakuten masters the evolving expectations of the Japanese consumer and regains ground in the face of Amazon Japan
By leaving warehouse and inventory management to the merchants on its marketplace, Rakuten has imprudently left the field open for Amazon to build a sophisticated logistics operation in Japan, with 12 centers and 4 Prime Now centers, for direct distribution via its marketplace vendors
As it turns out, control over logistics is brought even more sharply into focus as the employment situation deteriorates, and Japan's parcel delivery industry faces critical worker shortages
As stated in the Consolidated Financial Reports (IFRS) for the 6 months, ended June 30, 2018: "domestic e-commerce services, the mainstay of Internet Services, [are] feeling the impact of volume limits from shipping companies". In so many words, more pain cannot be ruled out short term
But the latest quarterly report, published August 6, 2018, leaves little doubt about the urgency with which logistics is being addressed
announcing availability of next day delivery, modeled on Amazon's Prime (which was said to have received tepid response in Japan)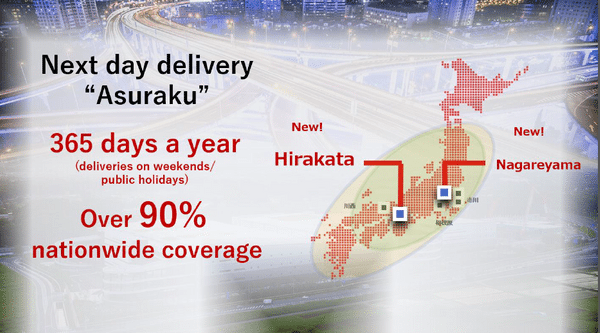 working with Japan Post to process failed deliveries for online shoppers by combining programmed delivery hours, messaging at point of arrival and alternative drop-off points – obvious solutions...
connecting retailers and merchants with customers, for order-ahead and pickup solutions: the acquisition in June '18 of Silicon Valley mobile ordering and pickup startup Curbside combines a build-up with a number of retail chains in the US with opportunities in Japan
launching a partnership with Walmart for an online grocery delivery service in Japan, probably in combination with Curbside
The logic of the announcements are proof of the focus of the company to stop the outflow and allow for the 2-year timeframe required to create a proprietary logistics and inventory management network, to which the company has committed
Clearly Rakuten is playing catch-up but most likely has the means to do so, even though Amazon Japan, the second most important foreign market for the US company, will not stand still
But, even while prioritizing logistics, the company would be remiss to ignore potential tie-ups with competing domestic platforms, confronted with similar logistics isssues
Drilling down in the merchandise categories, the opportunity to strengthen Rakuten's domination in apparel cannot be ignored – and distribution agreements with major Japanese merchandisers such as Uniqlo (who insist in keeping control over their clients' data) should be worth a thought
Opportunities galore

All things considered, Rakuten may choose to share its priorities more vocally with investors
the legacy e-commerce requires a mix of in-house logistics investment and close partnerships with local distribution networks (such as Japan Post)
this is not a full reversal of past practice relying on a 'pure' market place format but a course correction which is both urgent (given the advance of Amazon) and a break with inbred habits
the merger of the network platform of IP communication (with Viper) and mobile services (from 2019) with content (e-commerce and travel services) and transactions (on the back of strengths in financial services) is vastly ambitious but also the key to survival
the history of Rakuten acquisitions leaves room for doubt about the company's nous in the art of integration – PriceMinister, bought in 2010 for €200 million, written down by $153 million in 2015 and rebranded as Rakuten in 2018 fails to convince and eBates, a US marketplace bought in 2014, remains an alone-standing success without synergies with Rakuten (to our knowledge)
Rakuten is one of the most alluring and most challenging investment opportunities in the e-commerce and financial space
A come-back in e-commerce and proven ability in forging a platform integrating the company's multiple fields of expertise remain to be demonstrated
Articles on e-Commerce, Mobile Transactions and Data Wars
Commerce deserves careful scrutiny as the advance scouting party of a much larger enterprise, the vast infrastructure project staged and controlled by China's Belt and Road Initiative
Building on the strength of its market place, Rakuten is broadening the international reach of an eco-system of users of digital travel services, finance, IP communication and data driven merchant marketing advisory
The size of India's population (1.35 billion), the number of Internet users (34% of total population - 459 million) and mobile payment expected to be worth approx. $33 billion in 2018, form a unique challenge for e-commerce distribution
3 more articles ...