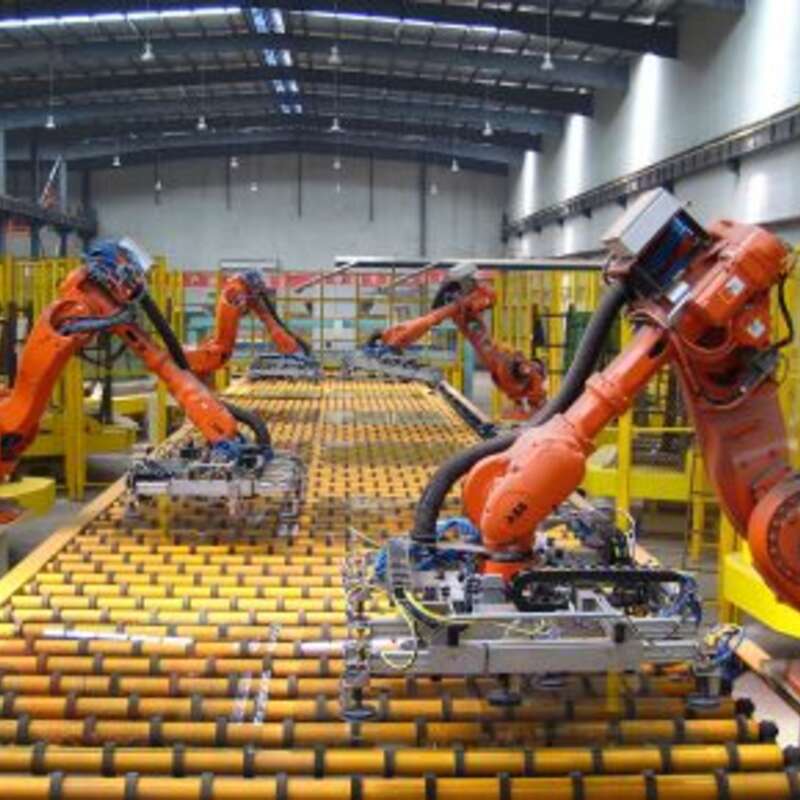 The (Trade) War of the Machines
The future of trade ? Let's watch the machines…
The International Federation of Robotics, in its October 2018 World Report, updated through Dec. 2017, shows that a new record high of 381,000 industrial robots were shipped globally in 2017 – an increase of 30 % over 2016
The growth target for 2017, projected a year earlier, expected sales of 346 000 units and a growth of 18%
The target has been vastly exceeded
The contributions by region, and by country within each region, paint a fast-shifting industrial landscape, worldwide
Unsurprisingly, over-the-top growth originates mostly in Asia (more than 90% of the real increase over projections), with Europe coming second (about 15% of the differential) while America actually fell below expected robot sales (-5%)
Projected 2017
Real 2017
Difference
Contribution
Total

346 800

381 335
34 535
Americas
48 000
46 118
-1 882
-5,4%
Asia/Australia
230 300
261 826
31 526
91,3%
Europe
61 200
66 259
5 059
14,6%
Data Source - International Federation of Robotics - years 16 & 17
Of Robots and Men...
The country data of installed robots mirror to a degree national industrial networks, much advanced and specialized for South-Korea, equally strong in Germany and Japan, lagging (and catching up fast) in the case of China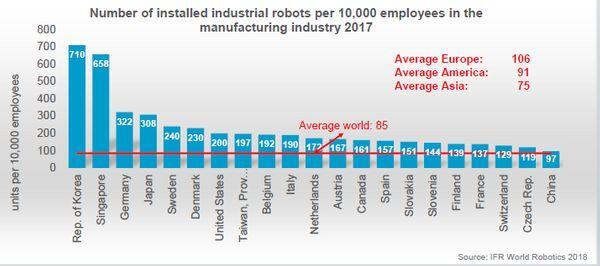 In Asia, China takes the lead, unsurprisingly because of its still very small installed robotic base, relative to its industrial potential, with an actual growth of 58.5%, adding almost 51 000 robots to the equipment in operations in 2016
As of 2017, China still has the lowest robot density in the world, at less than 100 robots / 10 000 employees in manufacturing
In comparison, Japan has three times as many, at about 300 robots / 10 000 and has still been growing in 2017/2016 by 18% - a remarkable feat considering the installed base
South-Korea, with an installed base double again the Japanese ratio, has actually reduced the number of robots acquired in 2017 while Vietnam, not worthy a mention in 2016, boasts more a base of more than 8 000 industrial robots (more than Italy and almost twice as many as France)
In Europe, the numbers of newly installed robots may be more modest but the gaps between the leading countries
Germany 21 404 units and approx. 30% of European total
Italy with 7 704 units
Central-Eastern Europe with 10 580 units
and the laggards
France with 4897 units, while Slovakia (151/10 000) and Slovenia (144/10 000) already are surpassing France (137/10 000) in number of installed industrial robots per employee
Spain with 4 180 units
United Kingdom with 2 334 units
sound like a wake-up call
As for America, in terms of installed robots per 10 000 employees,
failing to achieve its sales projection, the US (200/10 000) belongs to the mid-tier, behind the world leaders of South Korea, Japan and Germany, in a group including the North-European countries, as well as Italy and Taiwan
Proj. 2017
Real 2017
Difference
Contribution
US
36 000
33 192
-2 808
China
115 000
137 920
22 920
72,7%
Japan
42 000
45 566
3 566
11,3%
South Korea
43 500
39 732
-3 768
-12,0%
Taiwan
9 000
10 904
19 04
6,0%
Vietnam
8 252
Eastern Europe
9 900
10 538
638
12,6%
France
4 700
4 897
197
3,9%
Germany
21 000
21 404
404
8,0%
Italy
7 100
7 713
613
12,1%
Spain
4 300
4 180
-120
-2,4%
United Kingdom
1 900
2 334
434
8,6%
Data Source - International Federation of Robotics - years 16 & 17
Industry drivers
The two main drivers for robots in manufacturing mirror the changing landscape of industry from country to country
Automotive
With the emergence of large assembly plants in Slovakia, and the Czech Republic, Hungary, Poland and Romania not far behind, state of the art manufacturing in brand-new facilities is to be expected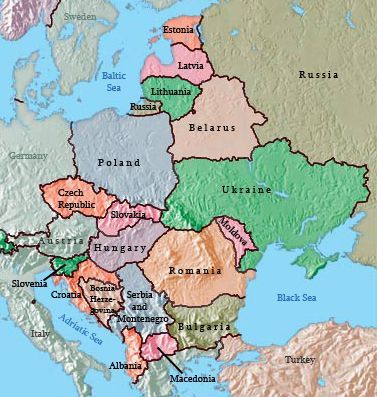 Robotics in German factories is probably a work-in-progress as the existing plants are being converted over time and workers reassigned but the 21 000 robots of 2017 put the country solidly in the front line (31% of total European industrial robot sales) as the short BMW video at the Münich assembly plant shows confidently – in good part, but certainly not only in automotive manufacturing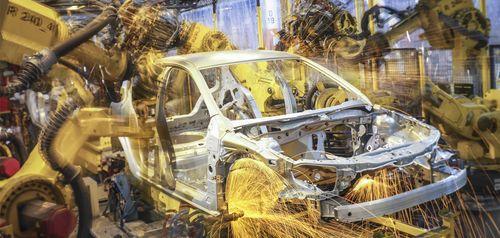 France, with a well-established car industry, appears to be losing ground, with only 4 900 new robots installed in 2017, 25% of the German robots installed the same year, just ahead of Spain, which already surpasses French car production…
Electrical/ Electronics
The second key driver of robotics is, unsurprisingly, the realm of
Taiwan with close to 11 000 units sold in 2017
South Korea with almost 40 000 new robots (but still less than originally projected !)
And probably, China as well as Japan – both of which have strong car and electronics industries
All told...
Accounting for the metal industries, rubber and beverage, food and platics, and pharmaceuticals...
Considering the density per 10 000 employees in manufacturing and the relative strength of the key industries (automotive and electronics), the leaders stand out (Germany, Japan, South Korea), the challenger is coming on strongly (China) and the laggards are… lagging (France and, bringing up the rear, Great Britain with about 1/10th of the German new robots in 2017)
The glaring discrepancies between established industrial countries – and their strong challengers – in terms of robots supplied foretell, in unforgiving light, an industrial future where the cards are re-shuffled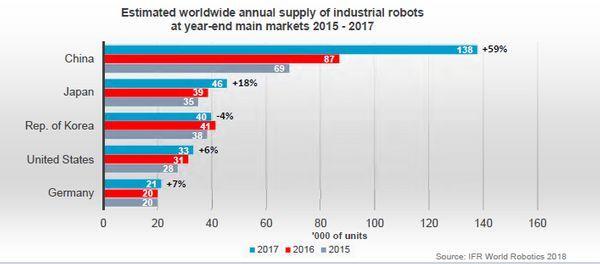 Trading in your "comfort zone"
With global exchange under attack from all sides, intra-regional trade is most likely to flourish in "walled gardens"
the 'new' NAFTA for the Americas,
the European Single Market for Europe,
ASEAN or, alternatively, China extending commercial ties in South-East Asia
Robots are bringing – and will be fine-tuned to bring – flexibility and ease of transfer of production lines as the trade tussle requires
This is probably why BMW could speedily add production of X3 SUVs in China, a car built at its Spartanburg (South Carolina) plant and originally destined for both the US and export markets. BMW assured volumes produced in Spartanburg would not be affected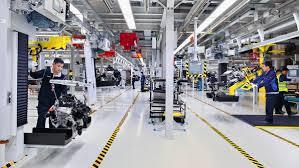 The Robotics Federation further observes that
in automotive, the transition to electric vehicles and hybrids, the increasing complexity and the demand for customization all point to more robotics
in electronics, the increasing demand for batteries, chips and displays – as well as shortening life cycles of electronic products – and the high turnover of employees also favor robotic manufacture- and assembly lines
If, as we believe, trade tensions will be simmering for a long time to come, the largest corporations will benefit with the (relative) ease of duplicating their production lines across the world
Leading technological industries already reflect the reality of this new world
Battery production, in plants located across the world under the control of a very small number of Japanese, South-Korean and Chinese firms
Semi-conductor industry, in a game of poker about to be played between the US and Asia...
20th century automotive is tuning up just as fast with vast regional networks, forcing established manufacturers in sometimes uneasy partnerships to secure global coverage, with a 10 million cars / year entry ticket
Nothing is assured, of course, but the implications for a long-term investor are just a little less uncertain