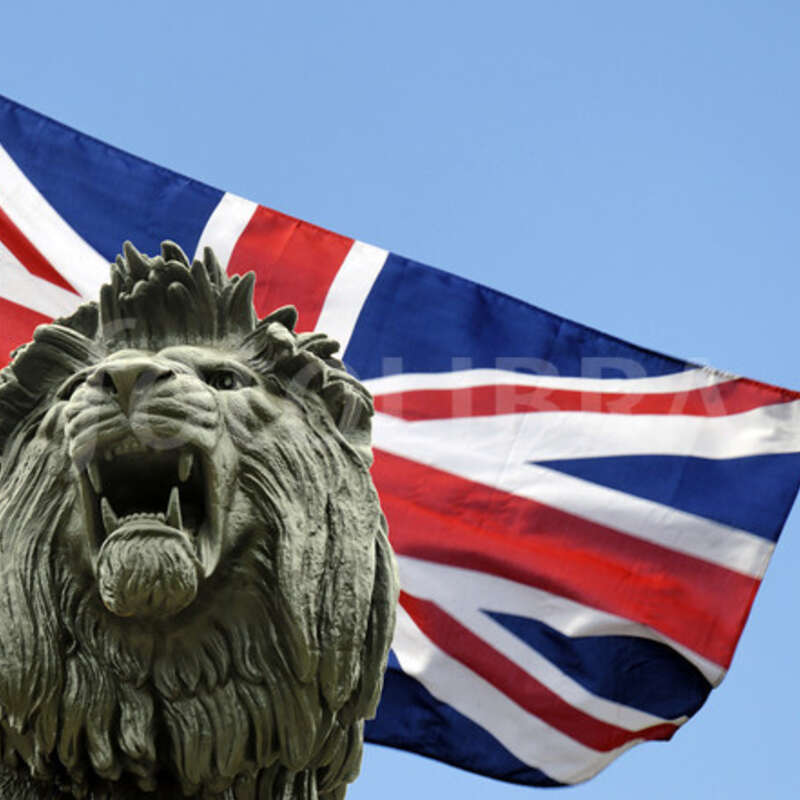 UK - Rebounding from Recession ?
Pin-insights
Falling into recession, with a 20.4% GDP plunge in April-June '20, the UK is hardly alone, sharing its plight with France and Italy
| | | | |
| --- | --- | --- | --- |
| Real GDP % change | | | |
| on previous quarter | Q4-19 | Q1-20 | Q2-20 |
| UK | 0 | -2,2 | -20,4 |
| France | -0,2 | -5,9 | -13,8 |
| Italy | -0,2 | -5,4 | -12,4 |
| | | | |
| Germany | 0 | -2 | -9,7 |
| source OECD Aug.'20 | | | |
Still, the UK stands out as a Services economy, concentrating 80% of domestic product, which is also why a swift rebound is factored in official projections
A resurgent heath scare may upend the policy but, even if short-term improvements bear out the official assumptions, structural issues, for a while overridden by COVID-19, still need to be confronted
**
Advanced economies impaired
Projection for the year 2020, issued by the IMF (first column in bold, below) in June, made fairly upbeat assumptions on recovery trends
Since publication by the OECD of the Q2-20 GDP data, made available in August, the outlook of IMF can be expected to darken markedly
In effect, real cumulative % in GDP slow down for the first half of 2020 (Q1 + Q2) hardly makes a speedy (and spectacular) recovery (third column) likely in the second half of '20
IMF proj.
Cumul.
Assumption
in %
GDP '20
6-m'20
next 6-m'20
UK
-10,2
-22,6
12,4
France
-12,5
-19,7
7,2
Italy
-12,5
-17,8
5,3
Germany
-7,8
-11,7
3,9
source - IMF - June '20 outlook (bold)
Although purely indicative, estimates for the second half '20 based on previous IMF projections for the entire year '20 only appear achievable in Germany
France and Italy, with 3 successive quarters in negative territory, still face much uncertainty in the next 2 years...
Announced early September, the €100 billion French economic plan, 40% of which will be drawn from the European recovery fund, will focus on structural investments - transition to a 'greener' economy (€30 billion), support for a more competitive industry ( €35 billion), training for the unemployed and improvement of the healthcare system (€35 billion)
Italy, the original European epicenter of the covid-19 pandemic, is to receive €81.4 billion in grants and €127.4 billion in loans - the equivalent of 28 per cent of the total €750 billion recovery fund – and the country's recovery plan is to be unveiled in October, with emphasis on material and immaterial infrastructure and aim to invest in schools, universities and research, according to Prime Minister Conte
Whether structural support will engineer the economic turnaround and fire up domestic consumption in both countries remains to be seen...
Testing the UK's resilience
The UK's slump tracks its European counterparts, France and Italy, with an even harder hit on its dominant Services sector
A 15-year quarterly data series of the British Office for National Statistics (ONS) highlights the profound difference with the 2008 recession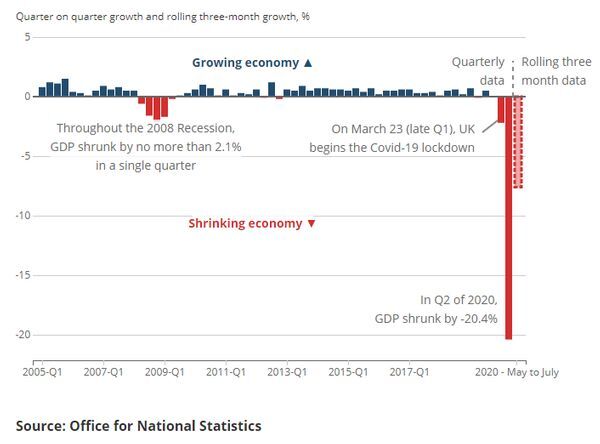 The ONS intermediary report, including July data, highlights a 3-months rolling upward trend in GDP, rebounding from the depths of March (minus) 6.9% and April (minus) 20%
The (minus) 7.6% GDP growth of May-July is indicative of stabilization into the third quarter, but the build-up towards pre-COVID crisis levels remains sluggish
In projecting a return to relative normalcy, Services will be a critical factor
Structurally, the Service sector represented 80% of GDP output in 2018, itemized in a House of Commons Aug. '20 note, the balance originating in production 14%, construction 6% and agriculture 1%
Unsurprisingly, the almost 20% negative growth in Service activity for the second quarter (April-June) aligns with the 20.4% shrinkage of the entire economy, production is slightly less negative at (minus) 17% while construction floundered at (minus) 35%
Resumption of Service activities remains hesitant - after a stable output in May +1.5%, June brought a clear positive +7.7% but July growth over June +6.1% does not point towards a quick return to pre-crisis levels
A mixed bag
While Services is by nature a 'mixed bag', analysis of the sub-sectors is further obfuscated by the fact that 'Other Services' represent 65% of the segment
According to the August '20 ONS report, the sub-sectors with the most impact in the 15.9% fall of the Services contribution to the economy - and explaining 3/4 of the GDP fall back of 20.4% - are in 'Accomodations and food services' (minus 2.24%, in Motor Trades (minus 2.11%), in Education (minus 1.94%) and in 'Human health and social activities' (minus 2.04%)
50% of the sharp drop in GDP for Services in April-June '20 can be attributed to these 4 sectors alone
The slide of UK's GDP may have stood out in a comparison with the equally hard-hit economies of France and Italy, but the 80% GDP contribution of the Service sector indeed suggests speedier recovery, to a degree...
Presumably this is why the UK government appears reasonably confident in getting the sector back on track, provided the Coronavirus-related rules can be alleviated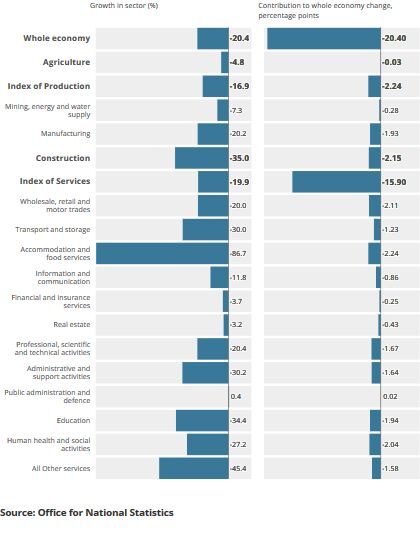 A measure of optimism may be warranted, as the monthly June '20 statistics for Services have pointed a trend reversal with a 7.7% growth, extended in July (+6.1%)
Economic stabilization seems to be a reasonable assumption, with the usual caveat regarding virus spread
However, output in Services sub-segments still remained well below Februrari 2020 levels
The 2020 fully year UK projections can be expected to pivot around the July-September trend in Services, not published before November - a long wait for the investor with much negativity swirling
Even though GDP collapse from April to June '20 is equally dismal for the three countries when compared against last year April-June quarter, with UK (minus) 21.7%, France (minus) 19% and Italy (minus) 17.3%, similarities stop here
Structural issues, specific to Great Britain and for a while overridden by the health scare, still need to be confronted and they matter all the more in the world the UK is about to enter
In attempting to project the course of the British economy beyond 2020, the economic impact of Brexit and pervasive weak productivity will have to be taken into account...
....confronting the British government with unappealing choices to narrow the options of political arbitrage and putting the country's political parties, Conservatives and Labor alike, on tenterhooks, as we hope to discuss shortly