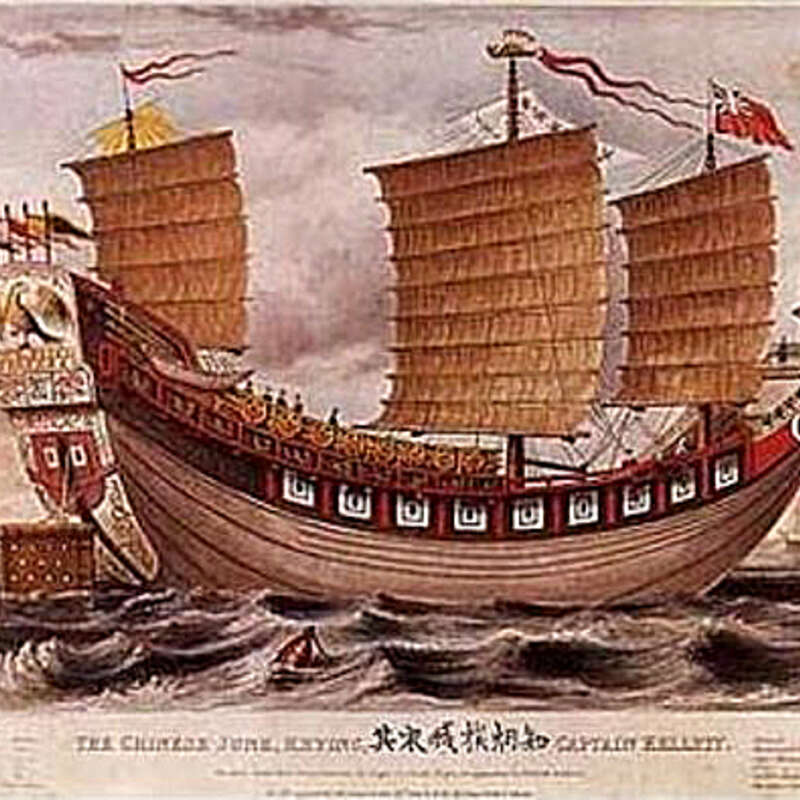 Withering digital wallets ?
Pin-insights
With ubiquitous mobile payments, a defining feature of Chinese society today, the banking system finds itself in the unenviable position of a commoditized service provider
Consumer transactions monitored by digital wallets (Alipay and Tencent Pay) are increasingly circumventing the banks, and the loss is compounded by data capture at the two Internet firms
Inability to profile clients by way of consumption patterns - as the services provided by Alibaba and Tencent run the gamut of consumer expectations - could further weaken the traditional banking business model and facilitate expansion of Internet services in the loan and savings industry
To secure the banks' future in payment processing, the Chinese Central Bank is pushing for uniform QR code standard, and for a streamlined digital finance framework
Bridging the moats painstakingly established by the Internet giants to protect their business models, the new regulation will also throw transactions open to multiple competing digital wallets
With no expense spared to maintain dominance on-line as well off-line in "brick-and-mortar" businesses and on new - often still loss-making - services in food delivery and ride-hailing, the Internet giants are staking their future on control of the entire transaction chain, domestically but also as springboard of their international dominance
Something has to give...
As ultimate arbiter, the Central Bank will have to find a way to protect the banking system without compromising the growth of Internet firms
***
Discussed in 'Navigating maturing markets', the defining core businesses of the two outsized Chinese Internet companies, Alibaba and Tencent, are very different, focused on mobile e-commerce at Alibaba and on gaming at Tencent
However, the drivers of their enduring success are the same, mobile access spreading like wildfire and universal adoption of digital wallets in China
With mobile apps, the Chinese population at large (close to its entirety....) has been skipping desktop PCs and came to expect the entire menu of everyday services on their preferred network
To maintain their grip, both firms evolved their digital presence into ecospheres catering to every demand, supported by fully integrated payment systems relying on 'digital wallets'
Competitive on the many fronts of traditional retail, the mobile networks disrupted the established financial institutions even more profoundly by making their fundamental purpose for consumers largely redundant
Withering digital wallets ?
Not just yet...
Digital wallets, uploaded in a click from a consumer's bank account, facilitate direct relations between the merchants catering to consumer orders and the client
Wth ubiquity of digital transfer payment in all forms of transaction, the pervasiveness of wallets is becoming a defining feature of Chinese society itself
on-line e-commerce embedded Alipay on the exponential track of mobile commercial transactions
on-line / off-line processing, strongly supported by TencentPay, allowed 'brick-and-mortar' merchants to reach out beyond their original client base
new merchant categories emerged on the back of payment facilities, from ride-hailing (DiDi Chuxing with 21 million rides per day in 2019) to food delivery (Meituan Dianpin or Ele.me)
digital cash flows between personal wallets swiftly became the norm
consumer finance in its multiple guises has followed suit - from money market funds (some of world's largest) to portfolio management, lending and credit scoring
Multiple transactions, cash payments and reimbursements, going back and forth, and consumer finance (lending and repayments) cause cash flows to be much higher than Chinese GDP
Cash flows over digital portfolios generated by an estimated 1.3 billion mobile internet users (with many users accessing presumably with more than one phone) are overwhelming
annual transaction volume of third-party mobile payments reached 183.8 trillion RMB ($ 26.1 trillion), according to July '19 Chinese Ministry of Industry and Information Technology data (incl. Q1-2019), published by China Internet Watch
while still growing strongly at 20% year-on-year, increase in digital transactions will not rely any longer on widening access to mobile phones, as market saturation has been achieved and cash payments on daily expenses is down to 19% of total daily expenditures
Having benefited hugely from their early entry, Alipay and TencentPay are on the frontline in the battle for broadening the versatility of their digital wallets
A reckoning
Dominance of the two Internet firms is simply overwhelming today at 93.6% of the third party mobile payments, and Union Mobile Pay, a 2016 banking partnership to create a unified QR code standard failing to gain traction with a dismal 0.94% market share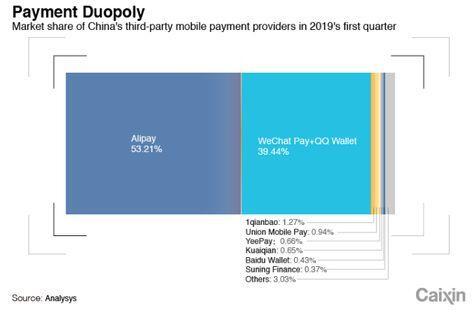 With the potential loss of their privileged status as payment service partners, banks in China have a clear understanding that more is at risk than the 0.2% commission the financial institutions earn on average today to process transactions
Vigourous pushback by the banking community, still a huge job provider which leaves little doubt how the regulatory wind will blow, is bound to curtail growth opportunities for the legacy digital non-bank systems
A defensive front has been gaining momentum with the "Fintech Development Plan 2019-2021" announced by China's central bank on behalf of all financial institutions to promote interoperability between merchants and wallet users, which is expected to allow shoppers to make quick payments by scanning a unified quick response code (QR code)
The innovation is promoted as consumer-friendly for shoppers who have to choose today between multiple QR codes and may - or may not - be able to access, when the shops support an 'exclusive' QR code
Unified QR codes have been spreading in emerging economies, quite successfully in India with the Unified Payment Interface (UPI) and more recently in Singapore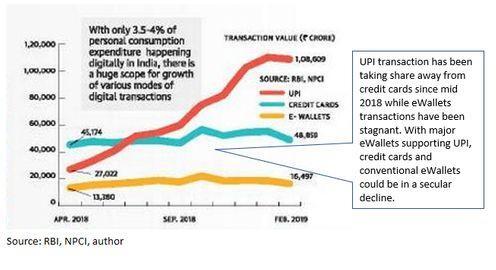 Launched in April 2016 in India, the UPI connecting all payment modes and bank accounts together, leveling the playing field for digital payments and crossing the landmark 1 billion transactions in Oct. 2019 (1.15 bn), a 20% increase year-on-year at the expense of credit cards and e-wallets
While intent to further lower payment frictions for the Chinese consumer, the monetary authorities in China are not likely to back down because digital wallets, deeply embedded in the financial system, are becoming formidable arbiters of all monetary transactions, involving merchandise, services and cash management
Regulators in China are recognized as ultimate - and definite - rule-setters, their guidelines always strictly implemented, but they find themselves in a convoluted position
Public policy will in fact have to attempt a balancing act
Regain the initiative in a fast-moving digital context, a dragnet which the powerful innovators, Alibaba and Tencent, cast over the Chinese financial system
Avoid curtailing the two firms' strengths as service-focused pillars of China's export strategy in South-East Asia, in India and possibly beyond
Digital flows in flux
For the current mobile payment duopoly, the writing is on the wall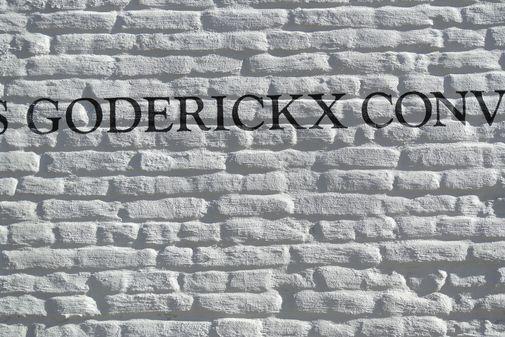 Alipay's and Tencent's distinctive barcodes are passports to their hardwon business territories
Adversely, a uniform code will provide free merchant access to financial intermediaries and to third parties, like smartphone makers Huawei and Oppo or e-commerce competitor JD Finance
The two firms are unlikely to abandon without a fight closely held relationships with their merchants and the exclusive 'brick and mortar' networks they secured
Approx. 60% of payment transactions handled by Alipay, Alibaba's digital wallet, already flow directly from the shoppers' accounts to the merchants' accounts, circumventing financial intermediaries which normally serve as clearing platforms
Implementation of direct payment involving small-sized off-line shops is likely to be more complex, putting Tencent's on-line / off-line digital services at risk
Tencent has been stepping up efforts to work with merchants directly since August '19, bypassing the third-party payment services
'Risk control' is said to be put forward by the company to require WeChat Pay merchants to link directly with its platform for payment service access
Instead of relying on banks to broaden its footprint in off-line retail, Tencent is getting hold of the documentation submitted by merchants (up to now monitored by the financial intermediary) and intends to sign the service contract directly
The company's all-out effort obviously seeks to consolidate an off-line merchant domination buttressed by the unique interaction between the WeChat social network (presumably 'always on' and at hand for 1.13 billion users who send 45 billion messages per day) and the daily small purchases
Effectively a defensive measure to face down potential new entrants but - possibly with more urgency - a foil of the declared ambition of Alipay to extend its presence beyond e-commerce (off-line / off-line)
This is not to suggest that the People's Bank of China (PBOC) will not push through its three-year plan to build a regulatory framework to unify technology standards by 2021
Much is at stake for the financial regulator - digital finance has already disrupted consumer finance in spectacular ways since 2013, with the launch of money market funds, and the Chinese banking system is probably aware that more challenges are in store
To monitor financial clearing, the PBOC takes one more step in streamlining the non-bank payments
For non-banks, indirect online transactions, which are supported by the banks, will be processed via the NetsUnion Clearing Corporation established by the PBOC, aligning the standards and putting digital payment incumbents and upstarts on the same footing
While leveling the playing field for non-banks, which is certainly PBOC's intention, the clearing intermediary is expected to double the cost compared to the current bank handling fees of 0.1%-0.15%
However logic, uniform clearing for non-banks appears conterproductive : NetsUnion is surely a strong additional inducement of the two legacy players to seek direct links with the merchants to circumvent the banking system and - no less - to protect the relevant transaction data for their own use
If stakes could be any higher for the two wallet holders, it will be because the retail / wholesale market has been 'digitalized' extensively, converting China in a 'non-cash' economy with cash payments down to 19% of retail transactions
Because of maturity of their payment services, the companies will be attempting to infringe on one another's business, a strategy which Alipay has shown every intention of engaging
The wallets should probably be understood not as profitable ventures on their own, but as essential constituents of original, forward looking ecosystems driving Alibaba and Tencent forward
Neither company can risk tinkering - the stage is set for 'Digital powerplays', our follow-up note